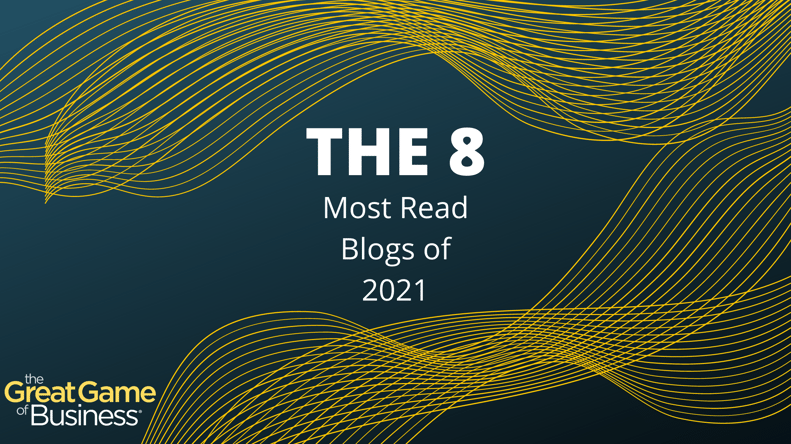 2021 seemed to fly by, at least here at The Great Game of Business. We were planning our year just yesterday, and then, BAM, the year was over. At least, that is how it felt.
Looking back on 2021 made us take stock of the most read Great GameTM blogs. In case you missed them, here they are in order:
#8 - 10 Easy Ways Leaders Can Express Appreciation in the Workplace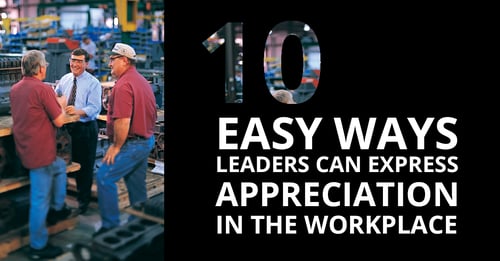 Individuals in the workplace need to feel appreciated in order to enjoy their job, do their best work, have positive work relationships, and stay with their organization long-term. The key ingredient in meaningful, significant, and effective appreciation is individualization—expressing appreciation in the recipient's preferred "language." Varying the ways company leadership communicates appreciation will improve chances of hitting the mark, so we've compiled 10 ways leaders can express appreciation in the workplace and foster positive work relationships in order to establish a recognition culture.
<<Learn A Practical, Leading-Edge Strategy Development Process - High-Involvement Planning Workshop>>
#7 - The Four Pillars of Leadership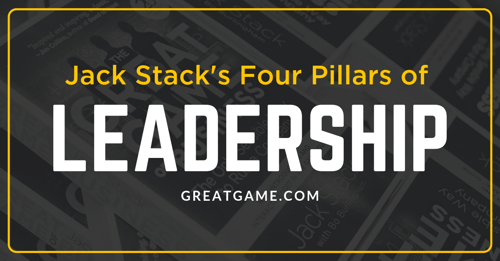 Trying to boil down a shortlist of leadership evaluation metrics isn't a simple process. It took Jack Stack, the founder of The Great Game of Business, a long time to finally arrive at the answer. Through his work with Robert Rosen, a Ph.D., and organizational consultant who wrote several books on leadership, including The Healthy Company, Jack eventually condensed the massive list of potential attributes to track down to a manageable list of four pillars of leadership.
#6 - 6 Best Practices for Creating a Recognition Culture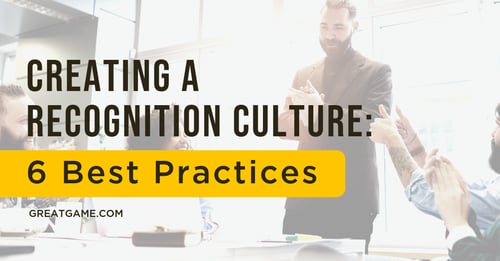 A strong corporate recognition culture motivates employees as well as attracts and retains top talent—a win for the company and a win for the employee. There's nothing we like better at The Great Game of Business!
A recognition culture doesn't happen by accident, and it doesn't happen overnight. Looking at best practices and tips can save you the trouble of reinventing the wheel—here are six best practices for you to consider when creating a recognition culture in your organization.
#5 - 4 Questions to Ask for Successful Succession Planning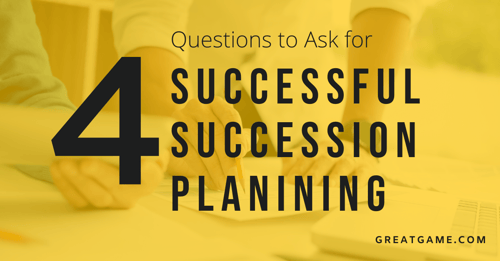 At SRC Holdings, we see our succession management program as one of our most important strategic advantages. It is also one of our greatest challenges because our managers must not only be good at their jobs but also good at building and maintaining our culture.
Every year, SRC and The Great Game of Business dives deeply into our workforces and employment data to evaluate ownership succession planning results while actively supporting the progress and alignment of our strategic workforce goals. During this process, the big objective is to complete detailed strategic workforce planning. The goals of this process can be achieved by answering four basic questions.
#4 - 28 Awesome MiniGame Ideas Generated by Practitioners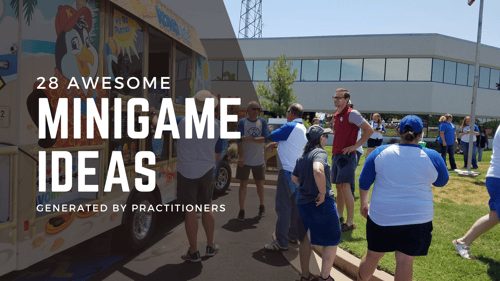 We've compiled MiniGame ideas from participants in a variety of industries. They have agreed to share their ideas in order to help drive innovation for others wanting to implement MiniGames in their organization. Though these MiniGames are specific to the business challenges and personality of each company who created them; the prizes, themes, and goals can be adapted and applied to any industry or business challenge.
#3 - 4 Easy Strategies to Communicate Financials so Employees Can Understand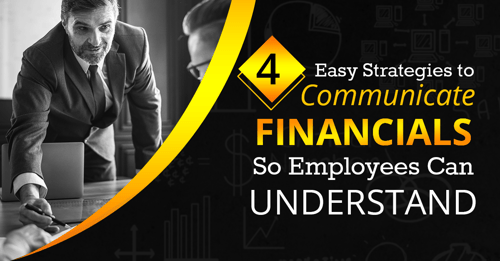 There are a number of techniques you can use when communicating the numbers to ensure everyone is on the same page. Here are four strategies to improve communication about financials with your employees.
#2 - 8 Essential Steps for a Successful Huddle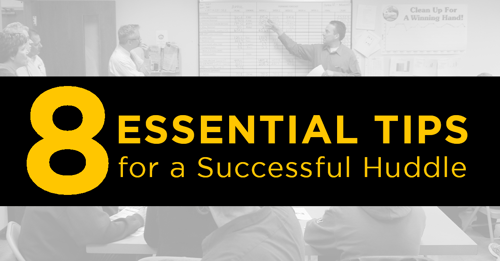 Meeting together as a team to discuss the financials and critical elements of your business is a vital part of The Great Game of Business®, but more importantly, it is an opportunity to focus on the people responsible for those numbers and the story behind the numbers.
Successful workplace Huddles affect all team members' mindsets and influence your team's performance in the financials. Here are eight tips to help you get the most out of your Huddles.
#1 - Top 10 Reasons Great Employees Stay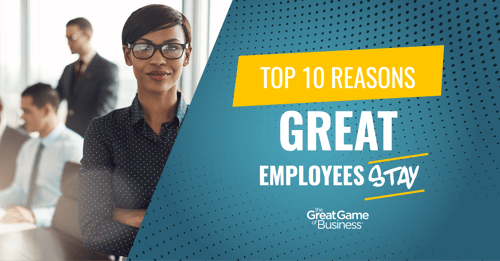 The reasons great employees stay go beyond the obvious. There are deeper, multi-faceted emotional and relationship connections that create a bond between what the salon/spa is, for example, and its ability to fulfill the great employee's needs and ambitions.
From a 30,000-foot viewpoint, great employees stay because of what surrounds them, encourages them, nurtures them, pushes them, cares for them and rewards them.