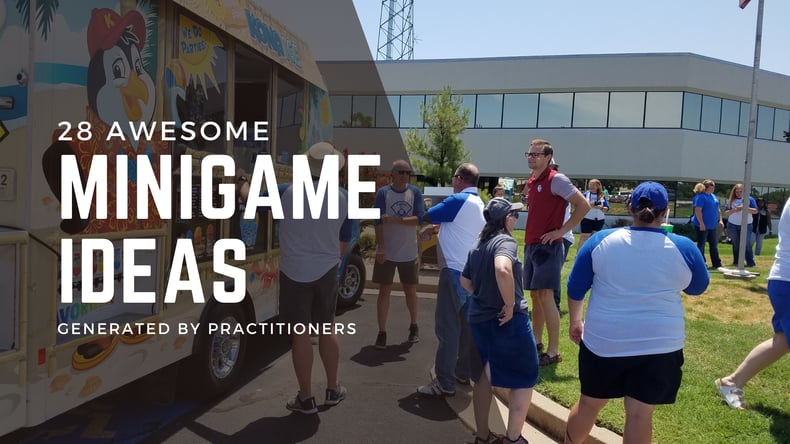 By definition, a MiniGame™ is a short-term activity designed to correct a weakness or pursue an opportunity in your company. MiniGames motivate employees to make day-to-day improvements that will add up to year-long success, and when implemented correctly, MiniGames are proven to:
Affect a financial or operational change: Drive results through improved performance.
Increase business literacy: Reinforce key components of business success such as goal setting, mutual responsibility and performance management.
Build teamwork: Rally employees (players) around a common goal in order to achieve a shared reward.
Develop a winning attitude: Create an environment where winners are recognized and rewarded for generating results.
Like most games, they have a goal, a time frame for play, a scoreboard, and a reward for winning. MiniGames are designed to be fun, engaging, and centered around a theme that energizes the players and propels The Game overall.
MiniGames are one of the easiest and most exciting ways to engage employees, even if you've not fully committed to practicing open-book management. We share the concept of MiniGames frequently at workshops and conferences because they serve as a way to slowly introduce The Great Game of Business® and open-book management to new audiences. As a result, we gather a diverse collection of MiniGame themes with goals and benefits that cover a wide range of financial and operational business issues.
We've compiled MiniGame ideas from participants in a variety of industries. They have agreed to share their ideas in order to help drive innovation for others wanting to implement MiniGames in their organization. Though these MiniGames are specific to the business challenges and personality of each company who created them; the prizes, themes, and goals can be adapted and applied to any industry or business challenge.
Want to learn more about MiniGames? Check out the MiniGames checklist on our Resources page.
---
Other articles you might like: