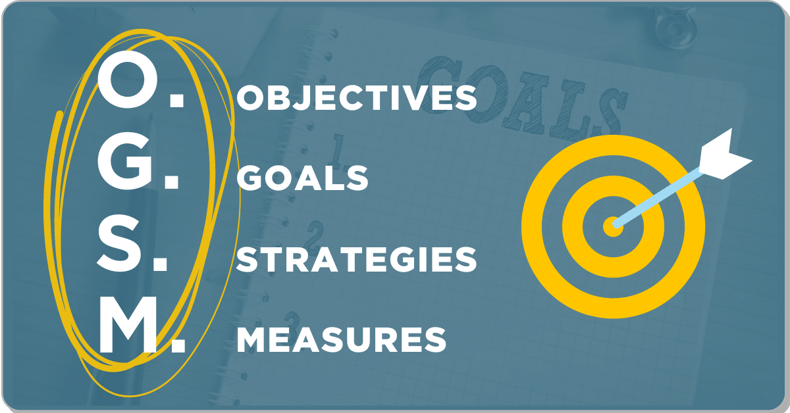 Zig Ziglar said "If you aim at nothing, you will hit it every time."
How many of you have no plan and no goals?
How many of you have objectives and goals but no plan on how to achieve them?
One more question and this is the most important. How many of you have objectives and a plan, but do not measure the results and actively share them? This is no different than the two teams that finally make it to the Superbowl only to find out there is no scoreboard, no timeclock, no down marker, nothing to measure how each team is doing and who is winning.
Don't underestimate the importance of Objectives, Goals, Strategies, and Measures. They drive results. They provide a roadmap for the organization. They also provide clarity to every single employee.
Learn more about business planning and how to develop goals your entire company will support.
In this blog:
I will define and give examples of objectives, goals, strategies, and measures
Share an example of an OGSM playbook
What you should do with your OGSM playbook and who should you share it with



Objectives
Objectives are a clearly written brief statement about what the organization wants to achieve.
Some examples include:
Grow gross profits YOY by reducing COGS
Gain market share
Lose weight and live a healthy life



Goals
Goals describe what winning looks like.
Some examples include:
Purchasing department will reduce material costs by 10% YOY
Sales will acquire $20M in new business in 2023
Lose 25 lbs. by 12-31-2023



Four Characteristics of a Strong Business Goal - Defining Your Critical Number™
Strategies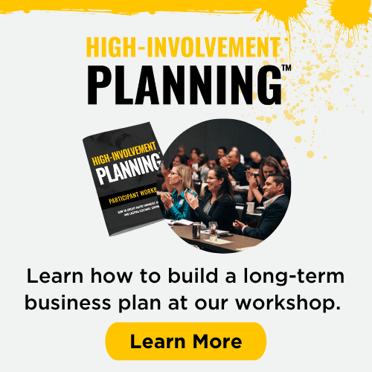 Explains how each person or group will accomplish the goals. (This is not the same as organizational strategy)
Some examples include:
Purchasing will send RFQ for inbound freight to 4 different transportation companies by Jan 21
Sales will visit 10 new prospects each month per salesperson
Buy a smart watch with calorie counter and physical/sleep activity tracker



Measures
Measures are just what the name implies. It needs to have a quantitative number. It is important to define how the measure is calculated and where and when the data is accessed.
Some examples include:
10% growth in GP YOY. Reduce material costs by 10% YOY
Add 5% market share YOY. Bring on $20M new business in 2023. Visit 10 prospects per month per salesperson
<1200 calories per day. 30 minutes exercise 5 times a week. Weigh 175 Lbs. by 12-31-2023.
Playbook
I'm sure one of the first things the Kansas City Chiefs gave Patrick Mahomes was a play book. A play book contains much more information and data that just x's and o's. It provides an outline what you want to achieve and how you are going to do it. In other words, it shows you what winning looks like! Below is a play book containing the examples I shared above. It is the perfect tool to share with existing employees and new employees.
The majority of items should be updated once a year during your planning process. The one section that may need to be updated/changed throughout the year is the (S). The strategies. You may find out that something isn't working or you may think of a new way of accomplishing a task.
You should share the actual results with all employees on at least a monthly basis. Share the measures in a plan vs actual model. Share how the organization is performing on strategies using a red, yellow, green visual.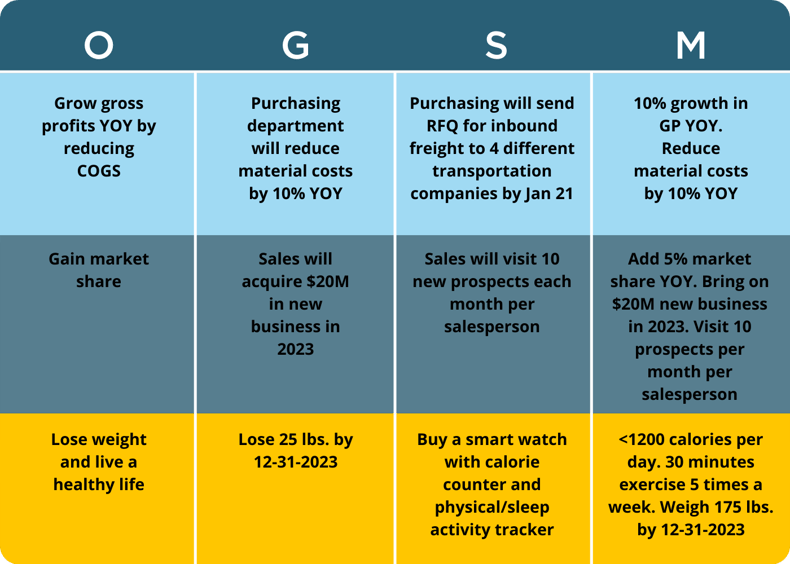 Summary
I encourage all organizations to implement this simple process into their High-Involvement Planning. It is a simple tool that provides everyone with clarity about what needs to be done to be successful. I'll end with another quote from a college professor from the 1930's who studied motivation and organizational behavior, "An objective without a plan is a dream"
Turn your dream into reality with this simple OGSM model.
---
Other Articles You Might Like: