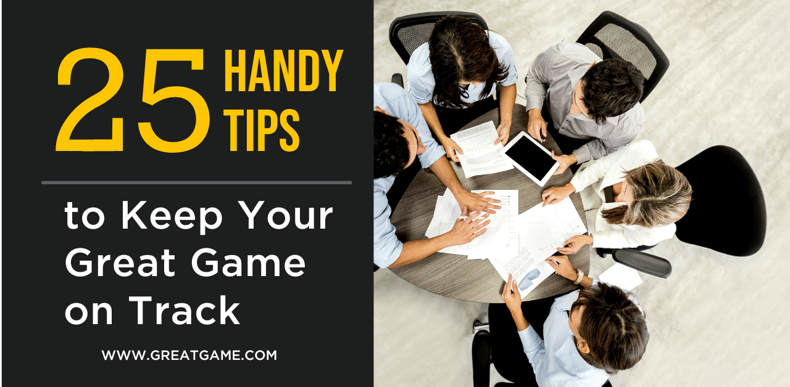 Creating an informed and engaged workforce doesn't happen overnight...and isn't sustainable without the dedication and focus of the whole team. To help get your Game off on the right foot in the new year, here's a list of must-know tips from our best blogs to help The Game excel at your company.

1. Know and Teach the Rules
Business Transparency and Education: Opening the books only works when people are taught to understand them.
Financial literacy training

gives

everyone in the company a common language so they can understand the numbers that measure their performance, talk intelligently about improvements and make better, more informed decisions. Training can be found on-site, at events and informally in day-to-day business.
Keep it simple by using "common sense" financials.
Establish bottom-up financials. Instead of sharing financials with your employees, ask your employees to share the numbers with you.
High-Involvement Planning™: Business planning involving broad participation from the people who are closest to the action and who understand the realities of the business will result in more buy in and better performance. People support what they help create.
"Planning is one thing, execution is everything!" Involve employees in the strategic work so that they can better align their work with the company goals.

Enable and involve all employees to contribute to the business planning process. After all, aren't they the ones making daily decisions that impact the success of the company?

If employees don't buy into the plan, they don't commit. If they don't commit, they don't deliver.


The Critical Number™: The financial or operational number that defines winning and is the focus of The Game for everyone in the organization.
Make sure your Critical Number is a weakness that provides a focus on what's most important.
This number is critical to the company's success, is a measurable number, and is a rallying point to unify your employees.
Your Critical Number is a communication opportunity that your employees should hear about

52 times

per year in your weekly Huddles.
---
2. Follow the Action and Keep Score
Huddling provides a rhythm of communication where everyone is kept informed, involved, and engaged in moving the company forward.
Make a plan for staff that cannot attend and include everyone, even if it requires a virtual Huddle.
Go over the why behind the numbers. If a number has changed from the previous week, there should be a story or an explanation behind it, whether it's good or bad.
Forward forecasting: History cannot be changed, but the future success of your company can. Forecasting is the fundamental way GGOB companies communicate the numbers and create forward-looking and results-oriented Huddles.
Keep Score: The objective of keeping score is to simply and consistently inform the players if they are winning or losing, and who is accountable.
There's an old saying, "If you're not keeping score, it's only practice." Keep track of progress with financial, Critical Number, and MiniGame scoreboards along with player scorecards to allow the team to measure their performance and create interest in the progress of the team towards your goals.

Make sure each scoreboard is engaging, relevant, and highly visible to promote immediate and consistent feedback.
---
3. Provide a Stake in the Outcome
Rewards and Recognition: A strong corporate recognition culture not only inspires and motivates employees, it also attracts and retains top talent—a win for the company and a win for the employee.
Recognition should be given for specific behaviors, not just generic qualities.

Awards should acknowledge measurable results

.

Tell stories to evoke emotion and support memorable appreciation moments.

Don't forget to recognize early and often.
MiniGames™: Short-term, intensely-focused, rapid improvement challenges that affect a change, correct a weakness or pursue an opportunity. They include a goal, a scoreboard and a reward for winning.
Create a culture of winning. Playing MiniGames creates a winning environment where winners are recognized and results are rewarded, instilling that desire to win.
The reward should reflect effort and performance that it took to win.
Think twice about

cash rewards

.

While cash is understood by everyone and easy to administer, it is not

a memorable reward. Cash is quickly forgotten and tends to become an "expected" reward and therefore does little to motivate any change in behavior.
Bonus Plans: There's no more powerful way to engage, motivate and involve people in their everyday work, their own goals and the goals of the organization than a well-structured bonus plan.
Be sure to include short-term, mid-term, and long-term rewards when designing your Bonus Plan.
Give people a chance to win early and win often.
Use the bonus to teach people about the business by showing them how they affect the metric your bonus is based on.
Employee Stock Ownership Plan: An ESOP is a trust set up by a corporation to allot some of its stock to its employees over time based on the employees' compensation levels as well as how long they have worked for the company.
ESOPs can be used as part of ownership succession and benefit plans.
Consider benefits to your company including funding ESOPs with pre-tax dollars and using ESOPs to match employee contributions to 401(k)s.
An ESOP is a great ownership transition tool, giving you the ability to gradually release control of the company over time by selling to the ESOP in stages.
The Great Game of Business is a management system featuring multiple practices that, when deliberately and actively applied, can transform your business. The key is creating routines and rhythms that support the system and hold everyone accountable. NOW is the perfect time to do a self-audit of your business using the above pointers, and pledge to focus on each aspect of the Great Game this coming year.
---
Interested in seeing how other companies practice The Great Game of Business? Join us at the world's largest conference on open-book management!

---
Other articles you might like: