The War for Talent is now in full swing. As the economy continues to reopen, companies have begun hiring again in earnest—driving the unemployment rate closer to pre-pandemic levels. At the same time, the number of open jobs in the U.S.—an estimated 9.2 million—is now breaking records. It's one of those rare times in recent history where the number of job openings exceeds the number of unemployed people actually looking for a job.
That's put a lot of pressure on hiring and HR managers who are struggling to staff up and keep pace with surging demand. It's now common to see banners and billboards touting five-figure sign-on bonuses, especially in the retail and restaurant sectors hit so hard in the pandemic.
While handing out one-time checks might drive some short-term results, it's clear that firms will need to do more to keep their workers satisfied over the long run. After all, we're also seeing what many are calling the "Great Quit," where millions of workers who remained employed throughout the pandemic have decided to leave their existing jobs in search of better ones—even if it meant taking less money.
Beyond The Paycheck
Let's not understate the obvious: money matters when it comes to choosing a job. But what's also clear is that most workers don't stay in jobs for the pay alone. There's a point of diminishing returns, where just hunting for the next raise isn't enough to keep someone engaged and productive in their job. To build a truly effective recruitment and retention strategy, you need to combine those extrinsic rewards like pay and health care benefits with intrinsic motivators such as providing a sense of accomplishment or receiving praise.
Easier said than done, right?
Well, here are a couple of potential approaches organizations can consider as they rethink their approach to their recruitment and retention efforts that offer a classic "two-fer" of extrinsic and intrinsic awards. They're all based on the notion of providing A Stake in the Outcome®. The book, Get In The Game defines A Stake in the Outcome as "an equitable system that connects the people who create the numbers and the results in the business with the rewards and recognition they deserve—while eliminating entitlement and resentment. When the team wins, the company wins."
Celebrate Short-term Wins
Part of the magic behind The Great Game of Business® comes from tapping into the universal human desire to win. When you give people a chance to win early and win often—both intrinsically and extrinsically—you'll capture their interest, keep them engaged, and drive the success of your business. One great way to create those short-term wins is by launching MiniGames™, which are short-term improvement challenges designed to correct a weakness or pursue an opportunity while also giving participants the chance to earn a reward. Done well, MiniGames become self-funding incentive plans that will make a significant impact on your organization in 90 days or less. They can affect a change, reinforce business training, build teamwork, and give everyone the chance to enjoy a well-deserved win.
< See an example of how one company used a MiniGame to give their associates lots of fun incentives to show up for work and tackle some shared goals together. >
Embrace Gain-sharing
A powerful way to connect employees to the results of their hard work is by sharing part of the gains they create inside the business. Imagine, then, a self-funding, progressive bonus program (or, as some like to call it, a profit- or "gain-share") in which every employee can forecast what their individual payout will be on a weekly basis. No surprises or subjective awards are allowed. Typically, these plans are tied to the company's earnings, which means, as the company earns more, so do the employees.
A great bonus or gain-share plan puts the rewards as close as possible to the behavior that earned the reward (to reinforce that winning behavior) while also protecting the company's long-term sustainability and never paying a reward the team hasn't earned.
Creating shared goals like this can encourage people to work together as a team by pulling in the same direction. You can reinforce cooperation and promote collective efforts to strengthen the business while also teaching people how each of them impacts the company—and their bonus. Not only will people gain that sense of intrinsic reward from winning—but they can also earn that extra piece of extrinsic cash as a bonus.
< Learn how to structure an effective bonus program here. >
Shared Ownership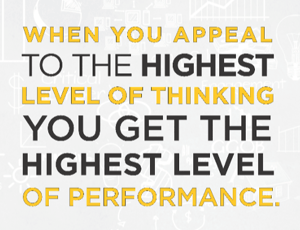 One of the Higher Laws from Jack Stack's book, The Great Game of Business, is that when you appeal to someone's highest level of thinking, you get the highest level of performance in return. One of the ultimate ways—maybe the ultimate way—to put that mantra into action is by making your employees true owners of the business through a broad-based ownership model such as an Employee Stock Ownership Plan or ESOP.
It's tough to understand that sense of pride—that feeling of psychic ownership—that someone feels when they actually own something. That's especially true when someone gets the opportunity to own part of a business that they now have all kinds of incentives to diversify and grow into the future.
Consider the story of NCC Automated Systems, a company that made the shift to becoming partly owned by an ESOP in 2017 while also opening up the company's financials to its associates. The impact was immediate. As one long-time employee, Eddie Santiago, 54, put it: "We are all working together to help the company prosper rather than just one person trying to do that. I'm excited to see how we can get into bigger markets and show the world how we are the number one provider in the industry, and not just be content with being second or third. I like the competitiveness of winning."
An Eye On The Future
While businesses face a severe talent crunch today, forecasts paint an even bleaker picture for the future. For example, one study predicts job shortages could soar to as high as 85 million openings by 2030. That means the time is now to rethink the kinds of rewards your employees can earn while also developing the kind of long-term winning culture that will make your organization an employer of choice not just today—but into the future as well. Or, as Jack Stack frames it, the opportunity is to "create a business that people can view as a lifestyle that they enjoy rather than dread."
---
Learn more about A Stake in the Outcome at our implementation workshop.