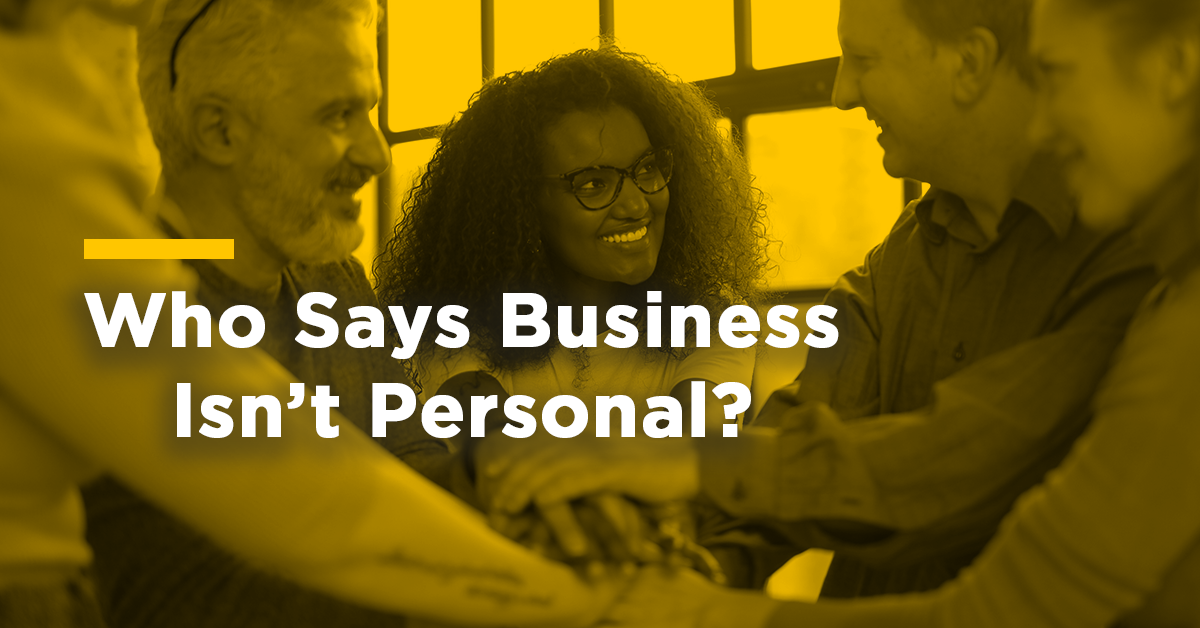 We all know some version of the line that appears in the iconic film, The Godfather, where Michael Corleone says to his brother, Sonny: "It's not personal…it's strictly business."
Turns out that the phrase was reportedly coined in real life by a guy named Otto Berman, who also happened to be an accountant for organized crime families.
With a checkered origin like this, why has this phrase become so wildly accepted?
Especially because we have so much evidence that it's just not true. Business is most definitely personal.
As an example, consider the events that unfolded on May 5, 2017 in a factory 30 miles outside of Philadelphia.
As you can see in the video that captured the occasion, Kevin Mauger, the owner of NCC Automated Systems, a full-service automation systems integrator, had some news to share with his employees.
He had built up some intrigue over the prior weeks, letting his team know he was going to make a big announcement.
But, based on the employees' reactions, no one expected what was really coming: Mauger was making everyone owners of the business. "I believe in putting my money where my mouth is," he said, barely hiding how emotional this moment was for him.
What made this announcement so moving was not just how Mauger was trying to keep his own emotions in check as he delivered the big news, but also how many tears and hugs were shared by the team afterward. It was a life-changing moment for all of them.
After watching something like that, how can anyone still say that business isn't personal?
Making a Positive Impact
As Mauger later put it: "My goal in life is to create as much positive impact as possible. And I realized that one way I could fulfill that was to create a strong ownership culture inside our business. By giving the people inside this company the opportunity to be owners, our business could become a vehicle to help change the world. Maybe just our little part of the world, but our world nonetheless."
Mauger also recognized building an ownership culture was more than just about having an equity stake in the business. He needed a way to help teach his people to see, think, and act like owners. And to do that, he turned to The Great Game of Business®.
"Great Game™ is the perfect complement to sharing equity because it helps reinforce the sense of trust that comes from transparency and sharing everything," he says. "It provides the tools so that everyone can see how they can make a difference in the way the company performs."
Coming From the Bottom Up
Mauger, now 47, joined NCC Automated Systems—the NCC is short for its original name, Northeast Conveyor Corporation—back in 1994 fresh after graduating from the University of Delaware. He's worked for the company ever since, filling a variety of roles over the past 26 years.
The company, which was founded in 1984, eventually expanded beyond conveyor systems into integration and automation. It also went through several ownership transitions over time. As a result, the company suffered from a lack of purpose and direction.
By 2006, the business was floundering. "We were insolvent and upside down," says Mauger. "Our debts seemed insurmountable." But it also provided an opportunity that Mauger jumped at by putting all of his personal finance chips on the table so he could buy the business.
"I leveraged a combination of seller financing and a home equity loan," he says. "I was betting everything I had. But I was also committed to investing in the company. I knew what type of work we should go after—and what projects we should say no to."
The company flourished from that point on, growing revenue six-fold over the next 11 years or so. It's also been profitable every year since Mauger bought it. And although that might have been enough for some business owners to coast on Mauger says, "I realized I had a choice to make,"
"I could continue to run the company as we had in the past. Or, we could try a new way that could create opportunities and potentially ridiculous results for our employee owners. I wanted to create a better place to work."
Making Bold Moves
Then came the decision to sell 42% of the company to an employee stock ownership plan, or ESOP. Around that same time, Mauger was attending a conference hosted by the NCEO, a national organization that promotes employee ownership. While there he attended a talk about The Great Game of Business. He was intrigued.
He then read Jack Stack's book and attended a two-day workshop in Springfield, Mo. He also sent about 10 of his people to various Great Game™ events, as well as to watch Huddles in companies like Anthony Wilder Design/Build and New Belgium Brewing.
"Making the decision to play The Game was going to require a significant investment in time, money, and brain power," says Mauger. "I wanted to make sure our people were totally bought into it."
Once he felt like this team was on board—and after they completed a difficult ERP system upgrade—Mauger made the decision to kick off The Game. And to do that, he turned to a coach, Dave Scholten, for help.
"It wasn't inexpensive to hire a coach, but with something as transformational as The Great Game of Business, you don't want to take a risk and do it on the cheap!" says Mauger.
With Scholten's help, Mauger and his team waded through issues like how to accurately measure their performance on the job—which was a challenge in that they operate on a cost-plus basis. "It just complicated things," says Mauger. That forced them to find ways to cascade their scoreboards up from projects and departments all the way to a company-wide level.
They've also had to overcome issues with the accuracy of their forward forecasts because they recognize revenue on a percentage of completion basis and not everyone has full visibility to that data on a day-to-day basis.
But, thanks to enhanced transparency coupled with an increase in the financial literacy of the team, "every single person on a job now understands the targets," says Mauger.
"We used to operate where we would just hope things would work out. Now, we learn, fix, and adjust. People are seeking out better information and it's completely transformed everyone's visibility into the topic of profitability."
Transforming Lives
Mauger says creating a culture based on employee ownership and Great Game™ has led to some personal transformations as well. "It hasn't really reduced my workload or worry and stress," he says.
"But it's allowed me to stress about different things. I'm able to really focus on improving the company rather than working in it. And I can do that because people are taking more ownership of everything inside the business."
The ripple effect of creating an ownership culture also didn't stop with him. For example, Eddie Santiago, 54, was working for NCC before Mauger was even hired. "It's been so great to see Kevin grow over the years," he says. "He brought passion and creativity into the company."
From driving trucks, to leading installations and managing manufacturing, Santiago, "has done everything" inside the business. But it wasn't until NCC began playing The Game that he finally got a complete view of the company's financial picture. "That was so exciting," he says.
"It still is. We now understand why we do things, which promotes better teamwork. We are all working together to help the company prosper rather than just one person trying to do that. I'm excited to see how we can get into bigger markets and show the world how we are the number one provider in the industry, and not just be content with being second or third. I like the competitiveness of winning."
Another long-term employee, Yvonne Edwards, 53, also worked in various roles inside the business before taking on her current responsibilities as an optical mechanical engineer. "We all did what had to be done," she says.
Edwards has also watched Mauger essentially grow up inside the business, especially during the tough times when everyone wondered if they could keep their doors open.
Now, despite working through a pandemic, the company is thriving—some of which Edwards attributes to the transparency and collaboration created by playing Great Game.
"It used to be that ownership would hold 'pep rallies' where they would tell us what the numbers looked like and what was in the pipeline," she says.
"Now I can see the proof for myself in the numbers. We are forecasting these things and finding ways to make the numbers even better than we thought they would be. When I look at my budget and the number of engineering hours, for example, I want to beat that number. And every time I do, our cost of goods sold goes down. It's amazing to the see the big impact changing just one thing can have. And when everyone can do one of those little things, it just multiplies that impact."
That helps explain why Edwards says the culture inside the company has completely changed since the old days. "Everyone has an 'Own It' attitude now," she says. "I take a lot of pride in it. I said for a long time that someday I would own NCC. Now, I own a little piece and I couldn't be happier. The day Kevin made the announcement, I cried my eyes out."
In other words, business is clearly very personal.
---
Join the Great Game Community for a LIVE Podcast Recording.
The success story of NCC Automated Systems is one for the record books. We're excited to host Kevin Mauger during this week's live recording of the Change The Game Podcast.
Join us live on Friday June 5th to hear Kevin share his teams Great Game story.
Other articles you might like: