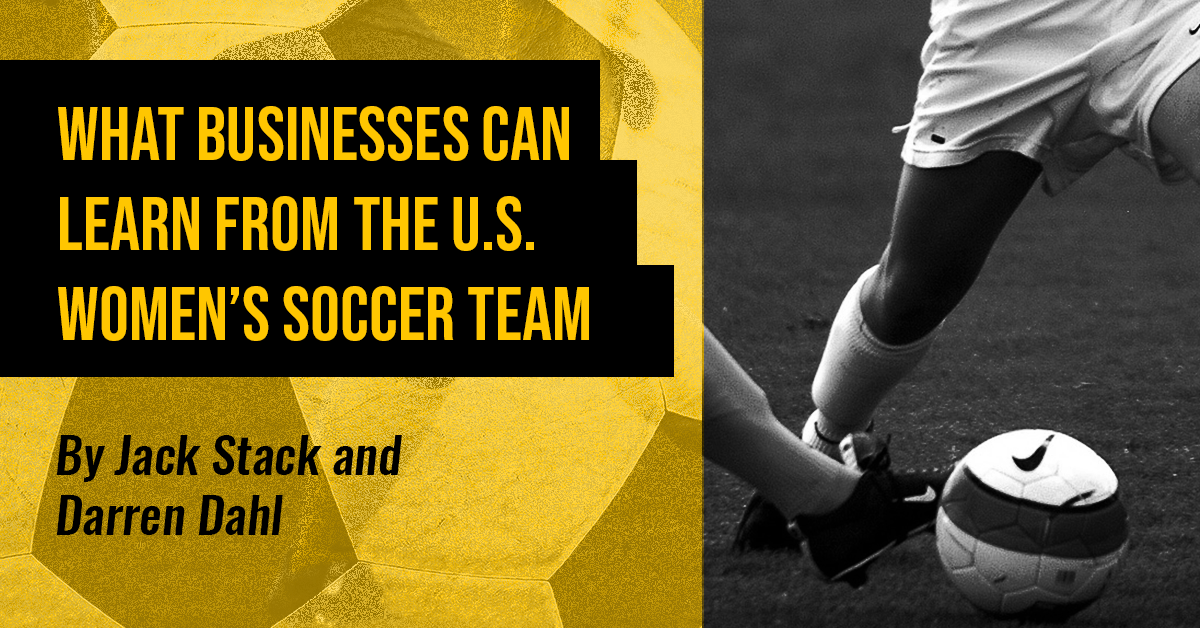 If you're like us, you were glued to the TV in the summer of 2019 watching the women's World Cup matches. Spoiler alert: The U.S. women were the class of the tournament. But what made the U.S. team so much better than their competition? Certainly, American strikers like Megan Rapinoe and Alex Morgan were among the top scorers during the tournament. But every team had its star players.
We'd argue that the reason the U.S. team captured it's fourth World Cup is that they were the best team from top to bottom. We think there are a few lessons businesses can learn from these champions when it comes to building their own teams.
In an episode of his popular podcast, Revisionist History, the journalist and author Malcolm Gladwell highlighted the work done by a couple of economists who studied the success of soccer teams. What they found is that soccer is a so-called "weak-link" sport, where a team is really only as good as it's weakest player. You can contrast that with, say, basketball, which is a "strong-link" sport. That means that teams led by superstars like Michael Jordan or Lebron James are typically more successful than teams without an equally talented star player.
The U.S. women's team dominated the World Cup because its 11 players on the field outclassed every other team's 11 players as a whole. In other words, they didn't have a weak link.
The difference in every victory often came down to the folks who didn't make headlines by scoring goals. They were the ones who got dirty making the sliding tackles or who literally stuck out their necks in traffic to secure a header that prevented a goal or that set up a striker with a slick through-pass. They were the true difference makers that separated winning from losing.
So, you might be asking, what does that have to do with business? We'd argue that business is also a weak-link sport.
When you look at your organization, you probably know who your star players are. But how do your supporting players working on the front lines, the ones doing the heavy lifting and the dirty work, stack up against your competition? Or how about the folks sitting in front of keyboards in the back office? Are they difference makers? Better yet, do you have the kind of system and culture in place that empowers every one of your players, no matter how big or small your organization is, to contribute to the team's victory?
This is the very foundation that The Great Game of Business® leadership system is built on—to level the playing field so that everyone can see how she can make a difference. The idea is to teach everyone inside the business the rules of how their business works, to keep score to understand if they are winning or not, and then to have the opportunity to earn a stake in the outcome when the organization meets or exceeds its goals.
When you do that, you empower every single associate to understand how what they do on a daily basis contributes to the goals the team is trying to accomplish together. At a time when so many organizations are looking for answers about how to engage their people, they overlook an essential element: they don't think of themselves as a team that's trying to do something together. When you create that dynamic, where people start watching each other's backs and picking each other up because they're in it to win it together, that's when the magic happens.
As we wrote in our new book, Change the Game: Saving the American Dream By Closing the Gap Between the Haves and the Have-Nots: "To be successful in life, you have to be going somewhere. That's especially true in the business world. And you need to get everyone on your team involved in getting you there. While that might seem obvious, it's something a lot of people miss. You'll always have a better chance of winning if everyone on the team knows what it takes to win."
What's really inspiring is that when people learn how to win, it becomes infectious. They want to get better and better, to keep improving so they can keep winning. They step up to offer new ideas or take on new responsibilities. They become leaders. Before you know it, someone who thought she was just the 11th player on the field, someone who used to hide from the action, realizes the critical role she plays in helping the team win—that she's a game-changer. That's the kind of transformation playing Great Game is all about.
---