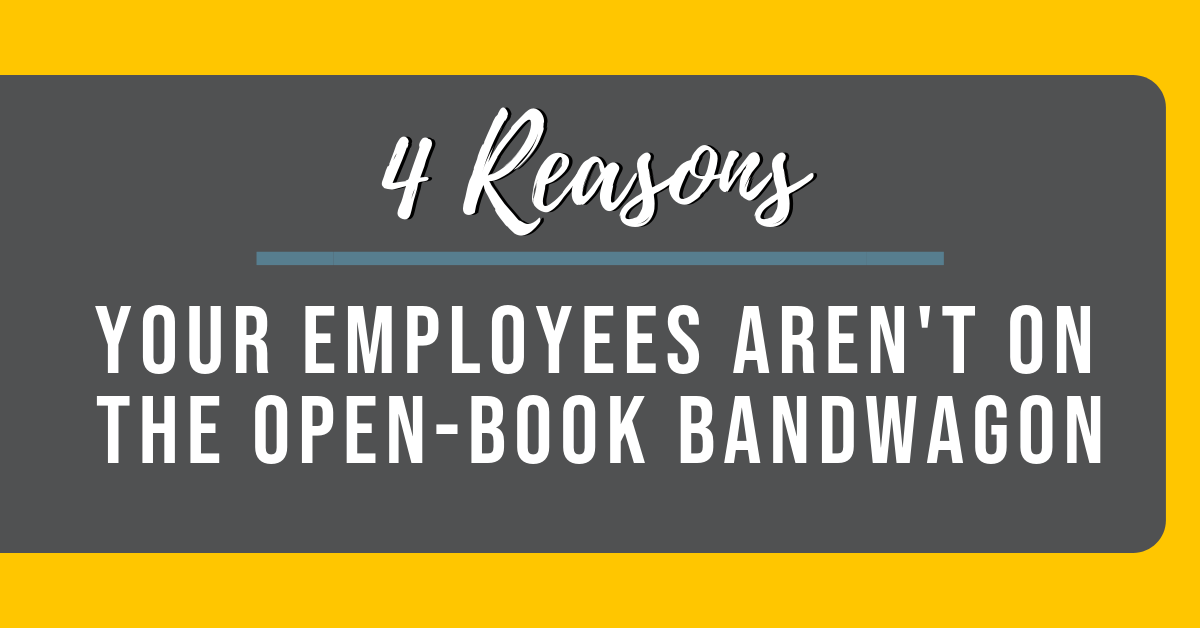 Is your leadership team ready to make the leap into open-books, but the rest of your employees lagging behind? If you're ready to start sharing financial and operational business information with your employees, but they're just not ready to play along, there are probably some very logical –and common – reasons why. Here are the top four reasons that your employees haven't jumped on the open-book management bandwagon.
1. They're not sure anyone cares about them
Employees who feel valued will inevitably jump on the bandwagon far before those who don't. A quote in an article by Jeff Haden says it all: "Our employees don't really care about what we want them to do until they know how much we care about them. When an employee knows – truly knows – that you care about them, then they care about you. And when they know you care, they will listen to you…and they will do anything for you."
2. There is a barrier to accessing leadership
If your leaders aren't making an effort to be front-and-center with employees as much as possible, it will be difficult for employees to believe upper-management is really making an effort to be transparent with anything…let alone the company financials. Make sure the management team is not spending the day hidden in their office, but rather, making regular rounds to get to know employees.
3. They don't feel they have the opportunity to contribute
If you're trying to build a more transparent organization and you're not actively soliciting ideas from employees at all levels of your company, you're missing a huge opportunity. Your employees have more visibility on daily tasks than most people in management and probably have ideas for how to make significant operational improvements. Be sure supervisors encourage employees to offer verbal suggestions as opposed to a simple "suggestion box" that, as far as your employees know, is never opened.
4. The concept seems overwhelming
Remember: most of your employees aren't accountants who comprehend financial statements, business people who thrive on understanding the intricacies of how business operates, or social psychologists who know the value of open communication and transparency. Telling an average employee you want them to learn about the company financials, become accountable for the success of the business and work alongside leadership to build a great company is beyond intimidating. Remember to start small. Share the "why" before the "how" and offer them ample opportunities to educate themselves on the issues that are most important.
---
If any of the above scenarios sound familiar, we recommend taking a step back to make sure your entire leadership team has the right mentality to make a cultural change like opening your books successful. Beginning with the right leadership is the first step to making any change within your organization.
Other articles you might like:
---
Want to learn more about implementing the Great Game at your company? Join us at our next Get in the Game workshop to learn the 10 steps of implementation to kick-start The Great Game at your business.