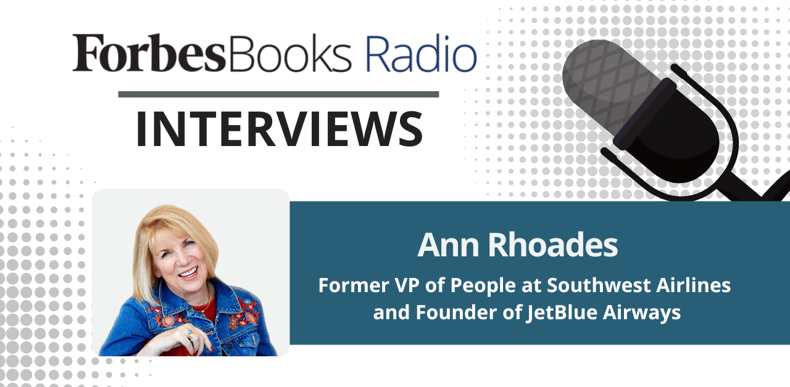 At the 26th Annual Gathering of Games, we had the opportunity to host Gregg Stebben from ForbesBooks Radio as he interviewed participants from this year's conference. Check out his interview with our 2018 Keynote Speaker, Ann Rhoades.
A Sneak Peak: What's Included in the Podcast
Ann Rhoades' background with companies including Southwest Airlines, JetBlue, DoubleTree Hotel, and PF Chang's.
Ann's experiences that led to her book, Built on Values: Creating an Enviable Culture that Outperforms the Competition.
Ann's role in the People Department at Southwest Airlines, and how the Great Game was implemented at the company with the help of Jack Stack.
The powerful impact of Great Game practices at Southwest and how they saved 15% in healthcare costs.
Her role as a founding executive at People Ink, formed in 1999 to c

reate

o

rganizational cultures

based on values and performance.

Bridging the gap for women in leadership.

The Great Game of Business and Millennials- a generation speaking up about what employees have wanted all along.
---
More about Ann Rhoades:
After 25 years in leadership roles with organizations such as Southwest Airlines, JetBlue Airways, DoubleTree Hotels, and PF Chang's China Bistros, Ann Rhoades is a leading expert on building values-based organizations. She has proven that when implemented correctly, this kind of corporate culture not only creates a great work environment for employees but also increases all other performance measures.
Based on her decades of experience driving trailblazing corporate cultures, Ann wrote Built on Values: Creating an Enviable Culture that Outperforms the Competition, in which she reveals exactly how leaders can create winning environments that allow their employees and their companies to thrive.
---
Other articles you might like: