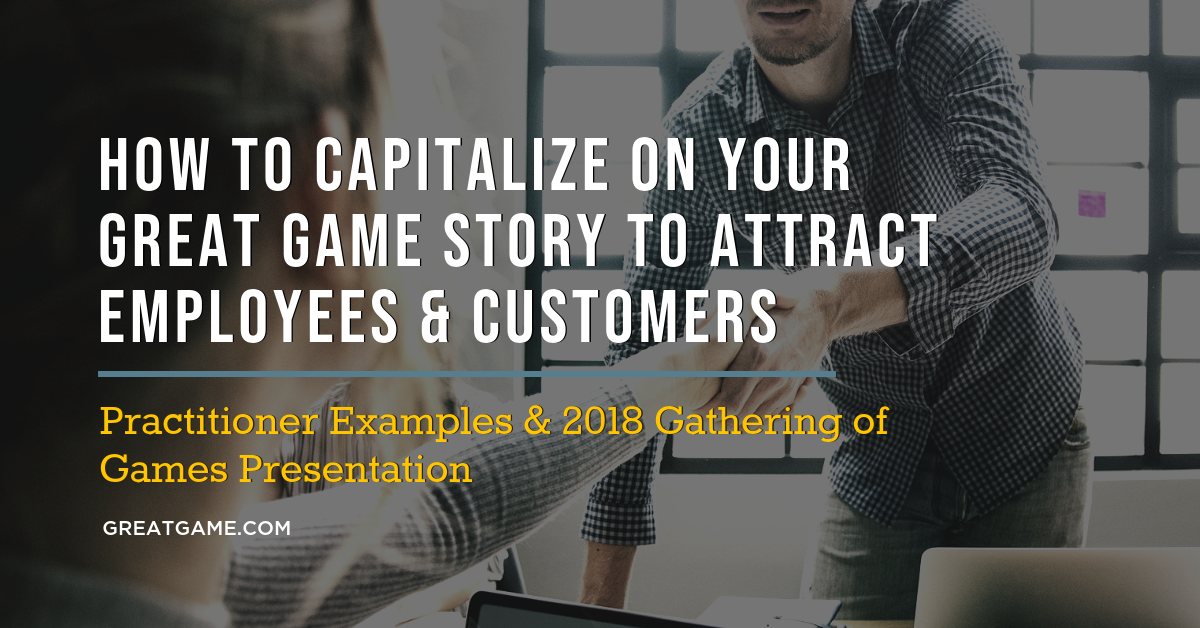 Company culture is one of the most important values individuals look at when searching for a job. That's why Great Game practitioners often spread the word about their open-book and transparent business practices, and as a result not only draw in prospective talent, but attract the right employees with compatible values—those that will thrive in their Great Game culture.
GGOB practitioners showcase their unique culture to tell their customers and staff—new and old—the story of what they're all about. Many companies capitalize on their practice of the Great Game of Business® in job postings and their organization's web pages as hiring tool, an asset to retain current employees, and way to communicate their organization's values to clients.


Showcasing Your Great Game Practices on Your Website
Hutten & Co.

(Ontario, Canada)

created a personalized

video on their "Careers" page for current and potential employees. Here they emphasize The Great Game of Business as a differentiator between Hutten and industry competitors, and why the GGOB makes them the employer of choice.
President Mark Hutten says he wanted to "fully capture the cultural benefits and organizational improvements (the Great Game of Business brings to) the company, the customer, and the employee." He adds, "Candidates are definitely interested in this unique management style. Most businesses are much more closed in the sharing of information, especially financial information, so this is intriguing to new candidates and they're excited to participate!"
Willoway Nurseries (Avon, OH) showcases their open-book practices and the impact GGOB methodology has on their organization under "Why Willoway". Emily Showalter, HR Manager at Willoway, explains why they highlight the Great Game and their culture for future employees, clients, vendors and potential customers:
"We include GGOB on our website for many reasons. GGOB has been very influential when we are interviewing and recruiting new employees. During phone screenings and interviews, almost all potential employees looking at our business for their next career move mention that they saw GGOB on our website and you can sense the excitement in their voice. We also use the GGOB story on our website to see if applicants will be a good fit in our culture during the interview.
"We have had many customers so intrigued by what we are doing with open-book management and GGOB that they request to attend our company Huddle (6:58 every Friday morning!) to see what this is all about.
"GGOB is something that differentiates us from our competition. Our transparency helps customers and employees understand where the money goes, why our prices are what they are, and what our profit and net cash goals are. We show our customers and employees that we have a plan to reinvest back into our business and share our profit with employees. We also list 'participation in company culture including open-book management and the Great Game of Business' in all job postings and in every employee's job description."
Practice Velocity (

Machesney Park, IL)

created a video illustrating their open-book and Great Game practices including specific MiniGame™ examples.
More Practitioner Examples
CM's A Cut Above (Omaha, NE) introduces GGOB and the difference it makes it their operations on their "Join our Team" tab.
GeekHive (Warwick, NY) highlights their experiences at the Annual Gathering of Games conference and how they've implemented The Game on their company blog.
West Paw Design (Bozeman, MT) displays the benefits of "joining the pack" and what their company can offer employees including a Great Game culture.
PharmaLogics (Quincy, MA) shares their Great Game of Business story under "What's New".
Venturity Financial Partners (Dallas, TX) shares their "why" when it comes to their core values and how the Great Game fits into their company.
Using GGOB to find the Right Addition to Your Team
Another tactic Great Game practitioners use to attract talent and ensure new hires are the right fit for their team is incorporating GGOB into their job postings. Here are a few examples pulled from LinkedIn and Indeed:
Coast Pavement Services (Tigard, OR): "We are a family-owned business that believes we must Pave it Forward and are built to give everyone A Stake in the Outcome® (bonus structure and open-book management). We play the Great Game of Business®."
BrightLeaf Homes (Hinsdale, IL): under Interested? Here's What You Do: "Research what the Great Game of Business® is to understand how we run our company and why the happiest employees are from companies that subscribe to this philosophy and system."
Best Human Capital & Advisory Group (Indianapolis, IN): under Benefits: "Our firm operates in an open-book manner, following the Great Game of Business® principals. All financial, strategic and operational metrics and initiatives are transparently communicated on a regular basis to all stakeholders."
Suburban Electric (Appleton, WI): under What We Will Do for You: "Our Commitment - To your financial health and well-being. This starts with the Great Game of Business®, the Employee Stock Ownership Plan (ESOP), bonus plan, increased income potential, and benefits."
Dimensional Innovations (Overland Park, KS): "In 2018, DI incorporated the Great Game of Business® principles into the way we do things. The program is designed to provide transparency for all employees into company financials. GGOB allows for the potential of quarterly bonuses based on team performance."
Woodward Communications, Inc. (Richland Center, WI): under Specific Responsibilities: "Actively participates in the Great Game of Business®."
Menold Construction and Restoration (Morton, IL): under What Menold Offers: "A Stake In The Outcome®" company-wide incentive bonus plan; open-book management practiced through The Great Game of Business®"
Woodard Properties (Charlottesville, VA): "We are excited to be a Great Game of Business® company, which means we practice open-book management and teach and encourage employees to think and act like owners."
Are you capitalizing on your Great Game practices to attract top talent? Let us know in the comments below! And don't forget - when sharing your GGOB story, use the registered trademark ® and feel free to link to our site to give interested parties further insight into your cultural values.
If you have any questions or need any additional assistance, please reach out to lhaley@ggob.com.
---
Learn more creative ways to capitalize on your Great Game story in Darren Dahl's breakout session at the 2018 Gathering of Games:
---
Other articles you might like: