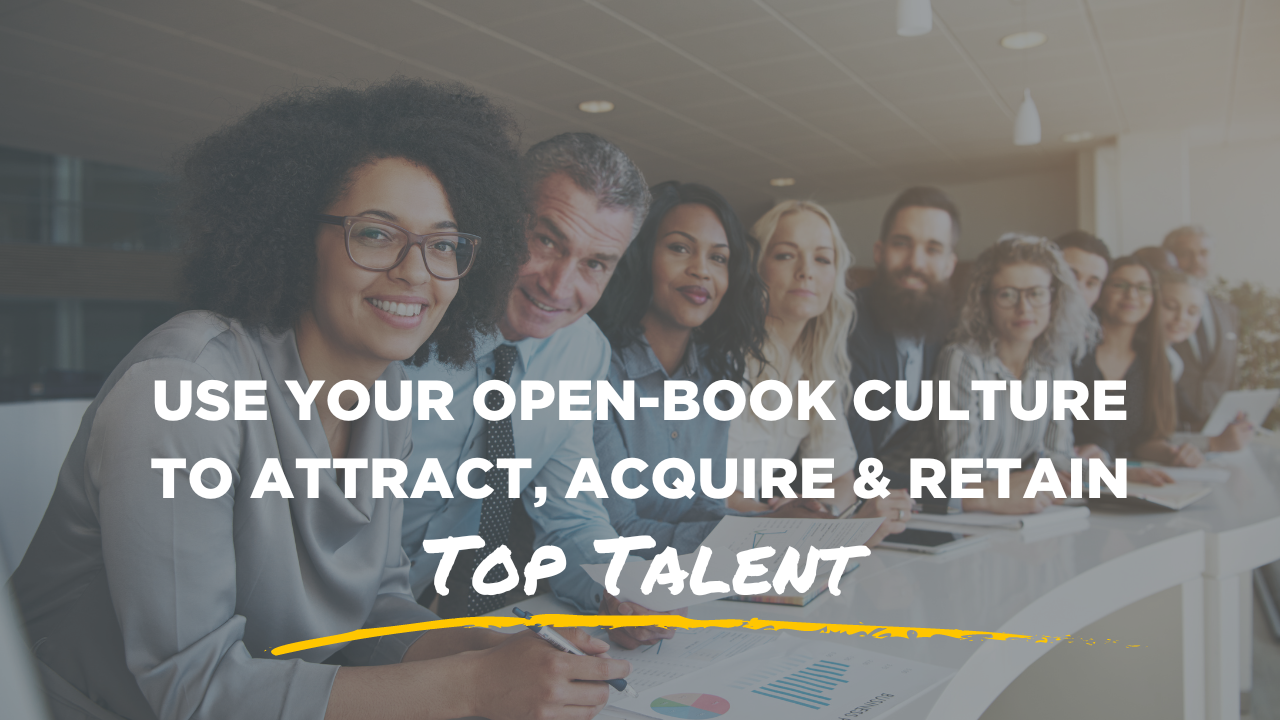 Have you ever considered how open-book management can make the process of attracting top talent into your organization easier? What about employee retention? My company – Netmail, a 100+ employee company – has been practicing open-book for the better part of a decade. During that time, I've found that leveraging our transparent culture has significantly increased our ability to attract, acquire and retain top talent in our organization.
Regardless of the size of your organization, and whether you are an old-hand at open-book or just beginning your journey, you can use your culture promote your organization as a place where top talent will want to work!
Top talent is looking for a place where they have a say and a stake in the outcome of the efforts they put forth, not only for themselves, but those they work with. As part of a company's culture, practicing open-book management generally equals transparency, encourages openness, honesty, and business-driven dialogue throughout a hiring process. This, over time, will make a difference in the quality of the candidates that apply for open roles, and also in the quality of the people being added to your team.
Here are three ways you can use your open-book culture to your advantage:
Hiring Process Made Easier:
The entire interview process can be made much easier by promoting the values of open-book management. For me, the number one question asked during the first call with a candidate is "what does it really mean to be 100% employee-owned". Answering this question allows me to speak openly about the company's actual financial targets and how this information is openly shared as part of the company's culture & systems. This is often quite shocking for most potential hires, and it leads to some very interesting questions that reveal a lot about the candidate.
Importance of Onboarding:
It is important to take the opportunity to teach the rules during onboarding session. Working with a company that practices open-book management can take some getting used to for new hires. It is important to be cautious and detailed when you introduce the critical number, the financial statements, etc. during the new hire's onboarding program.
Continued Learning:
Transparency of financial information has always been part of our company culture at Netmail; more importantly the sharing & teaching of what that financial information represents has been a top priority. This allows team members to make better business decisions based on the information made available to them.
Finding and hiring great people that fit your company culture, and support your values, definitely ranks in the top three ways to ensure the long-term success of any company. We use the fact that we practice and live open-book management to make that long-term success a reality.
You can catch Stephanie Greenshields in her session, Leveraging Open-Book Management as a Competitive Differentiator to Recruit, Hire & Retain Top Performers, at the 22nd Annual Gathering of Games, taking place September 3-5, 2014 is St. Louis, Missouri. Learn more about conference speakers & session topics by visiting the conference website.