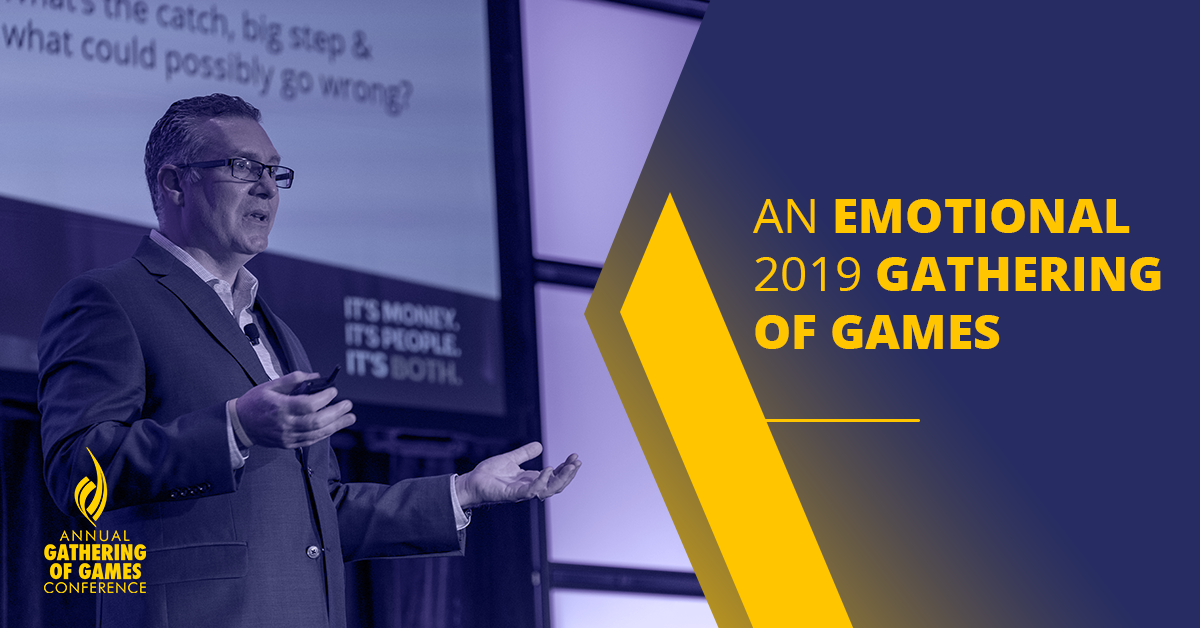 When John Costello took the stage on the second day of the 27th Annual Gathering of Games conference, he had already won a bet with his wife, who happened to be in the audience. Costello, the CEO of Cherry's Industrial, had wagered that it might only be a few minutes into his talk before he'd start crying. He was right. But the tears that Costello shed on stage—which then quickly spread among the 700 rapt audience members—weren't tears of sadness. They were tears of relief; freedom from a heavy burden that he had been carrying on his shoulders for years.
Costello shared his story in an OBMx Talk about how he and a partner had bought Cherry's from its founder—taking on plenty of debt to do it. But he and his new partner, the nephew of the founder, quickly found themselves at odds over how to run the business. They disagreed on just about everything, which made Costello's life miserable. Finally, after his partner returned from vacation, Costello built up the nerve to have a difficult conversation. Costello wanted to buy his partner out. The partner was amenable to the deal, but only if Costello paid a premium price—maybe more than the company was worth. The real catch was that if Costello missed even a single payment, the partner said he would return to the business and Costello would be out. While the terms were onerous, Costello signed the paperwork. He just wanted to move on and build his company.
He was crushed to learn that his bank, which the company had a 40-year relationship with, wouldn't lend Costello the money. They told him it was his partner who was the real brains of the operation—they didn't trust him. "That stabbed me in my heart," Costello said. So he turned to his family and friends for loans. He borrowed against his 401k. He found a community bank willing to lend him a small amount. He even took out a second mortgage on his house.
What he didn't realize was how crushing the debt would become—on top of the looming presence of his partner. He lost sleep; he was short-tempered at work. He pushed his team to cut costs and generate cash—without explaining why that was so important. "I was screaming about the numbers," he said. "I was pulling this cart up a hill and I was out of gas."
It wasn't until he found the Great Game of Business®, and embraced the idea of transparency and getting his entire team on board with running the business, that he finally found freedom. He told about how he sat his entire team down to explain the financial status of the company—and the debt that it owed. He admitted he was worried about how his team would react. "I was scared as hell," he said, "but I knew that I had to share the numbers." He then talked about his surprise when one of his associates raised his hand and asked: "What happens if we pay down the debt early?" This is the part of the story where Costello usually loses it—including when he was on stage.
The good news is that, thanks to creating a business of businesspeople, Cherry's financial fortunes have turned around. "Every day got better after that," he said. The associates were taught the rules of how their business worked, kept score to understand if they were winning or not, and were then given the opportunity to earn a stake in the outcome when the organization met or exceeded its goals. The company is again profitable and generating cash—and Costello has been able to pay down his second mortgage. Maybe more importantly, the company is now on track to buy out the former partner two years early.
Costello's talk was just one example of the tremendous lineup of dozens of speakers and presenters that appeared on stage and in break-out sessions at this year's Gathering—all of whom spoke about the transformational power that comes from playing the Great Game. All of these champions hammered home the theme of this year's conference: It's Money. It's People. It's Both.
Costello's story wasn't the only one that brought tears either. It was difficult to keep dry eyes, for instance, hearing the tragic early life of keynote Kevin Kruse, and how he overcame substance abuse and a fractured family life to become a successful entrepreneur—thanks in part to playing the Great Game.
These are just a couple of examples of the powerful and emotional stories that have been shared at the Gathering over the past 27 years. It's enough to get anyone excited to about the kinds of stories we'll hear at next year's Gathering.
Learn more about the Cherry's Industrial Great Game implementation story in their 2019 Great Game All-Star Case Study.
---
Other articles you might like: