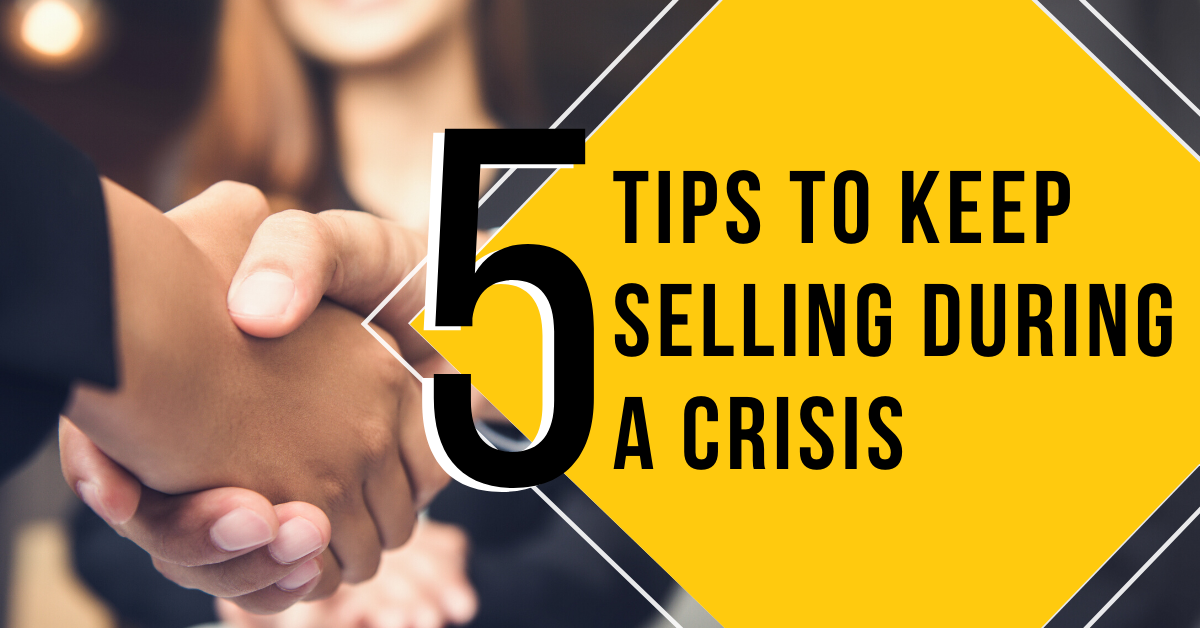 A large number of company's revenues have been affected negatively by COVID-19. Even worse, some have had their revenue shut off completely.
One might ask, "Why should I worry about sales? Especially when my company is struggling and my potential customers are distracted by their own struggles?"
If you've asked yourself this question, realize you're only thinking about the current situation and not the future. You're not considering all your options or the "What if's?"
Prior to becoming a Great Game™ coach, I spent 14 years with Central States Manufacturing, a GGOB practitioner, as VP of Operations and VP of Sales & Marketing.
During that time, Central States not only endured but prospered, even during the recession of 2008-2009. In fact, Central States grew 15.7% in 2008 and 17.7% in 2009.
To put this into perspective on March 8, 2008 the DJIA was 11,893 and on March 1, 2009 it was 6,626. How did they accomplish this growth? Easy - they never stopped selling when their competition did!
It's fully understood all businesses need cash to survive. However, for those who stop focusing on sales, it won't matter how much cash you have when things get back to normal.
There's no doubt you'll need to be more intentional and creative when it comes to selling, but it can be done.
Here are 5 tips to help keep your organization focused on the top line.
Don't cut your lifelines.
For some reason it seems like during every economic downturn or crisis, the first expense organizations cut are expenses used to generate sales.
Travel budgets, marketing budgets, advertising, and sales headcount are all slashed. Some businesses think by enforcing a 10% reduction in revenue it will mean a 10% cut across the company.
It happens time after time. Author Tom Peters said it best with his book entitled, "The Circle of Innovation: You Can't Shrink Your Way to Greatness."
Below are some excerpts from a Forbes.com article by Brad Adgate entitled, "When a Recession Comes, Don't Stop Advertising" posted on September 5, 2019.
Dry Cereal: In the 1920's, Post was the category leader in the ready-to-eat cereal category. During the Great Depression, Post cut back significantly its advertising budget and rival Kellogg's doubled its advertising spend, investing heavily in radio and introducing a new cereal called Rice Krispies, featuring "Snap," "Crackle", and "Pop." Kellogg's profits grew by 30% and the company became the category leader, a position it has maintained for decades.

Imported Automobiles: The 17-month recession of 1973-75 was triggered by the energy crisis. In late 1973, the U.S. government issued its first miles-per-gallon report in which Toyota Corolla was second to Honda Civic in fuel efficiency. Since Toyota was experiencing strong sales, when the economic downturn hit, the temptation was to drop their ad budget, which they resisted. By adhering to its long-term strategy, Toyota surpassed Volkswagen as the top imported car maker in the U.S. by 1976.
Quick Service Restaurants: In the 1990-91 recession, Pizza Hut and Taco Bell took advantage of McDonald's decision to drop its advertising and promotion budget. As a result, Pizza Hut increased sales by 61%, Taco Bell sales grew by 40% and McDonald's sales declined by 28%.
There's no doubt; there will be fewer resources like cash and employees available in the short term but, now is the time to be creative and involve all of your employees. A great solution to jump start the creativity is to see what ideas your team has and come up with a MiniGame™.
Move your hands AWAY from the keyboard and pick up the phone.
I'm sure there are some that say talking on the phone is old school. I get it. If I call my own children, they won't answer the phone. They tell me, "Dad, nobody talks on the phone anymore."
That's my point! In times of recession or a pandemic, the key is to stand out from the crowd. Be the differentiator!
Under normal circumstances, I receive several emails and phone calls from salespeople. However, since the COVID-19 outbreak, my phone calls have dropped off significantly and my emails have tripled. Why?
I have a theory of why but of course I have no scientific data to support it. So, let's call it a hunch. I believe because a large majority of salespeople aren't able to travel or visit customers, sales managers are trying to keep them busy with "tasks".
The easiest task to do (and track) is sending out emails. However, if you're like me and your email traffic has tripled, guess what happens? Yup! You. Stop. Reading. Emails.
There's just to much noise in our inboxes. So stand out - and pick up the phone.
Whether my hunch is valid or not, be different. Call and actually speak to your customers. If for nothing else then to ask them how they're doing and let them know you're still thinking about them. I promise, if they answer they'll remember YOU being the one to reach out and check in.
And if no one answers, just leave a quick message. I don't always read my emails but I always listen to my voice mails.
Keep working the sales process.
Selling is a process. Stick with it. Sure, you might have to alter how you communicate, but in reality the process works no matter the current circumstance. Here's the process that Central States Manufacturing uses:
Research/Prospecting
Surveying
Proposal
Negotiation
Closing
First Order
On-boarding
Alter your message and adjust your tone.
It's not what you say; it's how you say it. During an event like the COVID-19 pandemic, it's my belief that all salespeople should adjust their message and communication style.
For example, under normal business conditions, it may be a good idea to continuously ask for an order or get an update on a quote. Unfortunately, for most today's situation is not normal business conditions.
Companies are experiencing something that many have never dealt with. It's not just a business issue either. This pandemic has affected every facet of people's lives. You can't leave what happens at work - at work!
Therefore, communication should start with empathy. Dave Scholten, a Great Game™ of Business Certified Coach says, "Assume everyone is not okay."
Understand that everyone is struggling in some form or fashion so always lead with empathy. And be sincere about it too.
Stay away from buzzwords or phrases like, "During these unprecedented times…" or "…we are all in this together."
Don't read from a prepared statement. Just be yourself and try your best to have a normal conversation. Normal will seem refreshing these days.
If they seem like they need it, offer them resources for their business (like sending them a guide to apply for SBA loans) or share with them how your company is dealing with COVID-19.
Here's an idea to get the conversation started or to leave as a voicemail for a prospect/customer during this crisis:
"Good Morning Dave. My name is John Williams. I'm the Business Development Manager from Central States Mfg located in Lowell, Arkansas. I realize you probably have a lot on your mind right now. I just called to see if there is anything we can do to help you or your company? If so, I'm happy to help. Please don't hesitate to call me."
Promote and solidify your brand.
If your business has been identified as "essential", you may have actually seen an increase in business. This increase can come from existing customers or people who have never bought anything from you before. Here's some examples:
Liquor stores sales increasing because restaurants are closed
Discount retail stores such as Aldi, Dollar General, and small family-owned grocery stores experiencing increased sales or new customers due to outages at other stores
Businesses providing financial guidance seeing increases from small business owners looking for help
The manufacturer of plastic eating utensils and takeout boxes seeing an increase in business
On the other hand, if you are not an "essential business", you should still take this as an opportunity to promote who you are and what you do.
Take a look at the ads on TV. Some companies have shifted their strategy on advertising to solidify their brand. Your brand or the way you do business could be a variety of things such as:
Quick service
Giving back to the community
Quality product
Ease of doing business
Friendly service
Low prices
Whatever your brand represents, do what you can to promote and sustain your cause. I know about a company who's currently shut down but rather than lay-off their employees, they've decided to pay them and keep them working. Only, they are not working at their old jobs. They are working in their community helping others.
When Sam Walton, the founder of Walmart, was asked about the 1991 recession his answer was this, "I've thought about it, but I have chosen not to participate."
Whether it seems like it or not, you and your organization do have a choice. I hope you utilize this time the best you can and ultimately, I hope you choose to continue to promote your business and sell your products and services.
I truly believe your perseverance will pay off in the end.
-John Williams
GGOB Practitioner and Certified Great Game Coach
---
With business and the economy in chaos, there's one thing we know for sure: YOU HAVE TO MAKE BOLD MOVES TO CREATE YOUR NEW NORMAL. Don't let circumstance dictate where your company will be tomorrow...YOU decide. Where will you be in 90-days, 1-year, even 5-years down the road?
Take control of your situation
Harness the collective wisdom of your people
Create focus, alignment, and accountability around your financials
Execute with a sense of urgency
Get ready for the upturn
More articles you might like: