Forecasting cash flow is the key to the survival of many organizations, yet it's a non-existent process in others. Often, organizations with abundant cash see little value in taking the time to put a system in place to do this. Other organizations that operate with little or no cash see forecasting cash flow as a critical element in running their business in such a manner as to avoid a crisis of liquidity. The truth is, Forecasting cash flow should be a part of the monthly business cycle, regardless of your cash situation, and here is why.
Elements of Forecasting Cash Flow
Even though businesses or organizations that do not have cash constraints today, they quickly could find themselves in that situation in the future. A cash need "surprise" can put unnecessary stress on a company and the management team. All companies should develop a cash flow report or statement (often called a sources and uses of cash report) comprised of three sections: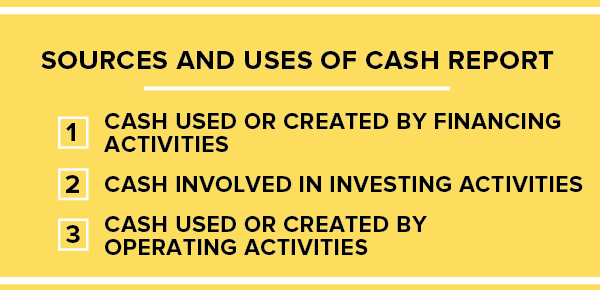 Let's define these concepts:
Financing Activities are events that generally involve changes in debt or the raising of capital.
Investing Activities are generally using cash in the purchase of assets for the business. Examples would be equipment, buildings, land and short-term marketable securities.
Operating Activities are events that are the core business operations. This includes cash generated from the products or services provided, accounts receivable, accounts payable, depreciation and inventory.
The good news is most of the items contained in these types of reports are fairly easy to forecast financials in business. Easy to predict items might include cash for planned capital investment, cash used in normal accounts payable and cash needed to repay short- and long-term debt.

Given the nature of the customer base and the markets served, account receivable is often fairly easy to predict. This may not be true if the business services customers that typically have their own cash issues or if the product or services are such that cause the receipt of payments to be erratic.

For many businesses, predicting cash from operations can be difficult if they do not have a systemic forecasting process in place (i.e., income statement) that is accurate and reliable. If the business plays The Great Game, then it has a mechanism that can take the mystery out of predicting the future cash needs or cash generated by the operating part of the organization, Huddles.

A forecasting Huddle process that looks two or three months ahead is ideal. Use the results of the forecast to predict cash from operations that can then become a critical element in a forward-looking cash flow report. As the operating forecast changes along with the other items affecting cash, the report can be updated as part of the normal financial reporting cycle.

Create a cash flow "scoreboard" that assigns the various sources and uses of cash listed above to "line owners." This helps take the burden of forecasting off the chief financial officer and distributes it to staff members. The big benefit is the line owners, through their research in improving their financial forecasts and developing a deep understanding of how various processes (i.e., A/P, A/R, operations, capital spending) affect cash.


Create a predictive cash flow report if you do not have one and give serious thought to regularly forecasting cash flow. The education alone your team would gain through the process would probably be well worth the cost.

Other Articles You Might Like: