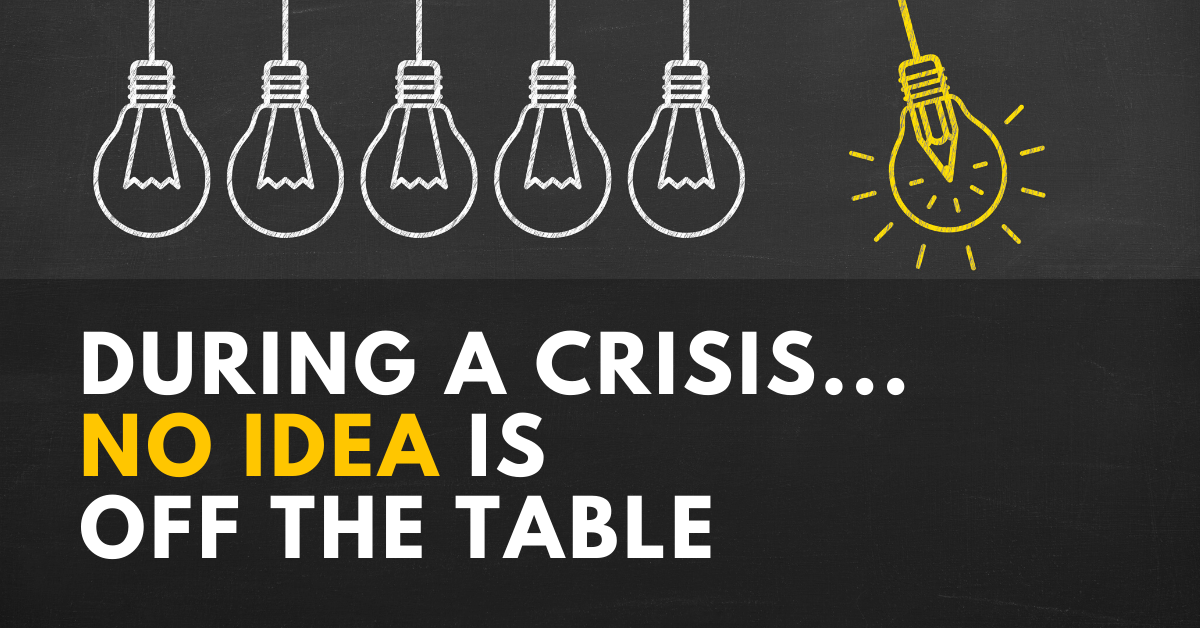 Dealing with this pandemic is exhausting. Whether your business is shut down, or booming, the uncertainty about whether you and your people might be safe is something that doesn't stop.
In our case at Springfield ReManufacturing Corp., we've been labeled an "essential" business. We make parts for key industries like defense, health care, and agriculture. And like Steve Choate, my longtime friend, and colleague, likes to say, "Farmers are gonna farm."
If we're going to keep our factories open we need to do everything under God to keep them safe. It's got me up at night, and up early in the morning, trying to think through every scenario I can dream of.
But that's just it; I'm just one person. I can't think of every single variable where someone could get sick and accidentally infect their coworkers. A former boss of mine taught me a lesson that has been burned into my brain forever: there's always one more thing.
It can be exhausting to always be trying to figure out what that one more thing is.
That's where a culture built by The Great Game of Business® principles becomes so important. I can't even count how many times I've heard people dismiss The Game as something that's "nothing more than a system for numbers."
These folks always seem to miss the real heart of The Game. It's really all about people. It's about finding ways to come up with solutions to problems together. The more you teach people, the more innovative and creative they become.
People want to help come up with new ideas and solutions to tough problems. One of the Higher Laws of Business we use often comes straight from The Great Game of Business book I wrote with my friend Bo Burlingham: "It's Easy to Stop One Guy, But it's Pretty Hard to Stop 100."
Let me share a story with you about what happens when people step up to help solve even the toughest problems—like how we can try and keep people safe when they come to work.
One of our plants located in Springfield, MO, CNH Reman, is a joint venture between Springfield Reman Company and Case New Holland. A couple of people from the shop put their heads together to try and tackle our biggest problem at hand: keeping people safe from the coronavirus.
Of course, our policy is for people who show symptoms of the virus—like a fever—to stay home rather than coming to work. But not everyone has access to a thermometer.
Dave Reader, operations manager at CNH, had an idea and threw out the question: "Could we use the thermal imaging cameras we use to check electrical connections and bus bars to take someone's temperature?"
"Our challenge was to find ways to get things done while also practicing safe social distancing," says Dave, who heard TSA agents were doing something similar in airports. "We wondered if we could use these devices we had in the shop to check if someone might have a fever from a safe six-feet away."
Dave and his associates, Rafe Piatt and Jared Clift, started testing the devices—which range in cost from a few hundred dollars to several thousand dollars—to check the accuracy of their readings against more traditional devices, like contact temporal thermometers and point—shoot—check thermometers.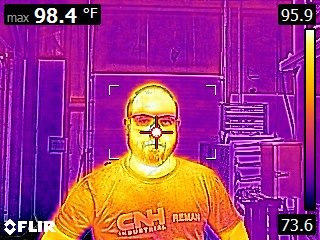 Thermal Image of Jared Clift Showing His Temperature
What they found was, while there was a slight margin of error, the thermal camera was extremely accurate—and fast. It provided a reading in just a few seconds.
With approval from the team, they rolled out their new screening test for the second shift starting the night of Thursday, March 26.
"People loved it," says Dave. "They thought it was really entertaining. But even more importantly, it was a comfort to them to know what was going on and who was in the clear. With all the uncertainty out there, it was an added step we could take to put all the precautions in place to keep everyone safe. They were very thankful we cared about them."
We've already ordered four more of those cameras so that we can roll out that same screening process at all of SRC's factories—all with a goal of keeping our people as safe as humanly possible.
So if you're losing sleep and stressed out from trying to find all the answers to every problem inside your business - all on your own, you're missing a golden opportunity to tap the most valuable resource you have: the imagination and intelligence of your people. That's the real secret sauce behind playing the Great Game of Business.
Are you looking for a step-by-step guide to maneuver the current crisis?
Other content you might like: