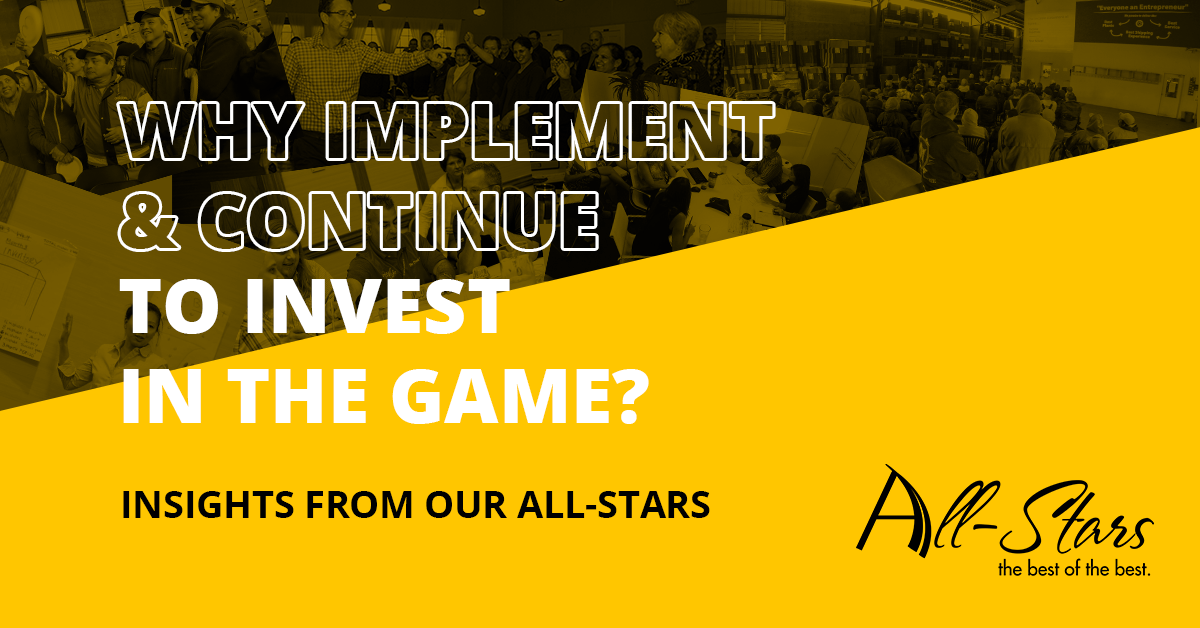 Taking the leap into open-book management and a transparent culture can be intimidating, so we asked the best of the best in open-book why they implemented the Great Game of Business®, and what motivates them to continue investing in The Game.
---

Vital Farms
Heather Reinkemeyer | Crew & Community Relations Manager
Motivation for playing The Game is just as unique as each crew member we have at Vital Farms. If you ask Russell, our president, he'll tell you he is excited to come to work and navigate our business. It's fun for him just like a game, and he enjoys how Great Game™ parallels closely with Conscious Capitalism knowing that through the stakeholder model, we equally value all who impact our business.
If you ask Jennifer, our VP of operations, she'll tell you playing Great Game gives us a common language we can use to communicate, while focusing on the "we" rather than the "me" of the business.
If you ask me, I want to invest my future in the company I work for, and to work for a company that wants to invest in me as well. What better partnership could you be looking for than that?
---

Double O, Inc.
Michael Otis | President
I first read The Great Game of Business 25 years ago and was immediately convinced of its importance, but I did not think our company was ready. When I encountered some of the GGOB staff at an INC 5000 conference, reconsidered the idea.
I have always believed those that help create the wealth should be blessed with the reward. I trust our people. They are a great team and want to engage and take on responsibilities, but the only way that can happen is if they are given knowledge along with responsibility. They must understand the big picture to make the right decisions.
Our front-line employees make decisions that impact the success of the company every day and must be equipped with the right information and tools to understand the impact of those decisions. The Great Game of Business gives them those tools! I will continue to teach the GGOB principles as long as I am in business and will be using GGOB training to better prepare our company to move to an ESOP structure within a year.
---

Global Recovery Corp

Neil Chambers | General Manager
Global Recovery Corp. (GRC) is a spin-off company started in 2013 with five employees from a department of SRC Logistics. The decision to implement the Great Game of Business was easy since we were already practicing, but it quickly became a necessity for our young, unseasoned management staff. By the end of our first year, we had almost $8 million in sales, but we also had $1.5 million in accounts receivable and a loan balance of almost $3 million. We could no longer function as just a department of a larger company focusing on sales and margin. We had to look at the bigger picture of running a business including expenses, cash flows, collections and inventory turns.
Per the Bureau of Labor Statistics, 50% of businesses fail within the first 5 years, and we didn't want to be part of this statistic. We learned having strong sales was not enough, and building a strong balance sheet was also important if we wanted our company to be successful. To do this we needed all of our employees making smart day-to-day decisions and understand the impact of these decisions.
---

GUY Engineering
John Blickensderfer | President and Principal Engineer
GUY Engineering was originally motivated to play the Great Game of Business by a change in ownership. Then-owner and president, Julie Guy, was nearing retirement. Employees were very concerned about the future of the company and the impact of her leaving. As a service company, client relationships are vital to winning future work. Would the many relationships Julie had built over the years survive after she left?
Another factor was that the company had recently implemented an Employee Stock Ownership Plan (ESOP) and employees needed to learn about company finances and develop an ownership mindset. They also needed to plan for paying Julie for the stock the ESOP purchased.
As Julie and I searched for the best way to help employees transition to their new roles as employee-owners, Julie read The Great Game of Business and was struck by the focus in the book on transparency, financial literacy, and forward planning—all in an atmosphere of fun. At her suggestion, the management team read the book and realized GGOB was a way to overcome all these challenges and to support learning more about the ESOP. Early on, they used GGOB to directly address concerns and questions including relationship building and financial literacy.
---

Cherry's Industrial
John Costello | President
When I first read The Great Game of Business book five years ago, the company was at a low point. Revenues were down, morale was terrible, and employees were just going through the motions. To make matters worse, my business partner and I were in constant disagreement about the path forward for the company. The company needed a big change, not only for financial stability, but also a cultural shift to keep the employees happy and engaged.
In 2014, I pushed all the chips and bought out my partner, securing a small loan from the bank and borrowing the rest from family and a home equity loan on the house. Over the next couple years, we made some incremental changes (team members, mission statement and core values), but I was still struggling. We were growing the business, but not enough to support the debt structure with the seller financing. And no bank was willing to finance the debt until we showed an extended period of revenue growth and healthy net profit.
In 2017, I downloaded The Great Game of Business audiobook. As I listened, I heard the parallel stories between my journey and Jack Stack's. I knew that my current workload was unsustainable. I was stressed and overwhelmed dealing with the burden of the debt on my own. Only a select few knew the finances of the company, and the employees didn't understand why I was so ornery. In their minds business was great - revenues were up and everyone had received a bonus (based on revenues.) I was scared as hell, but knew that I had to share the numbers.
Read more about the Cherry Industrial story here.
---

SRC of Lexington
Rob Shear | General Manager
I was the General Manager of the Komatsu plant prior to SRC's purchase of the business in 2009, and Komatsu had a top-down, command and control culture. I loved the idea of employee ownership, but the transition was difficult for me because I had to let go of always being in control. Almost ten years later, I couldn't imagine being part of a different kind of company than open-book—one where the employees help run the company and the managers don't always have to have the answers.
I see my role now as setting the strategy and maintaining the health of the culture, not in controlling every aspect of how the company runs. My continuing motivation for playing the Great Game is to ensure that we build a company where this culture continues to thrive for a long time past the point I am gone.
---

Kiolbassa Smoked Meats
Michael Johnson | VP Organizational Development and Finance
In 2013, Kiolbassa's top line was growing rapidly, but our bottom line was not. Michael Kiolbassa (the president of the company) reached out to Verne Harnish, who pointed him to Jack Stack's book, The Great Game of Business. It just so happened that the Annual Gathering of Games was a few weeks away, so Michael Kiolbassa and I both attended and discovered that GGOB matched perfectly with our culture model: Values-Based Leadership. We hired a Great Game Coach and have never looked back.
At Kiolbassa, we continue to practice the Great Game of Business because we know it works. We've seen what happens when we play The Game…and we've seen what happens when we lose our focus.
In 2017, we began to deviate from the core practices of GGOB. Communications between teams began to suffer, there was less accountability on budget line items and our profits began to wane. Fortunately, we knew a sure-fire way to right the ship, and that was by refocusing and recommitting to our GGOB practice. Recommitting our efforts has shown through our financials and our team members' success.
---
Are you hoping to achieve All-Star status like the companies above? A Great Game Coach can help kickstart or maximize your GGOB implementation:
Other articles you might like: