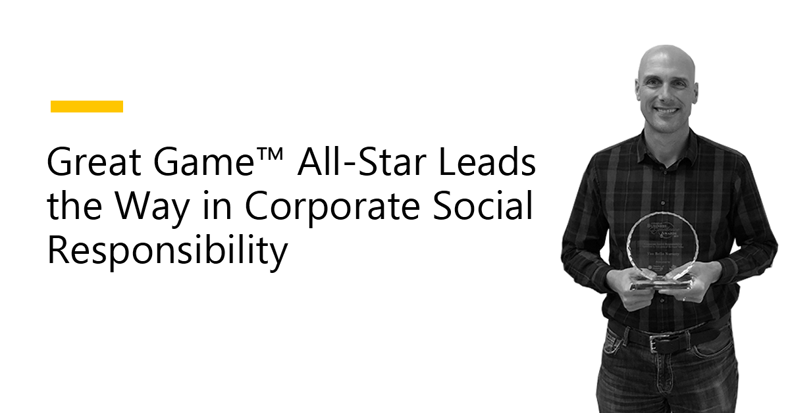 Van Belle Nursery, Inc.—a 2016 Great Game of Business® All-Star based in Abbotsford, British Columbia—was recently recognized by the Abbotsford Chamber of Commerce for its business excellence in corporate social responsibility. The award, along with other local business award recipients for various categories, was presented during the 24th annual Abbotsford Business Excellence Awards gala.
Dave Van Belle, the company's CEO, says that he and the company were nominated for the inaugural award, which was established to honor businesses that serve as an aspirational example for how business could be run better in a variety of ways.
For example, Van Belle Nurseries employs innovative environmentally-friendly processes that reduce waste. They are the only ones in their industry to ship their starter plants without plastic pots, for instance. The plants need to have high-quality roots to be able to ship well, and they ship in waterproof, yet recyclable boxes, which can be stacked in cubes inside a truck much more densely than traditional shipping methods. Those techniques, "save our customers, and us, thousands of dollars per shipment, with no waste except recycle-able cardboard," says Van Belle.
As proud as Van Belle is of those process improvements he and his team have made, the awards committee may have been more impressed by how the company engages its employees through open-book management and playing the Great Game of Business. "In a time of increasing economic illiteracy and rising approval of socialism," says Van Belle, "the Great Game is needed more than ever."
As Van Belle told the committee:
"We have a workforce that comes from all over the world, and the majority of our staff don't speak English as their first language. Many are leaving poor situations in their home country, and are trying to make a better life in Abbotsford. We take these people, who often have hidden skills and talents, and use them for our company. The part I really enjoy about immigrants to our company is that they are hungry to do better, to improve themselves, and they don't have a sense of entitlement. So they fit right in with our company culture and our core values. Part of the mission of this company is to give people a chance to grow and realize the dreams they have, through this business. The keyword is opportunity. People can do so much if we would just let them.

"And that's where the Great Game of Business comes in. It puts a system to the mindset of growing and sharing the "pie." It's an abundance mentality, a state of mind where we grow ourselves when we help others.

"And we see the results. We are averaging 13% revenue growth for more than ten years now, and our bottom line is improving each year too. There will come a time when we will pay out a million dollars worth of profit share, and it won't be too many years from now either, so that is exciting. And it's helping us with retention, recruiting, and staff loyalty and effort. I am very proud of the people we have—I think we have the best team we've ever had. And this will help us in the future to continue to grow."
In fact, Van Belle says that while 2019 proved to be a tough year for the business—at one point it didn't look like the team would earn any profit share, they turned it around and hit Level 6 of their plan—which was above even what they had budgeted for.
"I am pumped right now also because we just had our final 2020 profit plan meeting with the company," says Van Belle. "We locked down the budget today, and we made some really good strides this year. We moved to a more traditional income statement using COGS, and we are about to start reviewing the Cash Flow and Balance Sheet for the different business units. We spent tons of background work getting it all set up, but our engagement is super high. We are ending the year on a high."
You can read more about Dave Van Belle's Great Game journey in Jack Stack's new book, Change The Game.
Other articles you might like: