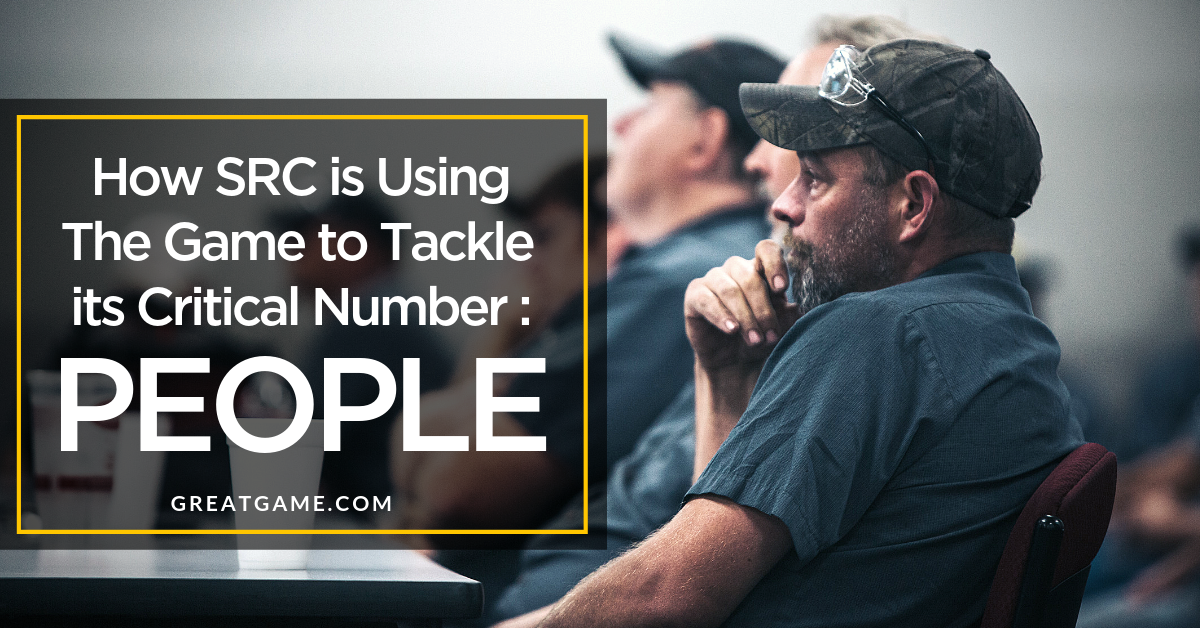 Most companies these days are struggling to find enough people to chase all the opportunities in front of them. SRC, the birthplace of the Great Game of Business®, is no exception.
Jack Stack, CEO of SRC Holdings, understands that if SRC is going to be successful in the long run, it needs to become a better competitor in the "War for Talent." One way to do so is for SRC to leverage The Great Game of Business methodology to create a line of sight where everyone inside the organization is focused on that goal. By making people their Critical Number, this is no longer just a problem for the human resource department to overcome: it becomes the focus for the entire company.
SRC has dozens of programs to help recruit and retain associates throughout its multiple divisions. But perhaps more importantly, when everyone is focused on people it creates a line of sight for every single employee out of more than 1,900 associates in the company to see how they can directly impact that number.
An Organization-Wide Effort
While the company invests in multiple outreach and awareness-building campaigns to help its recruitment efforts, the company has already found success in boosting its retention rate among its existing associates.
"We have always focused on turnover and why people were leaving the company," says Krisi Schell, the Director of Talent & Culture for SRC Holdings. "But we realized that sometimes it's too late to make changes. So we've flipped the script. Now, instead of just worrying about people leaving, we're focused on investing in keeping the people who have chosen to join our organization. It's like we're trying to recruit our own people back."
<< Listen to Krisi Schell speak on Employee Appreciation >>
Schell says that she gets forwarded articles about retention and workforce development strategies almost every day from people across the organization. "Everyone is all in," she says. "They are scouring everything they can find to make sure we have and keep ideas about how to solve this top of mind."
In some cases, that has meant helping associates understand how their actions have an impact on whether other associates stay with the company or not. An example Schell shared involved the receptionist at the corporate offices who wasn't sure how she could help with retention. That's when Schell mentioned that for many associates who work on a production floor, visiting the carpeted halls of the corporate office to attend a benefits or 401(k) meeting, for example, can be intimidating and bewildering.
The receptionist, the company's "Director of First Impressions," is the first face any associate who comes to the corporate headquarters sees and talks to. "We discussed that she has a great opportunity to provide support for our fellow employee-owners and to help make them feel like these are their offices," says Schell. "Otherwise it would be a missed opportunity to re-recruit them in the moment."
Grooming the Next Generation of Leaders
Another retention program SRC is investing in is a new frontline supervisory training program. The most common reason employees leave a company is because of their manager, so SRC has created a program to invest in this key role and ensure that supervisors have the skills and perspective they need to support the associates who report to them. The program is also being taught by Ann Casstevens, a Great Game coach, as a way to help supervisors keep The Game fresh among their team.
"We know our supervisors have one of the most difficult jobs in the company," says Schell. "They are the ones engaging our newest associates and making sure that they are playing The Game at a high level. We need to provide them with what they need to perform that role. By increasing the knowledge and training of our supervisors, we will create a tremendous push to up The Game, both for their direct reports and up through top management."
The training program is also an opportunity for the supervisors to develop the kinds of leadership skills that can help them earn their next promotion— a move that supports succession planning involved in the High Involvement-Planning™ process.
Unlike other companies that may invest more in trying to hire new leaders and "A-players" from the outside, SRC wants to make sure that their high-potential associates across the company get the opportunity to step up and become part of the company's next generation of leaders.
"This is a challenging time in workforce attraction and retention," says Schell, "and it will take new methods, as well as consistency in communicating the programs we know mean the most to our associates, to keep our most important asset—which is truly our people."


Need more Critical Number tools? Check out these resources below:
---
Visit the birthplace of Open-book Management, SRC, when you attend the on-site Get in the Game Workshop.
---