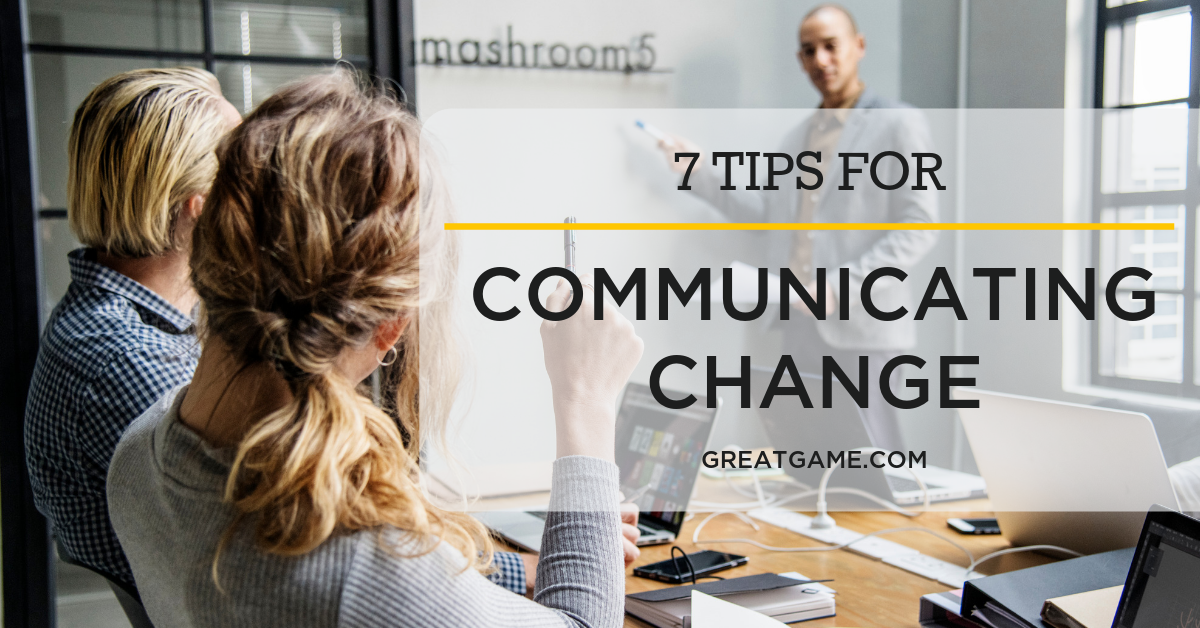 Change is often uncomfortable, and adapting to it can be messy. Whether you're implementing The Great Game of Business®, staging an acquisition, creating a new culture committee, or looking into employee ownership, consider these tips from CEOs that can help business leaders communicate your message in ways that build buy-in and rally your team behind the effort.
1. Nail Down Desired Results
The first step is to gather data, information and viewpoints. Define exactly what is changing and why. What are the new operational and financial goals? What are the critical messages? Who needs to know what, and when? How will we share information and collect feedback? Where do we want employees to be in one, three, and six months?
2. Include Communication Specialists Early On
Whether it be a hired professional communicator, or one of your front-line employees, don't hesitate to utilize a communication specialist to edit jargon and create and deliver clear, cohesive messages that minimize angst. Surveys show that your front-line staff are the most honest internal communicators. Take advantage of these cost-effective and easily accessible options to take that honesty straight to the shop floor.
3. Use More Two-Way Communication
Skip the endless PowerPoints and try sending a weekly e-mail to your employees that covers topics important to your associates. Make the conversation two-way by encouraging them to email you questions that you can cover in your next conversation or meeting.
4. Make Follow-Up a Top Priority
Always provide opportunities for people to ask questions, share concerns and offer ideas. Engaging as many employees as you can early in The Game means you'll have fewer bodies heading for the door—or worse, staying and potentially sabotaging the effort. Good follow-up minimizes fear and insecurity, and maximizes the amount of time your company stays in productive mode. Follow-up also means measuring progress related to both the change initiative and how people are handling it.
5. Repeat and Repeat
Repetition is critical when it comes to successful change and adaptation. People need time to get into the rhythm of the new corporate reality—the new processes, procedures and responsibilities. That's why GGOB companies tend to Huddle and update scoreboards at the same time each week, to keep the entire team informed and involved.
6. Make it Clear and Simple
To ensure your scoreboards and communications overall clearly inform your players on progress, use these rules to effectively measure and communicate about your Game and other initiatives in your organization with the S.C.O.R².E model. Your communications and scoreboards should be:
Simple – Easily viewed or understood at a glance (the 3-second rule)
Center court – Accessible for all to see
Owner scored – Team created, team owned, and team scored
Right measures – Critical Numbers™ & the Right Drivers (measure what's important, not what's easy)
Real time – Frequently updated & forward looking
Engaging – Relevant, meaningful, & maybe a little FUN!
7. Be Realistic—and Patient
Many companies greatly underestimate the length of time it takes to complete a change initiative. That's why organizations tend to put in a sub-par performance in the wake of an IPO or merger. Your company and its people won't change in a day, a week or maybe even a year. Remember that GGOB is all about continuous improvement. If you practice it well, you'll see small gains every day. Celebrate them and push onward.
---
Change is difficult—take advantage of the help and guidance from an expert Great Game coach.
---
Other articles you might like: