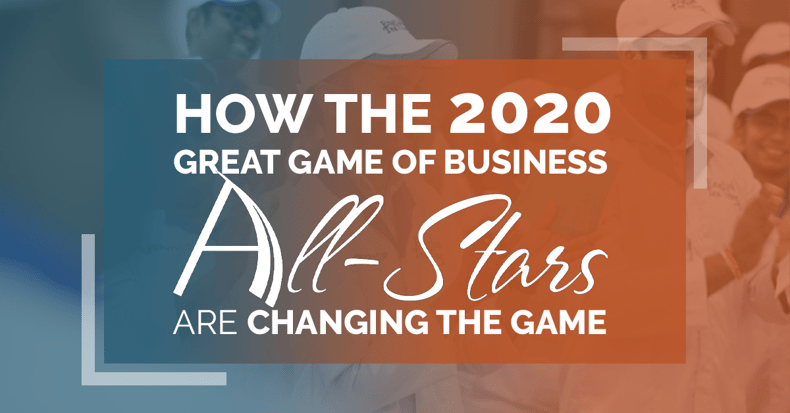 Just one organization out of 29 All-Star Team Companies has had to permanently lay anyone off
What a year 2020 has been so far. From the onset of the pandemic and the economic shutdown to social unrest and massive unemployment, so much has happened. It feels more like a decade has gone by since this all started in March. Quite frankly, it's been exhausting.
We all could use some good news, right?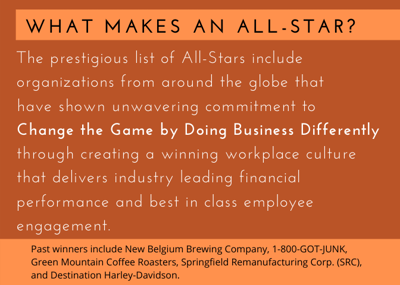 Back in April,as companies were finalizing their applications for the 28th Annual 2020 Great Game of Business All-Star awards, I was afraid we might be wasting our time. Given all the chaos and volatility going on around us, why would anyone want to apply for an award highlighting their results from last year? Would anyone actually be in the mood to celebrate anything?
Maybe you could imagine my surprise when our All-star guru, Donna Petiford, reported that we had 29 organizations who took the time and effort to apply for awards across three categories: The All-Stars, Rookie of the Year, and the Social Sector award. We even had two international companies apply, one from Germany and another in Sri Lanka. I was blown away.
It was then my turn to reach out to each of these organizations—who come from a wide range of industries spread across the country, well, the world really—and schedule interviews with them. For the past decade, I have had the honor of writing up case studies on each of the All-Star applicants. Over that period of time, I've conducted something like 200 interviews and written up the stories of nearly 100 different organizations who have embraced running their organizations with the help of The Great Game of Business®(GGOB). While it requires plenty of coordination and work each year, I'm always energized from my conversations about how these organizations are creating better lives for their associates and their communities with the help of Great Game™.
Not everyone who applies for an award gets to be crowned an All-Star "Champion" by a panel of judges—or gets inducted into GGOB's Hall of Fame after playing The Game for at least 10 years. And yet, people have told me time and time again that applying for an All-Star award is a chance to reflect on what they've accomplished over the past year—and to refocus on what they want to tackle in the year or years ahead.
---


---
Spotlight on the Pandemic
Given all the terrible news in the headlines of late, however, I steeled myself for the worst when I began making my calls this year. I wondered how, or even if, companies were coping with 2020's various curveballs. That's when I got my second big surprise: More than just surviving, I learned that, as a whole, this year's roster of GGOB All-Stars is thriving!
Yes, many of them faced serious challenges keeping their people safe from the virus. Some companies told me that they had people get sick—including one CEO and his family—but, fortunately, everyone has recovered. And, aside from a few short-term shutdowns, all 29 organizations have continued to operate during the pandemic. Some have had to pivot by making new products like personal protection equipment, or even to reach out to new kinds of customers to sustain revenue and cash flow. All of them showed off their resiliency and the incredible ability of their associates to innovate.
What's truly remarkable is that of the 29 organizations I spoke with, just one was forced to permanently lay anyone off. And that was just three people out of 35. As a whole, that meant that the 2020 GGOB All-Stars have collectively preserved more than 3,100 jobs during one of the most volatile economic times in history where millions of people are out of work. In fact, several companies were already considering hiring new people to keep up with surging demand.
I heard time and time again from these companies about how they credited the principles and practices of The Game with helping them adjust to the realities of the pandemic. In particular, just about everyone was thankful for their existing huddle rhythm—even if they needed to conduct them virtually over Zoom. Those regular meetings enabled them to share their financial picture with everyone in the organization—and eliminate the fear and uncertainty that might have taken hold without that information. They could also forecast what was coming next—and how they could work together as a team to reach their goals.
It's not a stretch to say that the pandemic has helped these organizations appreciate the value of playing GGOB more than ever—while also fueling them to take their Game to even higher levels in the months and years ahead.
Changing The Game
When I look back to the conversations I had, what really sticks out to me is a real sense of hope and optimism that all of these organizations share. Despite all the challenges they continue to face in battling the virus and an uncertain future, they have reaped the benefits of doing business differently—one that prioritizes creating better lives for the people who work in the business.
That's The Great Game of Business in a nutshell. It's capitalism at its best.
Join us at our upcoming Great Game of Business Conference as we reveal the 2020 All-Star Champions and celebrate organizations like them that are using Great Game to save the American Dream by reimagining capitalism.


Click this banner to read all 29 All-Star Case Studies for 2020.