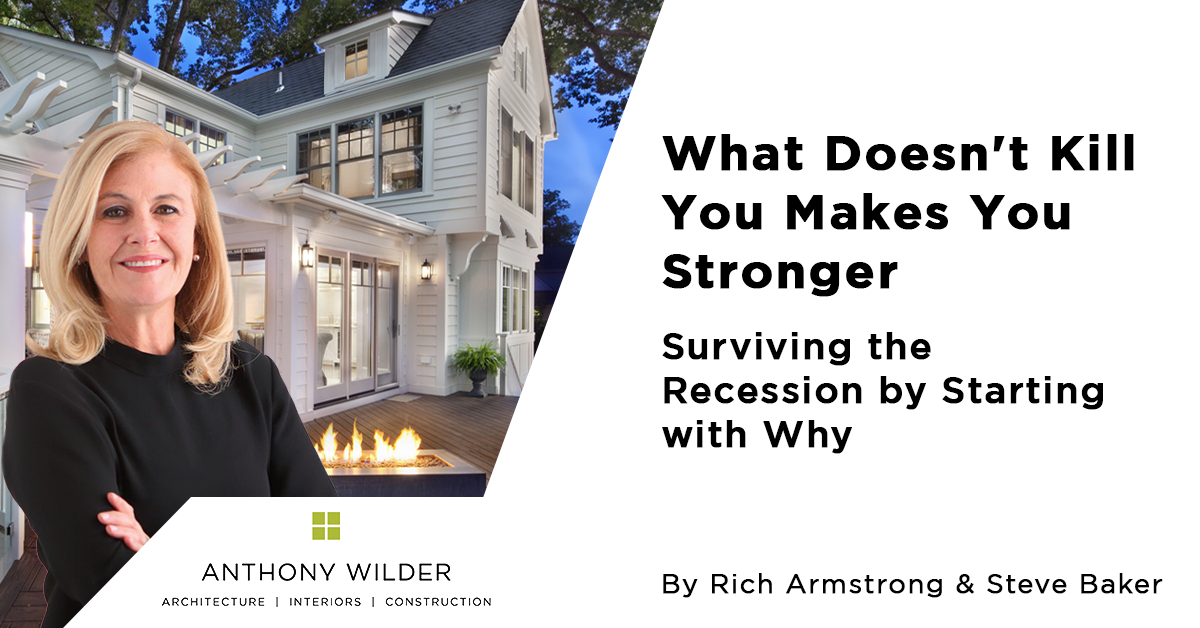 Anthony Wilder is a full-service, custom architecture, construction, and interior design provider founded by the husband-and-wife team of Anthony and Liz Wilder. The Wilder team has been creating award-winning projects in and around the Washington, DC, metropolitan and tri-state area for more than twenty years.
Back in 2006, the company was setting records in helping their customers' dreams come true as the housing market boomed. Revenues were way up, and the firm had built up a two-year pipeline of backlog work to come. Everything was going great, and as the old saying goes, "Why fix something that isn't broken?"
And then the recession hit.
Within just a few months of the collapse of the housing market in 2008, sales at Wilder Design essentially dried up—no one was spending money on new homes or renovating existing ones. They, like just about every firm in the housing and construction industries, were dead in the water. Their ship was sinking.
The Wilders were then faced with an impossible decision: they needed to cut costs—deeply. But how? The team at Anthony Wilder had already implemented the Great Game of Business® with the help of a coach, and because they had opened the books, everyone in the company understood that drastic measures needed to be taken. Everyone in the company could see the facts staring back at them on their scoreboards.
What they didn't want to do was lay anyone off. They wanted to weather the storm together without losing anyone. The Wilders ultimately concluded that they would make painful across-the-board salary reductions rather than lay anyone off. Employees would be cut back 20 percent, managers 30 percent, and Liz and Anthony 50 percent. Even those drastic cuts would buy the company just three months of runway, and it was Liz that had to reveal the news to the team.
She knew people on staff had families to feed, houses to pay for, and college tuition bills for their kids. She didn't know how they would react, and her stomach was tied in knots as a result. She thought of the one carpenter on her staff who had seven kids. What was he going to do?
When Liz revealed the news, the response from her team shocked her...
Hear the rest of Anthony Wilder's story in this presentation from the 26th Annual Gathering of Games and read about their successes in our new book, Get in the Game.
---
Find more inspiring Great Game™ stories and implementation how-to's in Get in the Game: How to Create Rapid Financial Results and Lasting Cultural Change.
---
Other Articles You Might Like:
Show us how you play The Game! Share a link to your GGOB video in the comments below and check out the Great Game YouTube channel.