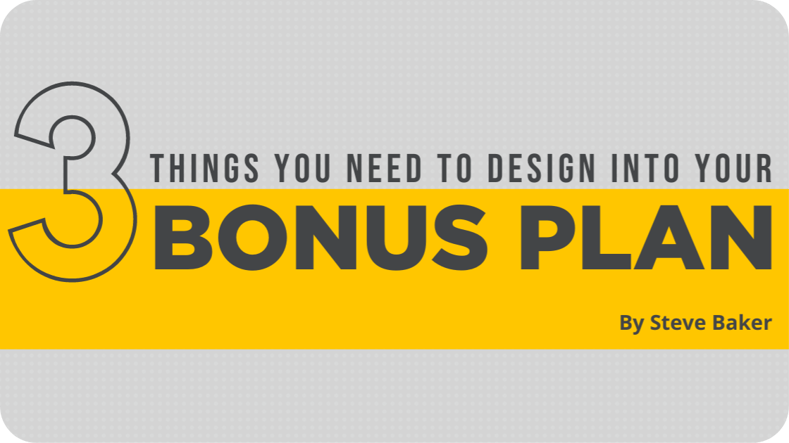 Yup. It's that time of year. We gather the family for the holidays, light the fire and watch Christmas Vacation. And it's hilarious…until you remember that you still haven't finalized your company's bonus plan for the New Year. Yikes! You don't want to end up like Frank Shirley (Clark W. Griswold's boss), do you?
As you design your organization's bonus plan for the New Year, I want you to keep in mind a few things about designing what we call a Stake in the Outcome®. For those who play the Great Game of Business®, providing a Stake in the Outcome is one of the most important parts (and least understood practices) of the entire business operating system. And it goes way beyond the bonus! The 3 Things you need to build into your Bonus Plan are:
1. Short-term
2. Mid-term and
3. Long-term rewards

Remember what the premise of Christmas Vacation was? Think hard. It wasn't really the bonus. Clark was digging a hole, for a pool he could not afford, based on a bonus he wasn't even guaranteed to get.
Whoa. How many of your people have built lifestyles around bonuses, overtime or any other comp that shouldn't be treated as an entitlement?

Frankly speaking, most bonus plans are disappointing to business owners because they don't motivate, they aren't appreciated, and they quickly become entitlements. Most bonus plans disappoint employees because they're a mystery, they're unpredictable and they're never, ever enough.

Research shows that people are 300% more likely to achieve their goals when they can 'win' along the way. If you are intentional in designing a full-spectrum rewards system (in addition to your progressive gain-sharing program), you can connect your people to the goals of the company with clear line-of-sight to not only key business metrics, but also to their short-term, mid-term and long-term rewards.

At the 26th Annual Gathering of Games, I conducted a workshop called Bonus Design the Drives Culture and Results. The point of the workshop was not to teach bonus design bit by bit, but to challenge participants to go beyond the bonus.

GGOB Methodology looks at a Stake in the Outcome holistically. Yes, the bonus is important, but we are looking to connect people to the total rewards available to them. In the workshop, we highlighted two companies; our own SRC Holdings, and one of our favorite practitioners, Hilcorp of Houston, Texas.

Hilcorp is famous for its massive 5-year BHAG (Big Hairy Audacious Goal) bonuses, like cars, trucks and 100,000 in cash. But few people really think of the genius of Jeff Hildebrand. As you look at this worksheet, you'll see that the 5 year bonus is only one part of a much bigger picture. Short term, they are great at MiniGames™ and recognition. For the mid-term, a progressive, quarterly bonus. Long term, they offer a generous 401k match and a 'Buy-In' phantom stock program.

At SRC, we've got the short term, mid-term and long term tied in as well. Of course we invented MiniGames, but it takes discipline! We have one of the best healthcare plans available, and the cost is minimal for us. Long term, the ESOP, or Employee Stock Ownership Plan, gives us reason to look to the future while driving performance today.

What I love most about these examples is the creative way businesses can help their communities. Hilcorp has a Giving Program that grants each employee a sum to donate to their favorite charities. Both Hilcorp and SRC have started 'Helping Hands' programs that allow employees to donate to a fund that can be used by fellow employees in need.

There are hundreds of ways to recognize and reward your people. But so many go unnoticed. So no matter what you do, be sure to craft a compelling communication program to keep things top of mind. At SRC, we know that when you add it up, the benefits alone are worth an additional $4.82 per hour to our people. That's real money!

Here is some of the best bonus advice you'll get this year. Grab an eggnog, print out a copy of the worksheet, and just brainstorm what next year could look like and include short-term, mid-term and long-term rewards.

If you need more inspiration you can listen to the audio from the session and access a cheat sheet of ideas below:

If you intentionally design your total rewards program and tie the short, mid and long-term together, you'll see the financial results you need along with the cultural results you want.
---
Want to learn more about how to design an effective and successful bonus plan? Read this blog or create your own bonus program with the tools below!
---
More articles you might like: