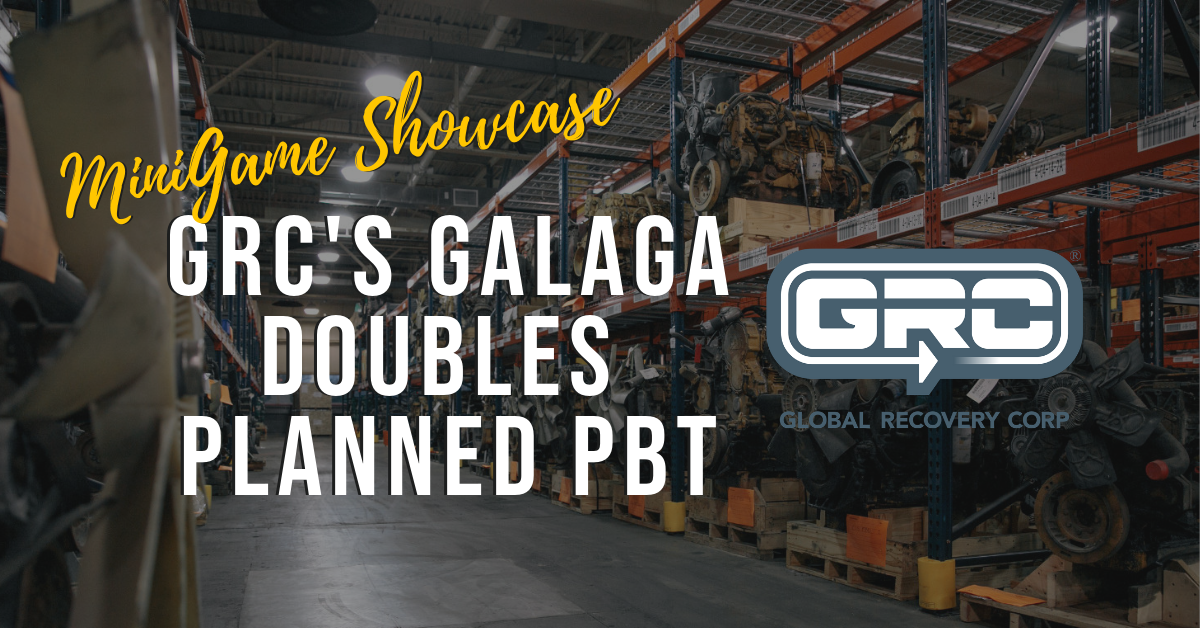 Global Recovery Corp, an engine and part supplier for the agricultural, highway trucking, industrial and automotive sectors, has seen the benefits of opening the books firsthand as a result of their dedication to the Great Game of Business® methodology. In addition to MiniGames™ like their recent $100K+ MiniGame featured on the GGOB Blog, GRC regularly practices the Huddle Cycle, rewards and recognition, and the High-Involvement Planning™ process to maximize engagement and involvement among their staff.
Here are some of the most recent advancements in their Game that have helped them double their planned PBT for the first quarter at 55% above plan.
MiniGames
MiniGames are targeted day-to-day improvement challenges aimed at correcting a weakness or pursuing an opportunity in your company. MiniGame teams are challenged to find solutions to current problems and take advantage of present opportunities—whatever it takes to get to your company goal.
GRC is in the second trimester of their current "Galaga" themed MiniGame, which aims to promote positive warehouse behaviors.
GRC gives a great example of setting up a specific, timely, achievable goal through a MiniGame, making the information available for everyone, rallying all team members around the goal and achieving results. They've detailed all elements of the MiniGame including objectives, benefits of meeting the goal, who's involved, rules, and prizes below. This information ensures that everyone is on the same page and has a line of sight toward their goal of more positive and proactive workplace behaviors.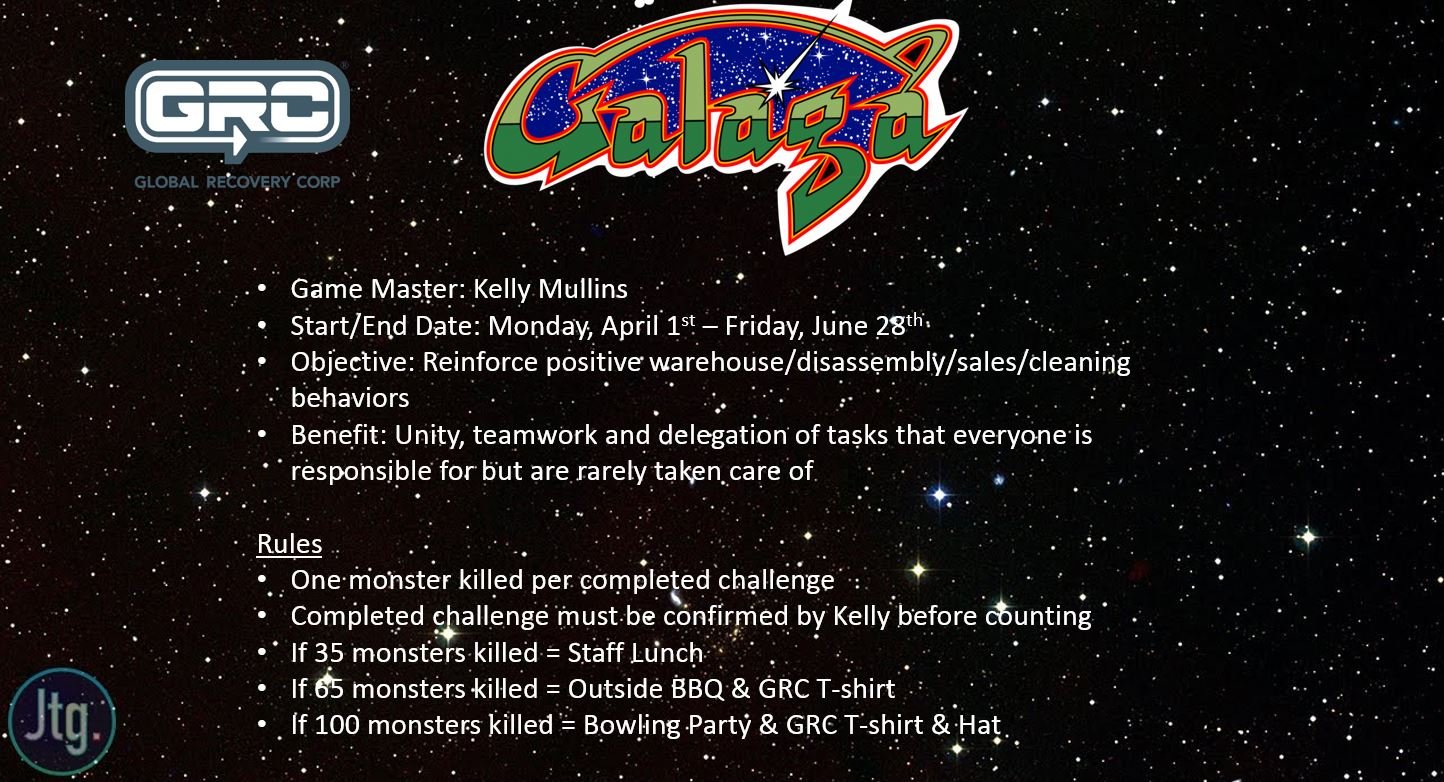 Rules, objectives, and benefits of the MiniGame.

Specific positive behaviors within the MiniGame defined.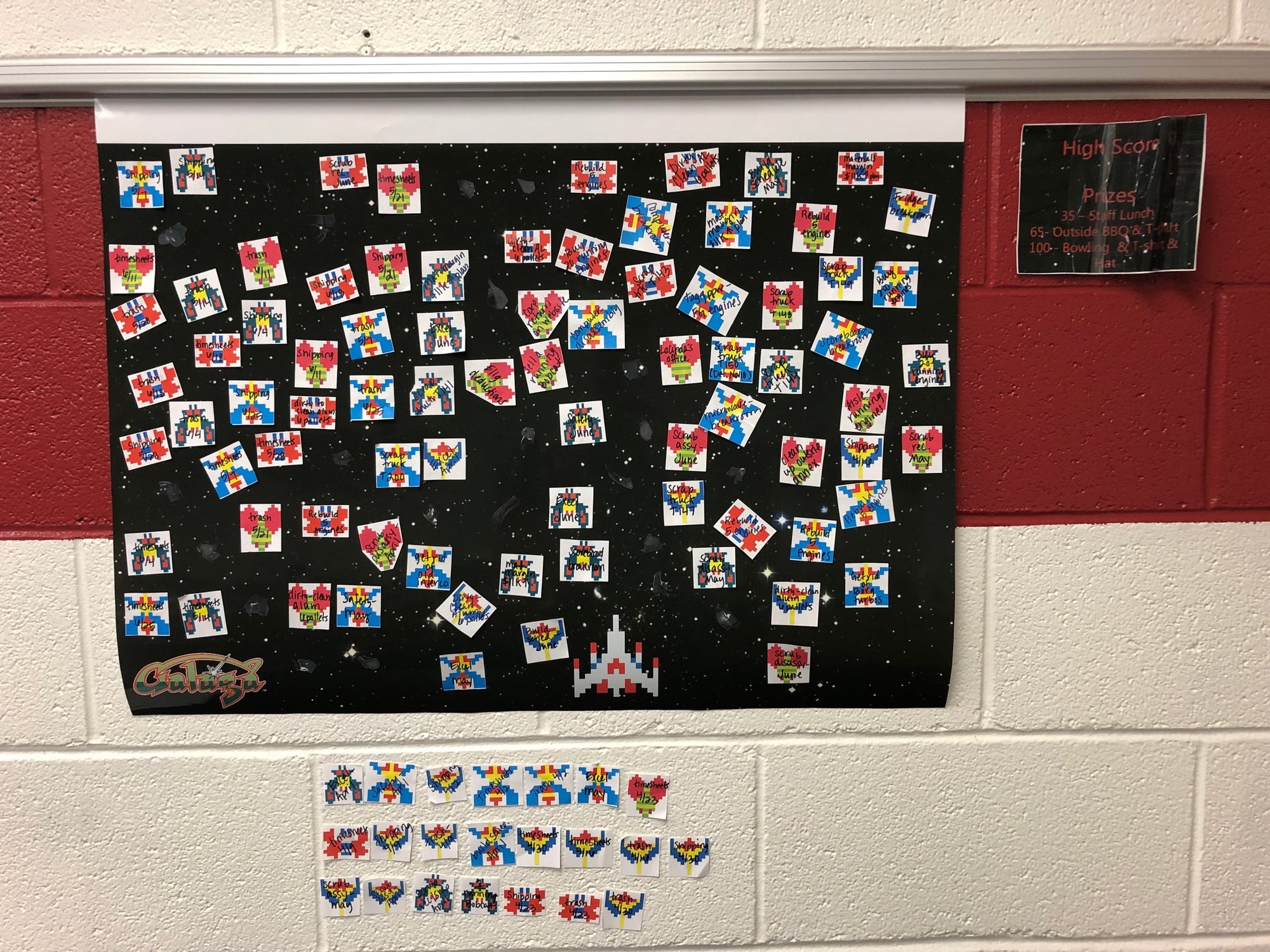 The Galaga scoreboard records progress and allows all participants to know if they are on track to accomplish their goal. This MiniGame is projected to turn $120,000 of inventory into $170,000 of sellable product, on top of improving other workplace behaviors.
Rewards & Recognition
There's a big difference between getting people to come to work and getting them to do their best work. While salaries and other forms of compensation are important, what really motivates employees to perform at higher levels is recognition and a reward for a job well done.
GRC is currently working on a peer-to-peer recognition initiative called "High Fives." This program provides an outlet for employees to recognize their fellow associates for their hard work or when someone goes above and beyond. To give a High Five, an associate fills out a short form describing why they are recognizing another team member. Then, the recognized associate is given a candy bar and the high five form is displayed for the entire company to see.
GGOB Book Club
In order to dive deeper into Great Game® methodology and concepts, the GRC team is has established a Great Game of Business book club to read the book together and discuss concepts with the guidance of the GGOB Study Guide. Get the tools to create your own Great Game book club below:

Company Background

GRC's 13-member team works with original equipment manufacturers and dealership groups to liquidate new, used, remanufactured, rebuilt and aftermarket parts, engines, transmissions and power unit inventories for gas and diesel. The company was founded in 2013 to help manufacturers maximize their return on aging, obsolete core inventories and provide services for surplus, core, and scrap.
---
Check out our MiniGames Toolkit to get guidelines and insights for setting up successful MiniGames, real MiniGame examples, our 10-step design tool and more.
---
Other Articles You Might Like: