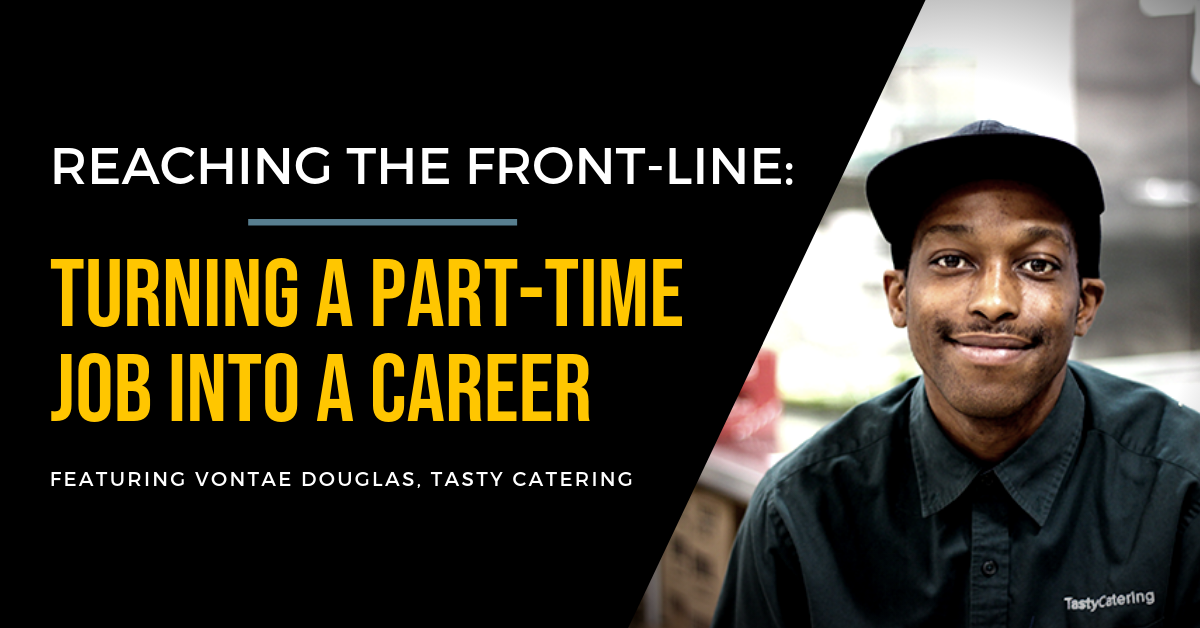 Vontae Douglas' journey at Tasty Catering began with working part-time at small summer events. A combination of business education, financial literacy training, and coworkers close enough to be considered family has transformed Vontae's summer job into a career in a field that he never expected.
Financial literacy training and working with the numbers behind the business was new for Vontae, but this business training and education opened doors to a completely new work experience. He and his team have been taught to understand what the financial numbers mean, how to read them, and how to individually respond to impact future results and the success of the company.
Practicing The Great Game of Business at Tasting Catering has taught him that, "Everyone is on the same level—everybody's input helps the company grow." Every single employee's role is important in contributing to the success of the business—open-book management allows all staff to see the results of their contributions and what areas need work. "You're working toward one goal rather than a personal paycheck. You know exactly what's going on in the company....Hard work pays off and you can see it every week, every month, every quarter, to the end of the year."
Today, Vontae has worked his way up to operations specialist, coordinating and executing on special events from weddings to upscale events for major companies in Chicago. See more about how working at an open-book company has changed Vontae's career and home life in the video below:
More about Tasty Catering
Tasty Catering has been a Chicago-land favorite in catering since 1989. They've used The Great Game of Business to help them obtain tremendous success financially and create a culture of engaged and empowered employees. In 2014, Tasty Catering was honored as an All-Star Champion on the main stage at the Gathering of Games Conference for their exceptional accomplishments in practicing The Great Game of Business. Learn more about this All-Star company in their case study here.
---
Is it time to implement The Great Game of Business across your company?
Check out the Get in the Game Course - designed to give small and midsize businesses all the tools Great Game Coaches use to implement The Game.


---
Other articles you might like: