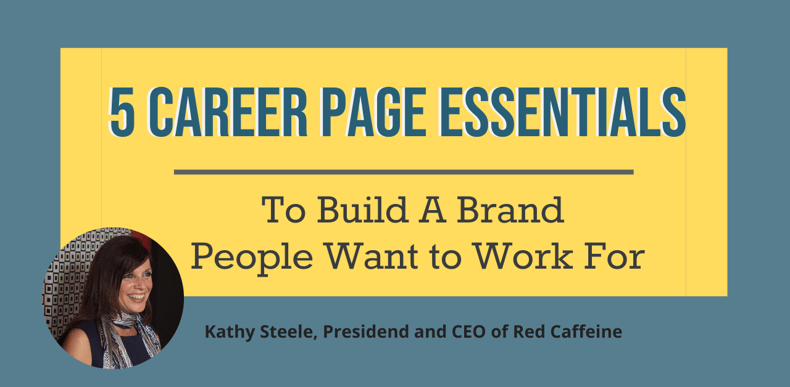 Is talent your Critical Number™? While most of us focus on revenue or profit, Jack Stack took the stage at this year's Gathering of Games and announced that hiring top talent was this year's important focus at SRC. The Great Game of Business Community embraces the idea that its both Money and People that drive results. As Great Game practitioners, I believe we are the coolest companies to work for in the world! However, most of us are just not telling that story to potential employees.
1 . Be Human.
It's simple; people want to see who they are going to be working with when they apply for a job. Tap into a candidate's emotions by using photos and videos to showcase your culture and tell your company's unique story.
Blue Apron is a meal kit company that boxes pre-portioned meals and ships them to your door. Not that compelling, right? But on their career page is a photo of their team and mission statement: "Our mission is to make incredible home cooking accessible for everyone." As you scroll down the page, they make the bold statement, "We are reinventing the grocery supply chain." Including a photograph of their team showcases the community potential employees would be joining. Changing the language to include their mission and BHAG (Big Hairy Audacious Goal) helps attract and engage right fit applicants, as well.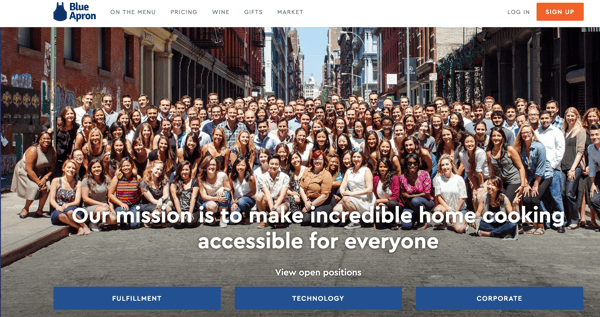 2 . Be Device-Ready.
According to Undercover Recruiter, 45% of Job Seekers search daily on their mobile devices. In today's mobile-first economy it's critical to create a device ready experience for job seekers.
Lettuce Entertain You Enterprises, Inc. is an independent, family-owned restaurant group based in Chicago. With over 120 locations in nine states and the average turnover rate for the restaurant industry at over 70%, the talent war is real in this marketplace. They combat this reality with a spot-on user and device-friendly talent page.

3 . Be Transparent.
A Hired.com Opportunity Index Report notes that 26% of people leave their job because they believe they are underpaid. Place a heavy emphasis on the word "believe." So much information is available online about compensation, but very little is accurate. While you should carefully consider your comp plan and model it with growth objectives in mind, employees at many GGOB companies can often impact and improve their salaries within gainshare programs. Why not control the narrative and make your comp philosophy part of your employment brand and recruitment strategy?
Talon Innovations Corporation manufactures precision machined products for semiconductor capital equipment, medical device, aerospace, and others industries. The company was acquired in late 2017 but this example of their sign-on bonus program for machinists and production employees is compelling and competitive for hard to hire roles and marketplaces. Companies like Union Pacific and UCHealth have even made headlines for their "show me the money" approach to recruiting.


4 . Be Sexy.
If a picture is worth a thousand words, videos give organizations the ability to showcase company culture by sharing their brand story in a way that words alone cannot achieve.
Rookie of the Year All-Star Venturity Financial Partners is bringing sexy back to accounting. Their culture video tells the story of how they break through the stereotype that is often associated with back-office operations. The video highlights the impact they bring to clients, their commitment to lifelong learning, how they give back to the community, their "fun committee" and more in the words of the team who work at Venturity.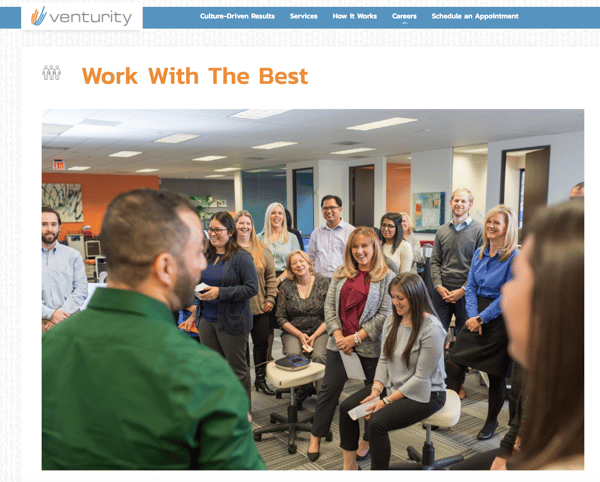 5 . Be Winners.
People want to work for companies who are recognized for their culture, work, innovation, and growth. While there are many reasons for striving for these types of honors, one big one is the credibility it provides to a potential candidate.
Another All-Star company, ImageOne, whose business is document lifecycle management, touts their "Passion to Exceed" and highlights their dedication to enhancing the lives of everyone they touch. They showcase awards, books they have been featured in, and customer testimonials.
With these five essentials in mind - be human, device-ready, transparent, sexy, and winners - would you apply to your own company if you visited your career page?
In this tight labor market, building an employment brand and career page that showcases your unique story is essential to attracting top talent. Crafting a career page that explains why your company is a place people want to work for is essential to winning the talent war.

Missed Kathy's session at the Gathering of Games? Get the Employer Branding Playbook here to help you and your team build an employer brand and career page to attract the best.
---
Other Articles You Might Like: