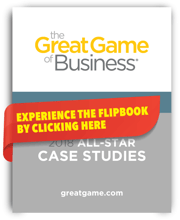 Every year at The Annual Gathering of Games, we recognize the "best of the best" in open-book management with the All-Star Awards. At the 26th Annual Gathering of Games, the GGOB community celebrated the 18th All-Star Team and announced
this year's All-Star Champions. Check out the flipbook to read case studies of each member of our Team, and join us in congratulating our 2018 All-Star Champions!
ROOKIE OF THE YEAR
This award recognizes the companies that have been practicing open-book management and The Great Game of Business for less than two years, but have already achieved remarkable results.
Venturity Financial Partners
ALL-STAR CHAMPIONS
The cornerstone of the All-Star Awards, the winners of the All-Star Achievement Award are the best of the best. They have been playing GGOB at a high level for two or more years, and as a result have seen impressive results in their financial performance and their company culture.
Amy's Ice Creams
HALL OF FAME
The Hall of Fame honors organizations that have operated using the principles of The Great Game of Business for more than a decade with lasting, proven results and have demonstrated a willingness to spread the word on open-book management in order to help others succeed.
Daryl Flood, Inc.
SOCIAL SECTOR
This award honors a social sector organization - not-for-profit, education, government - playing the Great Game of Business at a high level... proving that The Game can be effective and impactful to all types of organizations.
The People's Choice
For the first time, we gave the people a vote for who they thought was the best All-Star company in our People's Choice Poll. This award recognizes the Great Game community's favorite All-Star company this year.
---
View Our Entire All-Star Team Here
---