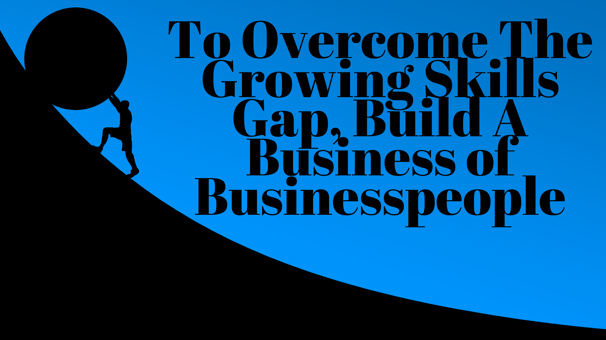 The real crisis organizations face is a shortage of employees capable of thinking critically and making tough decisions.
The writing was on the wall for everyone to see. There's a mass exodus underway in the workforce as some 10,000 Baby Boomers turn 65 every single day. The result is that the number of Boomers in the workforce has dropped by 2.2 million every year since 2010—or an average of 5,900 people a day. That leak won't stop anytime soon since by 2030, all Baby Boomers will be 65.
The problem is that plenty of people missed the signs of this trend—and now they're paying the price as the number of openings exceeds the number of available workers willing to apply for new jobs. The challenge is exacerbated for those companies looking to hire for specific skillsets.
Spanning The Skills Gap
According to research by McKinsey, more than 40% of organizations already face so-called "skills gaps" in their workforce, while some 90% of executives say that their organizations will face them in the next five years. That's fed a prediction that potentially 375 million workers might have to change occupations in the next decade to meet companies' needs around the globe.
When you dig into details of where companies are reporting a shortage of skills, they go beyond what you might call traditional "hard" skills. For example, the most common business areas companies have struggled to fill are hard skill areas like data analytics and mobile and web management. Yet, at the same time, companies are also reporting challenges in finding employees who can offer "soft" or "professional skills" such as executive, frontline, and financial/risk management.
The continued problem, of course, is that companies simply can't cross these skills gaps by hiring alone. Technology like robots doesn't provide perfect solutions either. Rather, more and more organizations are turning to "reskilling" as a way to train up their existing employees to help solve the shortage.
But what's really telling is where they are targeting their reskilling efforts.
The True Skills Shortage
Rather than focusing on hard skills as part of their training and reskilling efforts, more and more companies see opportunities to grow new leaders within their organization by fostering a better understanding of the business itself.
Case in point: According to a McKinsey survey, the most common area companies are targeting in their reskilling efforts is teaching "critical thinking and decision making." Not CAD design or programming languages. Other in-demand subjects include leadership, adaptability and continuous learning, and entrepreneurship and initiative-taking.
In other words, when it comes to bridging the kind of skills gaps that will limit future growth, more and more companies are recognizing the power of building a business of businesspeople.
And the first step anyone can take in that direction is by opening your books and teaching your people how to think and act like owners.
Strategic Planning From The Bottom Up
If you want to see what a business of businesspeople looks like in action, your first stop might be Springfield, Missouri, to attend one of SRC's High-Involvement Planning meetings—held in June and October—what the company calls its "Sales & Marketing" meeting.
During these three-day sessions, each of the company's 10 divisions presents its plan for the upcoming year—as well as its five-year plan—to the company's board of directors and all of their fellow employee-owners in their sister companies.
The primary goal of these meetings is to get "buy-in" from everyone inside the company about where they are going together. It's also about building confidence in the plan—as well as the contingencies you might need to activate if you hit an unexpected speed bump or two, like a pandemic.
But there's also a little secret behind SRC's success at surviving multiple recessions and "Black Swans" over the past 40 years: they are constantly reskilling and upskilling their associates with the ability to think critically and make educated decisions with the help of The Great Game of Business. That's how they can plan strategically from the bottom up.
Tearing Down Silos
The Great Game of Business is a system that teaches people to identify strengths and weaknesses and participate in solutions by embracing business and financial literacy. It's about tearing down the walls and silos of the old command-and-control area and leveling the playing field between the frontline and management. If you want to compete in the future, every organization will need to tap the contributions of every single associate. So why not arm them with the same skills and access to information that ownership and management have access to? Better yet, why not ask them to participate in creating the plans for where the organization is headed.
As one of SRC CEO Jack Stack's Higher Laws states: "People support what they help create."
Businesspeople Or Robots?
As organizations look to the future, how will they address these labor shortages that promise to continue? For some, it might mean investing in new technology or even robots. But perhaps it's also time to ask the question: Would you rather have an army of robots working for you or an army of entrepreneurs—a business of businesspeople?
---