Time-tested Practices and Principles
One prime place to look at how you can build a great company is SRC Holdings, based in Springfield, Missouri. The company started when it spun itself out of a former International Harvester plant in 1983. But while the people inside the plant knew how to make great products, no one had ever taught them how to make a great company. They didn't yet understand that they could create wealth by building companies, not by selling products and services.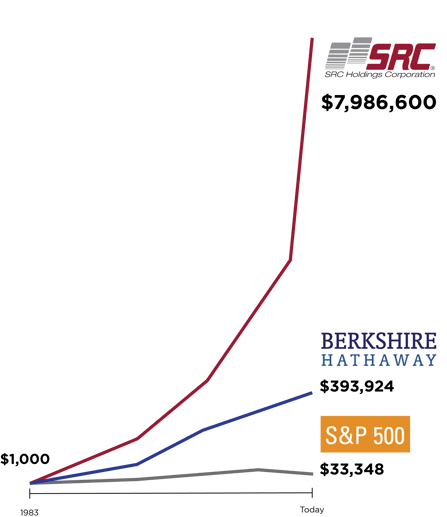 With the practices and principles put in place by SRC's founding CEO, Jack Stack, the plant turned into a business of businesspeople. The employee-owners at SRC came to learn that their company was their product.
SRC's journey from a failing remanufacturing facility into a dynamic company with multiple divisions that now collectively employs 1,800 associates is well chronicled in The Great Game of Business and A Stake in the Outcome, books written by Jack Stack. The success of this journey is why we have shared our founder's practices and principles with thousands of companies worldwide for almost 40 years.
For context, the shares in SRC's ESOP have grown by an astounding 798,000% over the past 38 years. If you had invested $1,000 in the people of SRC back in 1983, you'd have $7.98 million today. Thanks to incredible growth in their ESOP shares, many workers who started at SRC in the early days are now retiring as millionaires. Now, it's up to the next generation to continue building on that success story.
The lesson the employee-owners at SRC learned—and what every employee-owner should also heed—is that the bigger the pie, the bigger the individual slices.
Expert Guidance
Whether you are looking to do it yourself or get assistance from a trained and trusted Great Game of Business Coach we will help you through the process of implementing The Game. We do this by sharing our insights through business learning resources, our Online Community, on-site or virtual training, business conferences, and business coaching sessions.
Through the years, The Great Game of Business has delivered results for everything from small mom-and-pop shops to high-profile companies, such as Southwest Airlines, New Belgium Brewing Company, and Netflix.
Impressive Results Across a Wide Range of Markets and Industries
Below is just a sampling of the positive outcomes we've collaborated with companies to produce. Every company's situation is unique, but these results speak loudly about the ability of The Great Game of Business to help companies achieve outstanding improvement in their operations and revenue.
Financial literacy rate of employees at all-time high
Increased gross margin by 6.5%

Created a total profit-before-tax improvement of $181,340 in a single year

Nominated as Business of the Year by

Springfield Business Journal