Co-authored by Trudi Saul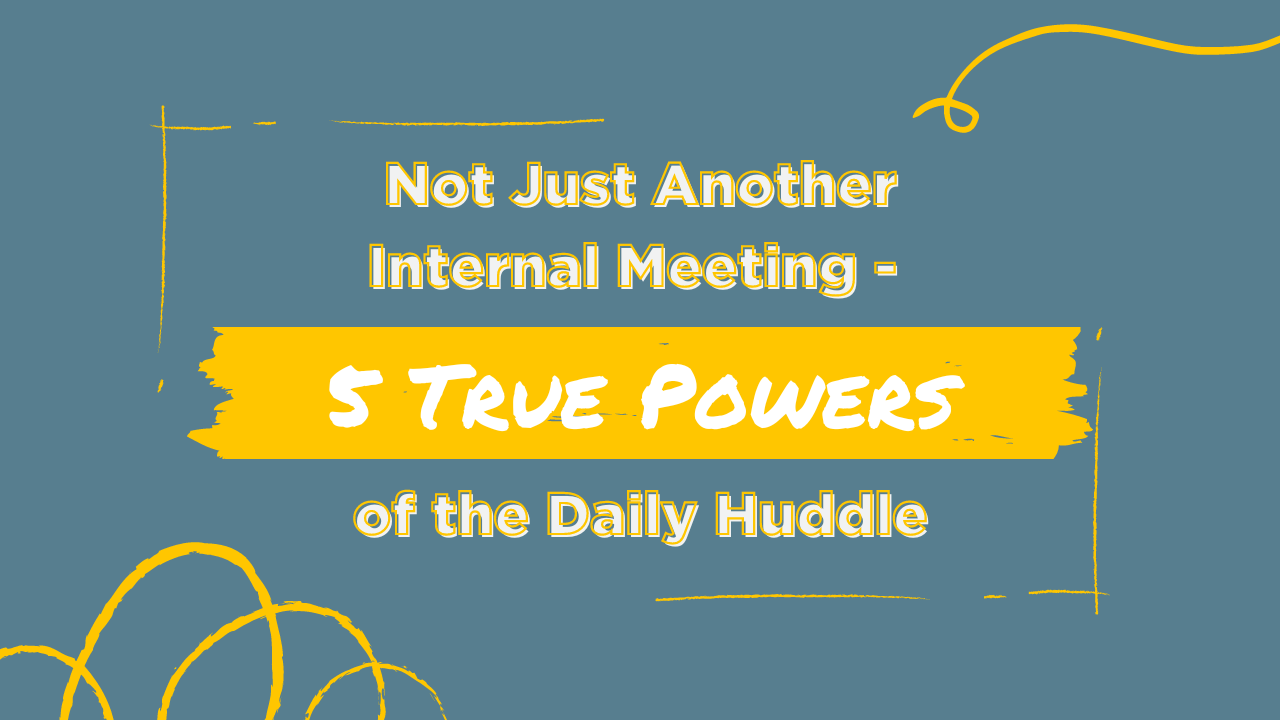 I recently came across a statistic that said employees spend more than 31 hours a month in unproductive meetings - talk about a time suck!
How is a daily huddle any different?
Well for starters, it's quick and to the point. You review the most crucial elements of the business and discuss anything else offline.
From a team member's point of view, however, it's much more than that – it's the meeting I look forward to each day because the daily huddle positively impacts everyone's mindset and contributes to real action.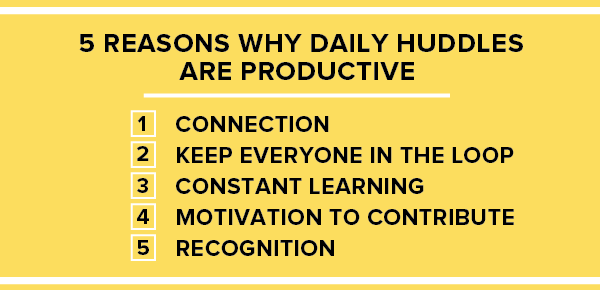 Here are 5 reasons why daily huddles are productive for you and your employees:
"I feel connected." It's not an email, a memo or an old voicemail. A huddle requires everyone to be together in one place (though not all the time) where they can see each other face-to-face. This makes it possible to gauge the emotional atmosphere on any given day.
"I feel 'in the know.'" Our internal improvement survey found that people did not feel they were receiving information in a timely and relevant manner. Daily huddles keep everyone in the loop, connected if you will, to whatever is happening in the business, even if the news isn't directly related to an individual or department. Maintaining that connection helps employees feel like a part of a team. It also serves as an alert to opportunities within the business.
"I'm constantly learning." By their very nature, huddles build teamwork and collaboration, encourage everyone to share problems and solutions and enable people to work as a group. Since we are all focused on the same goal, this sense of unity is crucial. It's important to understand that we do not place blame in the huddle, but instead we are in that space to ask for help and work together on a solution.
"I'm motivated to contribute." Asking each person in the team to make a promise is possibly the most important part of the huddle. Creating and verbalizing self-commitments automatically increases accountability. And accountability is a powerful factor in mobilizing execution.
"I get recognized." We all appreciate a thank you every now and then. Celebrating the best from the past 24 hours (in the form of wins, good news, personal recognition) is crucial to maintaining a connected team. The airtime in huddle provides an opportunity to recognize the unsung heroes, the employees or processes, crucial to the business's success.
So, we encourage you to consider using a huddle instead of a long, drawn-out meeting. Your co-workers and your business will thank you.
More Articles You Might Like: