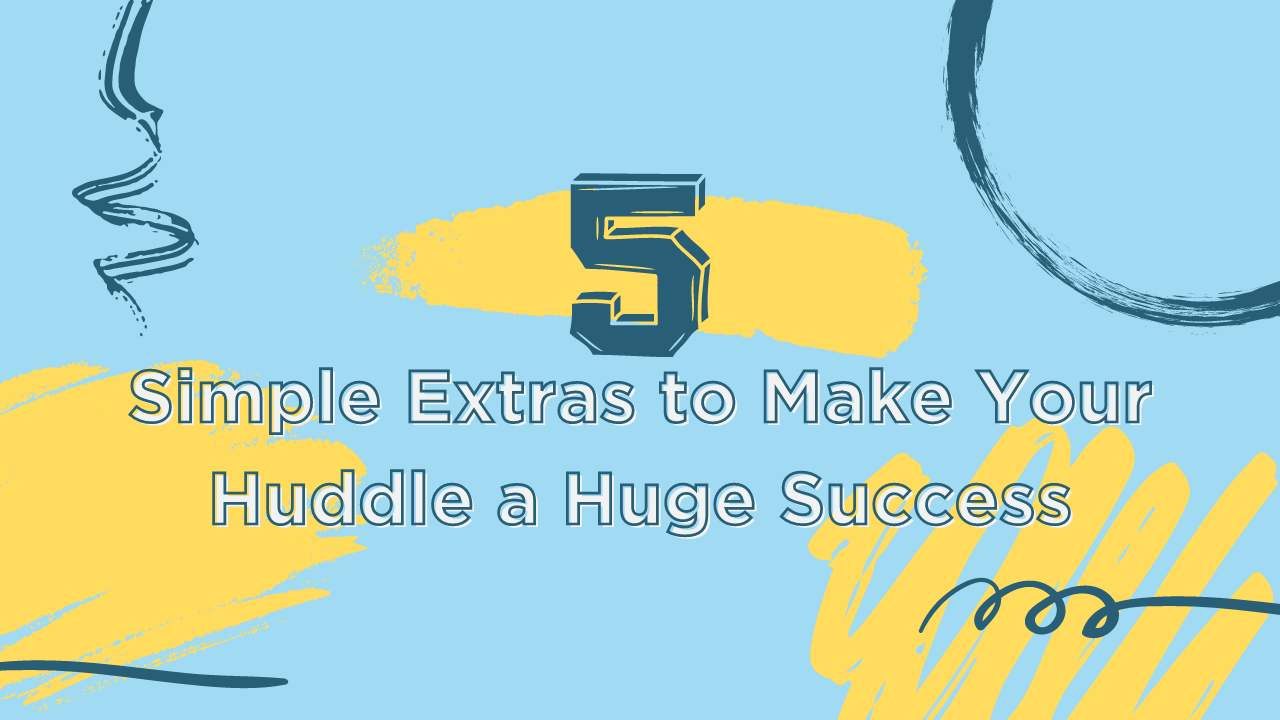 What can a truly engaged work huddle do for your Game play?
There is tremendous excitement over the Great Game of Business when a company first begins to play The Game. The honeymoon phase usually lasts about as long as The Games are going well, but every once in a while, as a leader, you might be faced with some unengaged employees during your weekly huddles.
Sometimes this unengaged approach stems from employees that are simply ill-prepared for the week's huddle. More often than not, however, disengagement will occur when the huddles aren't producing the results for which everyone is looking. We know that it's in these huddles, especially, that capturing engagement and everybody's input is essential to climbing back on top.
To help you maximize engagement at your next huddle, here are five things you should incorporate right now!
5 Things to Incorporate into Your Next Huddle
1) An engaging facilitator.
This is essential for successful huddles. Engaging facilitators will increase productivity, enjoyment and participation in your weekly huddles. If you are unsure if your facilitator is engaging, try rotating each week with other potential candidates. Take notes, pay attention to your staff and ask for others' opinions on who they felt is the best fit for this role.
2) Individual binders.
Each participant should have his or her own binder to take notes, keep track and stay engaged in the huddle. The binders should contain items like A Stake in the Outcome (bonus plan) information and a blank copy of your Scoreboard. Your team can really follow the action and keep score when they have access to this information, all the while knowing exactly "what's in it for me" by having direct line-of-sight to the bonus plan. They will be able to know the answer to this question at a glance: Are we winning?

3) Visible scoreboard.
It's great to keep these stats in an electronic file, but unless you're constantly projecting a large image of the scoreboard onto a white screen or wall, you won't be projecting how important your scores are to—nor will you have that constant reminder of the status of the Game for—everyone.


4) Prizes for participation.
Participation is key to successful huddles, but sometimes shyness, hesitation and uncertainty hinder participation. For added incentive to be a vocal participant in each huddle, develop a "prize locker" with prizes of $5.00 - $25.00 values. Award participants for asking questions or giving answers. This will help build participation and it will also help build engagement as employees will start to want to answer questions and pay even closer attention as a result. Use gifts from vendors, company logo items, samples from suppliers, rewards points, company "bucks," etc. to reward participating employees.

5) Huddle "position" rotation.
Frequently and regularly rotate positions in the huddle for increased interest. No matter how much we like things at the beginning, there is always a risk that those same things might get stale. By letting employees rotate positions, there is a fresh perspective and increased interest in what's happening each week during your huddles. When employees know they might have the opportunity to be the next facilitator, scribe, or analyst engagement will rise and so will participation!