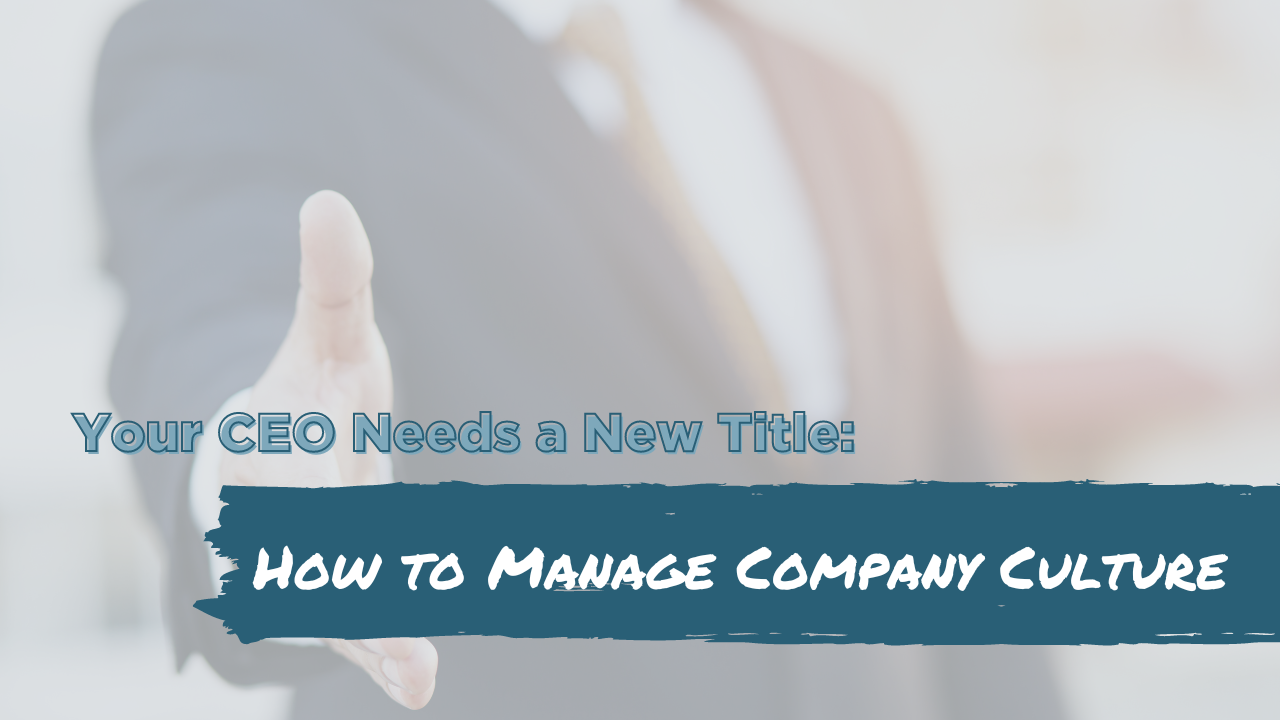 No doubt your company's top executive has "CEO" written on his or her business card. But should it? If our title really reflects the role we play in the company, then the CEO's title should instead read Chief Culture Officer.
That's exactly what you'll find on Tom Walter's business cards. As the leader of Tasty Catering, a Great Game of Business practitioner, Tom wants his business cards to reflect his most pressing daily task.
"Managing the culture is my chief responsibility now," says Tom Walter of Tasty Catering. Why? Because it's the clearest leverage point for success he knows.
At the Center for Values-Driven Leadership, our research takes us inside industry-leading, award-winning companies (many of whom practice open-book management). Inside these companies, we explore how the company's culture influences profit and revenue, employee engagement, customer loyalty, and other metrics. The link is always clear: strong, positive cultures make a tangible difference in the company's success.
In our interviews with executives, the CEOs and presidents say the culture is their business. Culture is job #1, regardless of the size of the organization. The company culture may have a life of its own, but the CEO takes care to model, shape and celebrate it on a daily basis. Essentially, the CEO is the Chief Culture Officer.
Shaping a Culture that Drives Success
Management guru Edgar Schein called leaders the "architects of culture." Architects need tools. The exceptional leaders we interviewed used the following eight tools to actively guide their companies. Think of this as a checklist. Do you do the following?
Actively participate in on-boarding, mentoring, training, and coaching of team members

, because it gives me an opportunity to express the importance of our culture and values through each interaction.

Put

resources in place to support and reinforce the values, including being willing to invest financially in strengthening the work culture, because I know it supports our core business strategy.
Tell stories and recognize people

who put the values into practice, because storytelling and recognition reinforces what matters to me as the top leader.

Promote

dialogue about the values

in senior team meetings, company-wide events, and through all communication channels, so that our culture and values are always top-of-mind as we do the work of the company.

Use the values to

evaluate company decisions

so that our people know they can trust us and our decisions align with our cultural DNA.

Display the values in our offices

, on our company merchandise, and in visible public places, to hold us accountable and to remind people as they go about their daily work.

Use the culture and values to set strategy and build customer relationships

, so that our reputation is clear and we know we're growing in the right direction.

Relentlessly make sure the

values are integrated into every system and process

of the organization, so nothing can subvert the core values and culture.

Those eight tools are an incredible starting point for executives who understand their role as their company's Chief Culture Officer.