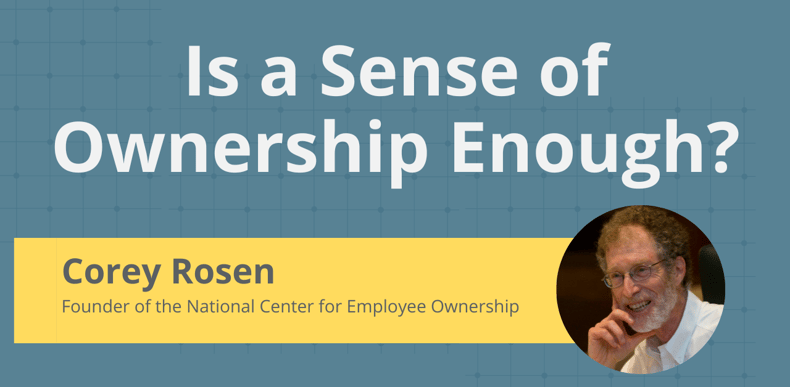 We often hear it, "You need to give people a sense of ownership—the feeling that they are being treated as if they are an owner, even if they aren't." A sense of ownership can include input into decisions on how the job is done, open-book management, meetings with the boss, celebrations of wins, and other techniques well known to Great Game players. But is a sense of ownership enough?
Try this thought experiment. Janet, your CEO, invites your team to a very nice lunch. You get to select the food, smell the aromas, make decisions about the relative value of menu choices, and enjoy the camaraderie, all on her. There is one small catch—you can't actually eat the lunch because, after all, a sense of lunch (like a sense of ownership) is enough.
Of course, many Great Game companies do share ownership widely with employees, usually through an ESOP or some form of broad equity grants. Many others share some of the profits. As Jack Stack says, a Stake in the Outcome is critical. But over the years, Stack became convinced that sharing ownership works a lot better than sharing profits.
There are a lot of reasons (and evidence) for why sharing ownership is so powerful. You may not be at the stage where you are ready to do so and that's OK. Just getting to be a Great Game business is a great start, and most Great Game businesses do give employees a meaningful Stake in the Outcome. Maybe there won't be any point where employee ownership makes sense, for a variety of reasons, but if you are open to sharing ownership, here is why is it can make the Great Game even greater.
The Power of the Multiple
Businesses are valued based on a multiple of their earnings. Say Rapid Rail Repair makes $2 million per year and is valued at $10 million, five times earnings. Rapid's dedicated employees have a real sense of psychological ownership and produce an initiative that will save $50,000 per year. Rapid shares 10% of profits, so that is an extra $5,000 in their pockets. But what about the owners of Rapid? That leaves $45,000 in added earnings. They get five times that-- $225,000—in added stock value. If Rapid is truly an open-book company, it would tell people that, but I wouldn't suggest it.
The profit share is a nice benefit. But how much more powerful is it to tell people they get a multiple of the value they create, not a fraction?
No One Washes a Rental Car
Ownership is a powerful term in the U.S. As Mark Twain put it, "Almost any man worthy of his salt would fight to defend his home, but no one ever heard of a man going to war for his boarding house". Sharing ownership is the single most convincing thing you can do to show employees that they really are valued.
Mid-Level Managers Are Less of a Bottleneck
In most companies, the biggest obstacle to more effective employee participation is middle management, which may often feel that their jobs or authority are threatened by these changes. In companies where all employees are owners, however, the dynamic can be different. First, it is harder to argue that employees do not have a legitimate right to be involved when they are owners. Second, these managers usually have the highest account balance in ownership plans, so they have the most to gain (and it can be hundreds of thousands of dollars over time) if companies follow best management practices.
Not Just Theory
In the 1990s, the Great Game asked us to do a study of open-book management. We needed to find large samples of companies that had not been open-book and now were. We then needed to look at what the industry-adjusted before and after performance difference was. Both employee ownership and non-employee ownership companies did better after opening the books, but the employee ownership companies did about twice as much better as the non-employee ownership companies.
More telling, though, was how hard it was to find open-book companies that had a) kept their open-book system in place for the study's minimum required three years and b) did not convert to an employee ownership plan. By contrast, finding employee ownership examples was easy. What this tells us is that ownership is an effective glue that legitimizes and sustains open-book practices.
In a more recent and massive study, researchers at Harvard and Rutgers looked at over 300,000 surveys from 730 applicants for the Best Place to Work Award over five years. They found the biggest impact on employee attitudes and behaviors was in companies that combined ownership and high-involvement.
But Wait, There's More…
Giving out equity directly to employees is a cost to the company much like any other. I've argued it can be well worthwhile. An Employee Stock Ownership Plan comes pre-packaged with all kinds of tax goodies, including allowing owners to sell to an ESOP that is financed in pre-tax dollars by the company and allowing the owner to defer capital gains taxes. In addition, 100% ESOPs pay no income tax.
These are just the key benefits—you can learn more on NCEO's website here. For most business owners, though, the greatest benefit is that ESOPs let you shape your legacy for your employees and your community, as well as letting you play any role you want going forward. Employee ownership won't work for everyone, but it is worth a serious look.
Learn more about the National Center for Employee Ownership at https://www.nceo.org