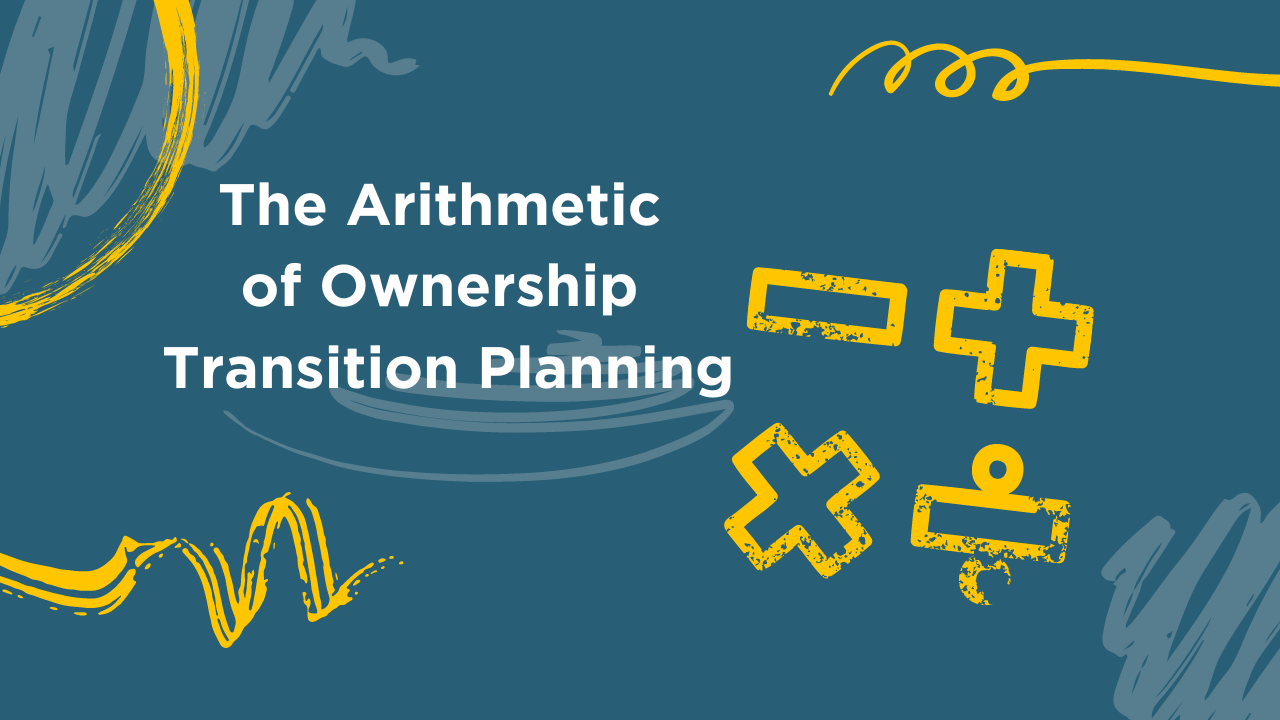 For owners of closely held businesses, planning for the ultimate transition of ownership is critical to the long-term health and profitability of the organization.
Assessing your company's internal infrastructure and management team is one of the most important components of the planning process. In fact, so is assessing the subsequent necessary additions or adjustments.
The strength of your infrastructure and management team (or lack thereof) can greatly affect the value of your business and the outcome of your ownership transition.
For example, a strong one can facilitate a more successful and profitable ownership transition.
On the other hand, if your business lacks a strong internal infrastructure and management team, you're more likely to suffer a less-than-desirable outcome during the employee ownership transition process.
Closely Held Businesses Need Strong Management Teams
For a closely held business, a strong management team is essential.
The reality for many owners of closely held businesses is that the owners not only owners, but also chief buyers, chief financial officers, sales people and janitors. When an owner wears every hat, then by default, his/her business becomes weak upon his/her departure.
The formula below offers direction as to how a strong internal team can minimize the possibility for a weak transition.
Three Steps to Effective Ownership Transition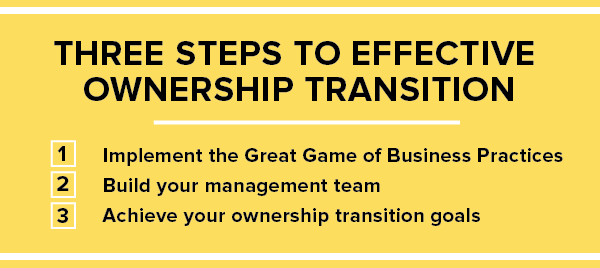 The arithmetic of ownership transition planning is a formula that minimizes the threats and maximizes the benefits of ownership transitioning, and it is especially successful for closely held businesses.
It includes the necessary steps to put your internal infrastructure and management team into place. Those steps are as follows:
1. Implement The Great Game of Business Practices
Do not implement them passively, but instead with intense vigor and focus. The practices are proven, yes, but it takes the support of leadership, starting with the owner, for any business to reach success.
Implementing mini games, huddles, scorecards, high-involvement planning and the remainder of the GGOB practice arsenal will create an infrastructure that will surpass your competition and create more value.
2. Build Your Management Team
The second step is to secure your management team and improve your internal infrastructure.
To build your management team, identify the most appropriate executives for your business and clearly define their roles and responsibilities. Implement mentoring and formal training for your organization's next generation of leaders to gain the bench strength you need to best transition your business into the future. Then look for ways to improve organizational processes and procedures. Hiring the right people and building a strong infrastructure will help your business achieve the best value when it's time to transition ownership.
3. Achieve Your Ownership Transition Goals
The third step is taking your business to market, whether for an internal or external ownership transition. Your business will be much more attractive to prospective buyers with a strong internal management team in place and with a well‐developed internal infrastructure. Lenders will be much more likely to lend money to an organization with that kind of strong structure in place as well.
The valuation of your business for sale will reflect the internal investments you've made since value is most often based on ownership structure, management size, growth potential and visibility, among other marketplace factors.
About Prairie Capital Advisors, Inc.
At Prairie Capital Advisors, we work with business owners to determine where they fit within the Valuation Tier, then we help find the most appropriate buyer at the most favorable price and terms in the marketplace. When business owners make those critical investments in infrastructure and internal management, they reap the rewards, and that arithmetic adds up to more dollars and cents for them at ownership transition time.
Victor Aspengren is a director at Prairie Capital Advisors, Inc. He can be contacted at 515.689.5969 or by email: vaspengren@prairiecap.com.
Prairie Capital Advisors, Inc.
Prairie is an employee owned company that offers investment banking, ESOP advisory and valuation services to support the growth and ownership transition strategies of middle-market companies. Since 1996, we have led hundreds of successful sale, merger, acquisition, ESOP and financing transactions for our clients. Headquartered in Oakbrook Terrace, Illinois, with offices in Atlanta, Cedar Rapids, Chicago and Philadelphia, the company is a leading advisor to closely held companies nationwide. For more information, visit www.prairiecap.com
Other Articles You Might Like: