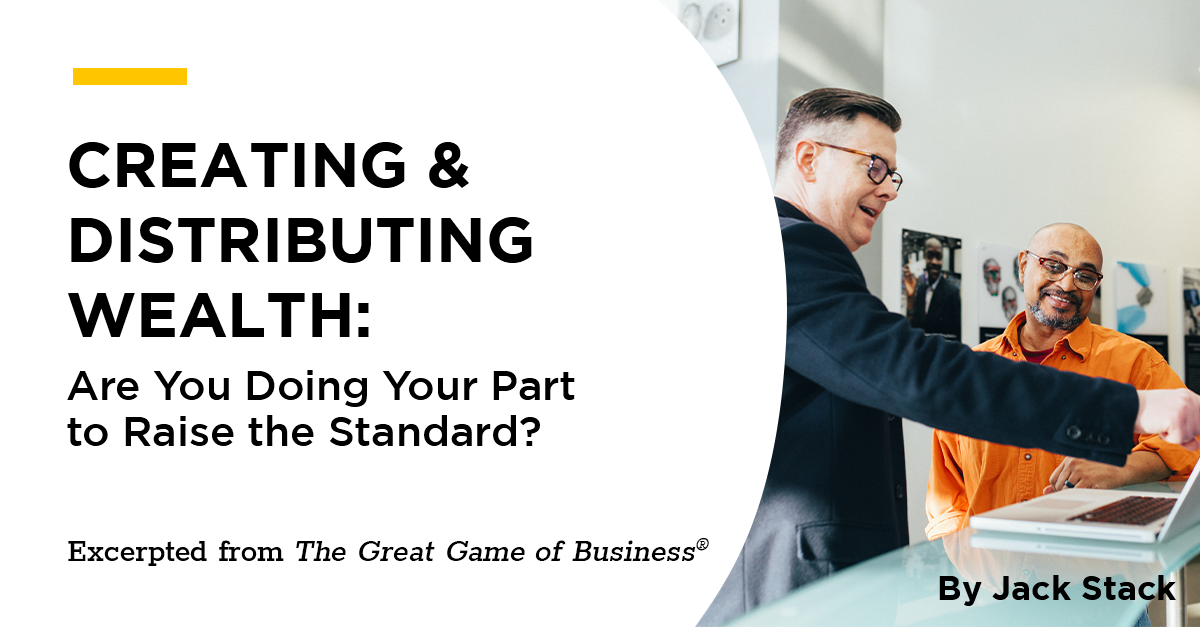 One thing that scares me about our economy is the whole trend of downsizing. What's really going on is that companies are getting rid of people and replacing them with machines. They view people as a contingent liability. They're missing the fact that productivity depends on people. I don't disagree that machines can make you more competitive. They can absorb overhead. They don't take breaks. They don't go on vacation. They don't sit around wasting time. What machines can't do is figure out how to make money. Only people can do that. If you have people who know how to make money, you'll win every time.
But to get people to that point, you have to educate them. You have to teach them why it's important to make money and generate cash, and then you have to figure out a way to keep them focused on doing those two simple things. I think we're lying to people if we tell them there's any other way to improve productivity. That's important,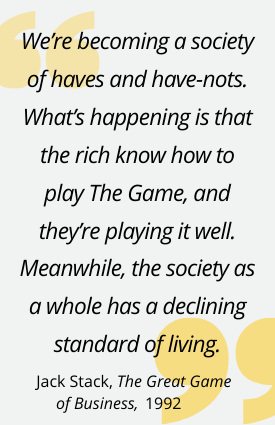 because it's only by improving productivity that we improve standards of living. All the other ways of increasing output are inflationary. Sooner or later you have to pay the piper.
But if we can improve productivity, we can create a society that's continually getting better, a society in which people do more to help each other. As it is, we're becoming a society of haves and have-nots. What's happening is that the rich know how to play The Game, and they're playing it well. Meanwhile, the society as a whole has a declining standard of living, which will continue to decline unless we can figure out how to be more productive. So why can't we figure that out? Part of the problem is that we can't increase the standard of living without generating wealth, and we hate everybody who generates wealth— whether it's the oil companies, or the doctors, or the entrepreneurs. That's a big mistake. It isn't the generation of wealth that we should hate. What's wrong is the distribution of wealth. Our real problem is that we have not taught people how to share in that distribution.
To be frank, I don't think wealth is distributed fairly in this country or around the world. To me, it was inexcusable for *Lee Iacocca to pay himself $4.5 million at the same time that he was laying off thousands of employees, and he was by no means the worst offender. On the other hand, I didn't think we could solve the problems by taking away Iacocca's millions. That's really just a drop in the bucket. The only way to solve these problems long term is to make people conscious of generating profits and understanding profits, where profits come from and where they go. Somebody's got to be out there teaching people about wealth—about retained earnings, about equity, about an earnings multiple and what it means and how it can affect them individually. If we don't do it, we will never increase the standard of living. We'll remain in this ignorant, dormant stage where we continually think a job is a job is a job. And the decline will continue.
Excerpted from The Great Game of Business.
*While Jack references Lee Iacocca in the 1992 writing of The Great Game of Business, you can easily replace this name with executives at many big name companies as they have had mass lay offs in the previous years.
---
The original The Great Game of Business book started it all. The goal of playing the Great Game of Business has always been to find a way to teach the have-nots how the haves make it—creating and distributing wealth equitably as a way to close those gaps in wealth that plague our society. You can now order Jack Stack's latest book, Change the Game to see how businesses can and have empowered people to pursue their dreams and benefit our society as a whole.
Other articles you might like: