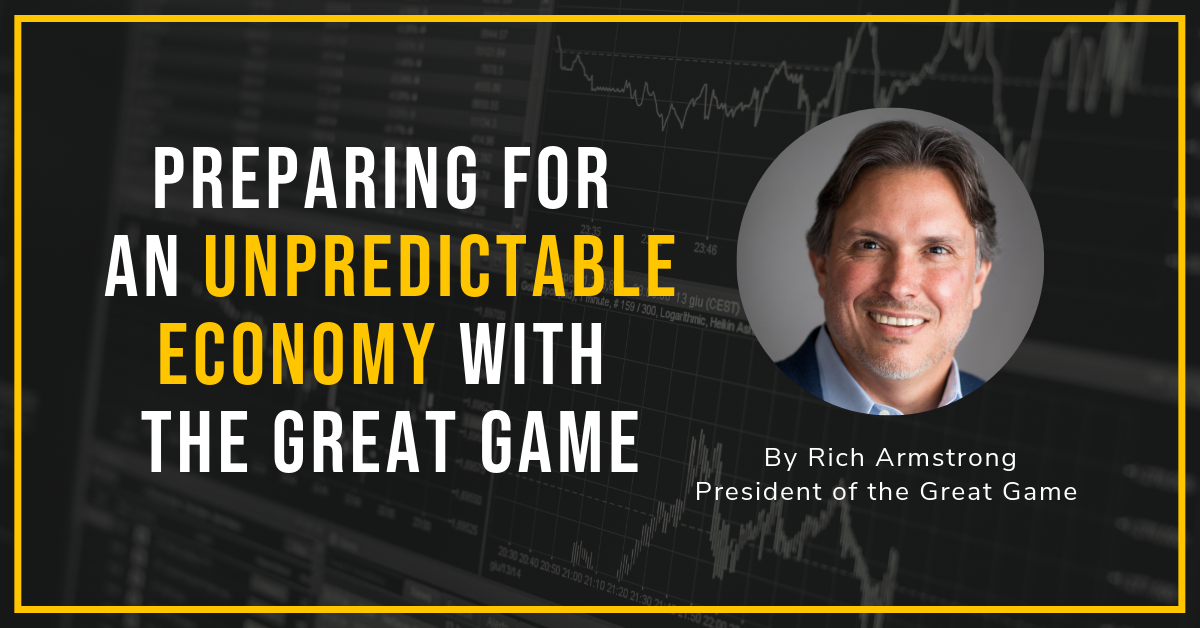 Every day brings a confusing mix of news about the economy. It can be tough to gauge how things are trending. Just when things look like they might calm down enough for everyone to get back to business, a trade war escalates or economists decide to lower their forecasts for future growth. The good news is that few economists expect a recession to hit anytime soon: for example, 60 economists surveyed by the Wall Street Journal expect the next downturn in either 2020 or, more likely, 2021.
But even if we aren't looking at a recession tomorrow, all this turmoil should serve as a kind of alarm—a red alert to take action. If times are good in your business right now, you should be putting plans in place so that you'll be able to handle the inevitable downturn to come. That's where playing the Great Game of Business® can help.
Here are four tips on how to prepare your organization to handle future turmoil:
1. Cross-train Volunteers for Key Positions
Nothing throws a business off course like having a valuable employee leave—especially if you haven't planned ahead by putting succession plans in place. Great Game® gives you the opportunity to build leaders throughout your business. Now is the time to encourage associates to step out of their comfort zones and learn new skills. Not only will that help make your business stronger, it's something your people will appreciate and thank you for down the road.
2. Get Cash in the Door
When times are good, it's easy to focus on sales and production and forget about collecting the money. Extended account receivables can be one of the first signs of a looming downturn. If your receivables aren't where they should be, set up a MiniGame™ to get your associates focused on bringing in more cash and going after the accounts that are overdue. Use your Huddles and scoreboards to help monitor daily cash flow and average receivable days.
3. Cut Costs Collaboratively
Finding ways to cut costs isn't something you should wait for a downturn to begin. Get started by using a bottom-up rather than a top-down approach. Engage your associates in a dialog and encourage them to speak up about ways the company can cut costs while driving revenues forward. Give your people a line-item to own on your financial scoreboard and ask them to track, measure and forecast the number. When you do that, you might even boost engagement while preparing the business to deal with a future downturn.
4. Establish Contingency Plans
If you haven't done this already, now is the time to begin asking the 'what ifs'. What if we see a significant decline in our revenue? What if some key customers begin to struggle? For more than three decades and three recessions, SRC has run its company like disaster could strike any moment. Maybe it's a healthy paranoia carried over from our beginnings in the 1980s. Today, our key planning practices we use to ensure both our short- and long-term success is a proactive practice are called growth and contingency planning.
We define contingencies as products or services that have been thoroughly researched, developed and cost-justified. They may also be activated on short notice. In other words, these are your back-up plans when something unexpected happens—which it will! If you lack a reliable Plan B, it's time to get your team together and conduct some High-Involvement Planning™ to determine what's possible. What growth strategies can add the most value now and during a downturn? What products or services will best perform in a poor economy? How can you extend your customer base? Can you set up more cross-marketing relationships?
Begin by setting up a scoreboard of your most promising contingencies and establish deadlines for completing the necessary steps to activate each contingency. How much time should you devote to research or conducting a thorough cost-benefit analysis? Here's a simple tool to conduct a peer review of your growth and contingency ideas. (Access the High-Involvement Planning™ Growth and Contingency Tool here.)
This is a great first step to create buy-in and commitment from your team. What's truly amazing is that when you are forced to think about the 'what ifs' at this level, contingency planning becomes a tremendous engine for innovation and new ideas that can power your company's growth in good economic times, as well as bad.
The point is that you shouldn't wait to take a hard look at how you can prepare your business for a downturn. The best time to prepare is now when you can most effectively avoid going a direction you don't want to end up. How are you preparing for the next downturn?
---
Learn how to involve, inform, and educate your entire organization on the realities of the marketplace & strategic goals of your company in our next High-Involvement Planning Workshop.
---
Other articles you might like: