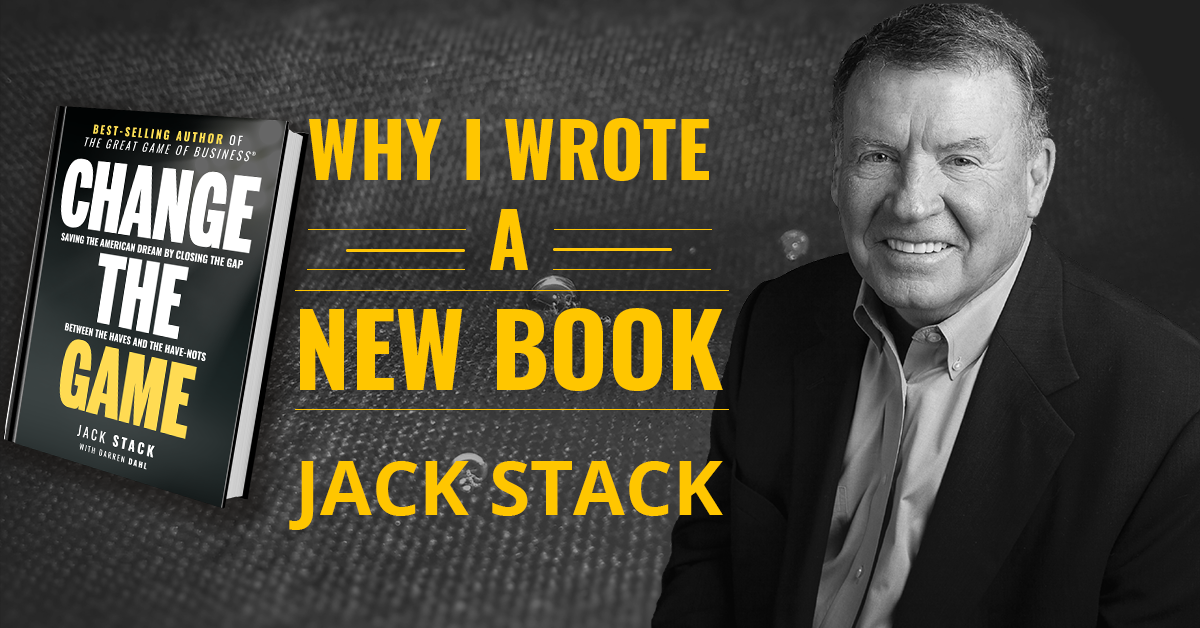 Making the decision to write a book isn't for the faint of heart.
For most people, it takes a significant investment of time and sometimes money to pull it off. There's also the question of why you would ever write a book in the first place. At times, it can seem like a very egocentric exercise: Look at me and what I wrote! And don't get me started on what happens when people actually read and remember what you wrote – down to the page number and paragraph. They hold you accountable for it. To be honest, I never figured I would ever write another book after Bo Burlingham and I wrote two of them, The Great Game of Business and A Stake in the Outcome back in the 1990s. I had already experienced my moment in the spotlight. What more could I possibly have to say?
But a decade ago, I started talking regularly with Darren Dahl, who, like Bo, was a former writer with Inc. magazine. Darren and I enjoy talking business together, especially about the kind of impact The Great Game of Business®, the leadership system we developed inside Springfield ReManufacturing Corp., was having on all kinds of organizations around the world. Darren and I found ourselves returning again and again to the stories of the people inside those organizations whose lives were changed for the better when they were taught the rules of how their business worked, kept score to understand if they were winning or not, and were then given the opportunity to earn a stake in the outcome when the organization met or exceeded its goals.
Those are the simple but powerful principles we have been living by at SRC for more than 40 years. The crazy thing is that when people began to learn on the job about things like the power of cash and the deadly consequences of debt, they brought those lessons home with them. Rather than see profit as a bad word, they began to see that profit creates opportunity. They began to create budgets for themselves and to plan ahead – at a time when even most businesses don't plan for the future. These folks started to dream about what kinds of lives they wanted to live and to make action plans to actually create those lives. They began to see there was, in fact, a brighter side to capitalism and that they didn't need to wait for someone else to bail them out. They just had to have the "gotta wanna" to get started.
The more Darren and I talked about the people who were using the Great Game to transform their lives, the more we convinced ourselves that we needed to write another book. So, we did. It's called Change the Game: Saving the American Dream by Closing the Gap Between the Haves and the Have-Nots. Our goal with the book is to share the stories of the people who are using the lessons of the Great Game to pursue their own version of the American Dream. Unlike most business books, though, we didn't just focus on CEOs and owners. We also wanted to share stories about people on the front lines trying to build a better life for themselves in factories, wedding venues and internet companies to hospitals, nonprofits and local governments.
We also made what some have told us was a bold decision to write those stories using only first names. We also didn't name the places where they lived. Why? Because we wanted anyone reading the book to be inspired and see themselves as part of the story. You could say we took our inspiration from the combination of the books Working by Studs Terkel and In Search of Excellence by Tom Peters. The message we tried to capture is that, despite what you might read or watch on TV, it's not too late to save the American dream.
That brings up another overlooked aspect of writing a book – especially when you realize that other people might actually read it. I've woken up more than a few times in the middle of the night, sweating, wondering what else we could have done to make the book better. What did we miss? Is anyone actually going to like it? Will we need to haul all those books to the dump?
It's on these days, when I wake up bleary-eyed and in need of coffee, that I'll call up Darren on my way to the office – only to find out he also had been up that night worrying about the same questions. Let this be a warning to you if you ever want to write a book: It makes you paranoid.
The good news is that Darren and I can usually talk ourselves out of our funk pretty quickly. We then get pretty excited about the stories we told – and how we keep hearing more of them every day. Sometimes, we even talk about how we might want to write another book to share even more of the stories that we hear.
But we don't need to get ahead of ourselves. What we're hoping is that the stories in this book inspire others as much as they inspire us. If we can impact even a single life as a result of writing this book, we know we will have done something worthwhile.
Other articles you might like: