For 22 years, The Annual Gathering of Games has been the top resource for providing companies with educational sessions on open-book management, transparency, gamification, business & financial literacy, rewards & recognition, incentive programs, business planning and a slew of other topics that support the principles and practices of The Great Game of Business
.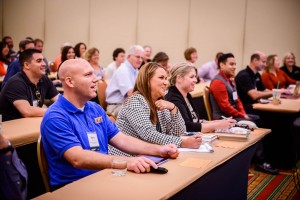 In addition to having 6 conference tracks with over 30 sessions chock-full of educational content, we also provide intensive learning opportunities for attendees ready to take a deeper dive into specific topics.
Before The Gathering of Games main event, we'll spend Wednesday, September 3rd in an intense day of pre-conference workshops led by industry gurus.
Pre-Conference workshops are not a part of standard registrations; be sure to add on a workshop that suits your needs & interests best. Workshop seating is limited and attendance to each session is first-come, first-served.
The following is a look at the Pre-Conference Workshops offered at the 22nd Annual Gathering of Games:
Full-Day Pre-Conference Option | 8:30 AM - 5:30 PM
Note: Participation in this session is not included in the standard conference registration fee. Registration is an additional $500 (over 1/2-off retail value) and includes a continental breakfast, workshop materials and lunch.
The Game Overview - Donna Coppock - Executive Trainer, The Great Game of Business, Inc.
If you're new to The Gathering of Games, or your company is just starting to implement open-book management, this session is for you. The Game Overview is a condensed version of Great Game's flagship seminar, The SRC Experience. Though we can't fully recreate the experience you'd have by visiting the "birthplace of open-book management" (SRC Holdings headquarters in Springfield, MO), we've packed as much of the content from that seminar into this workshop as possible.
In this session, you'll receive an in-depth overview of the philosophy, fundamentals and processes of The Game as well as detailed information that you can use to immediately educate and motivate your team. This workshop is ideal for first-time Gathering of Games attendees or attendees who have never attended The SRC Experience Seminar. The Game Overview will discuss how open-book management has grown from a mere curiosity to a significant and profitable business tool. You'll learn that The Game is more than just opening the books; it's a full-blown open-book business operating system that we've been refining every day for the last 30 year.
Building on the open-book philosophy, The Great Game of Business takes the proven elements needed to win at any game and applies them to the game of business. From the small "Mom & Pop" shop to multi-national corporations, when properly implemented, The Great Game of Business works anywhere, for anyone and it will work for you. Come see what it's all about!
Half-Day Pre-Conference Options | 1:30 PM - 5:30 PM
Note: Participation in these sessions is not included in the standard conference registration fee. Registration is an additional $195 and includes workshop materials.
Hiring for Character & Competence - Dr. Nathan Mellor, Strata Leadership
Do you want to attract the best people for your organization and help them reach their full potential? Do you want your organization to become the best it can be? Could you benefit from an energized, enthusiastic and highly skilled workforce? This practical training will help you understand the benefits of hiring for character and competence—and the challenges you will face if you neglect either component. You will learn to evaluate the culture of your organization and the specific character and skill sets needed for different positions. You will learn how to clarify and communicate what you are looking for in the hiring process, and you will learn how to get the information you need through effective interviewing techniques. Learn How To...
Communicate core values throughout the recruiting, hiring, and on-boarding process.
Identify character qualities needed for a specific position and create interview questions to guide the hiring process.
Adjust your application forms where necessary.
Employ best practices when interviewing candidates.
Upping your Results - Steve Drury, Verus Global
Does your team leave a Huddle inspired and ready to take the right actions? Mindsets and behaviors have a significant role in fostering inspiration, greater engagement and results in the workplace. In the Upping Your Results Workshop, participants will:
Learn tools for mastering and sustaining inspiration in Huddles and leading through the Game.
Experience an innovative technique for accelerating greatness.
Become better equipped to activate potential and create higher performing individuals and teams.
Align the Verus Global® Tools and concepts with their values and business objectives.
This is not a "sit and get." Participants will engage in an interactive session that is immediately applicable to Upping the Results in every interaction. Each participant will receive a copy of the Stomp the Elephant in the Office book.
Developing your Company's Vision - Ari Weinzweig of Zingerman's Community of Businesses
Developing your company's vision can either be a technical, time-consuming process that results in a lofty grand plan or a productive, insightful process that drives the future of your company. In this session, you'll learn how to generate a realistic and inspiring vision for every scale - for really small ideas like moving the office copy machine to really large ones like where the company will be in the year ten, 20 or 30 years.
Early registrants for this session will receive a copy of Ari's book, A Lapsed Anarchist's Approach to Building a Great Business.
MiniGame Hackathon - Steve Baker, The Great Game of Business, Inc.
MiniGames are like mini-incentive programs; they can be powerful tools for educating and engaging your employees in improving business results. But to be truly effective and memorable, your MiniGames must have a sound theme that resonates with your employees, a goal that employees understand and a reward that is meaningful and memorable. In this "hackathon" session, you'll collaborate to develop several innovative MiniGame themes that you can take back and implement in your company immediately.
Pre-Conference Workshops can be purchased as stand-alone registrations or added to your standard Gathering of Games Conference registration. To learn more about other conference events and sessions, please see the 22nd Annual Gathering of Games Agenda.