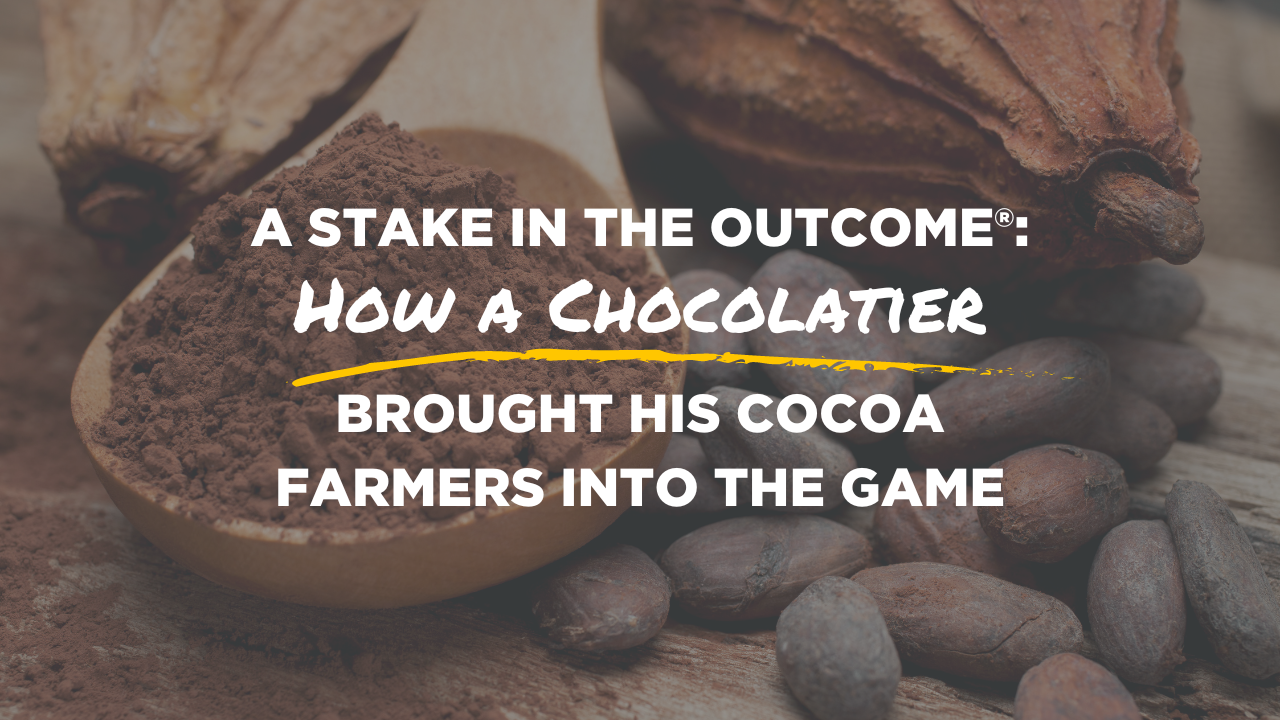 Every year, Shawn Askinosie makes pilgrimages to some of the hottest, most humid and poorest regions on the face of the Earth, specifically: San Jose Del Tambo, Ecuador; Davao, Philippines; Cortes, Honduras; and Tenende, Tanzania.
One of the first things he does when he arrives at the airport is to convert a bunch of American dollars into the local currency, which he takes with him as he drives out to visit some of the local farmers.
When he arrives, the farmers and their families swarm around Askinosie, smiling and welcoming him into their community. They know the money he carries is for them.
But it's not what you might think.
Askinosie is the founder of Askinosie Chocolate, a renowned small-batch chocolate manufacturer in Springfield, Missouri. And the farmers he visits supply him with the cocoa beans he uses to make the 26 metric tons of chocolate his 14-employee company sells every year. But these aren't just suppliers to Askinosie; they're his business partners. Through a profit-sharing program that he calls "A Stake in the Outcome," (based on Jack Stack's second book by the same name) Askinosie visits his suppliers to give them their cut of the business's success.
"It's not a life-changing amount of money like winning the lottery," says Askinosie, who started his chocolate company in 2005 after ending a 20-year career as a criminal defense attorney, "but it is significant and appreciated. It gives the farmer something to be proud of and recognized for."
Askinosie has long been a believer in the principles of open-book management and The Great Game of Business, all of which dates back to his friendship with Jack Stack at SRC. He first began applying the concepts of financial literacy, transparency and ownership within his law office where everyone, including the paralegals, had a Stake in the Outcome. "I remember one time when a paralegal took a call from jail from someone who wanted me to represent them," Askinosie recalls. "And she just kept bugging me to get out of the office because she understood that a new client meant new revenue for the firm that she would share in. That's what this is all about."
When he opened his chocolate factory, it was an obvious transition to open the books there as well. But it was a trip to Ecuador back in 2005 when Askinosie says the idea of getting his farmers involved as well came to him. It turns out that how cocoa beans are harvested can directly influence how they taste. If they aren't dried quickly enough, for instance, beans can become moldy and useless. Beans treated with chemicals or fertilizers don't usually make for delicious chocolate either. So, Askinosie thought, why not create some financial incentives to help ensure his farmers shipped him the kinds of beans he needed?
He had already committed to creating a program he calls "direct trade," in which he sources his cocoa bans directly from the farmers in the four countries he currently works with. In many cases, he wires the money directly into bank accounts he has helped them set up.
But Askinosie wanted to go further by giving farmers bonus payments based on the success of the product they helped create. He wanted to create a link where the farmers would equate better quality beans with more profits. Since he doesn't "blend" his chocolate from different suppliers – each batch of chocolate can be tied directly back to a single source – Askinosie created a system where farmers would get a percentage of final sales of "their" chocolate.
The rub was that when he first explained what he wanted to do, the farmers couldn't grasp the concept of profit sharing. "They had no earthly idea of what I was talking about," says Askinosie, noting that the same could be true for many American workers as well. Despite the advice of his translators, who warned him that the farmers might not be able to understand financial information, Askinosie pushed on and walked the farmers through the calculations in their local language.
When he eventually handed over their share of the profits – in cash – everything finally came together. "They were like, 'Oh, now I get it,'" says Askinosie. "It's amazing how crystal clear this concept becomes once you hand someone money."
Not only has the quality of Askinosie's beans gone up since he implemented his Stake in the Outcome program, he's also seen an unexpected benefit: the farmer's incredible reaction to the samples of chocolate he gives them, something many treat more reverently than even the money they receive. In Tanzania, for instance, cocoa beans are simply a commodity: the farmers there had never even tasted chocolate before. "They are so appreciative to get to sample what they started," says Askinosie, who has hopes that similar Stake in the Outcome models could be applied across the globe. "It's such a cool experience."