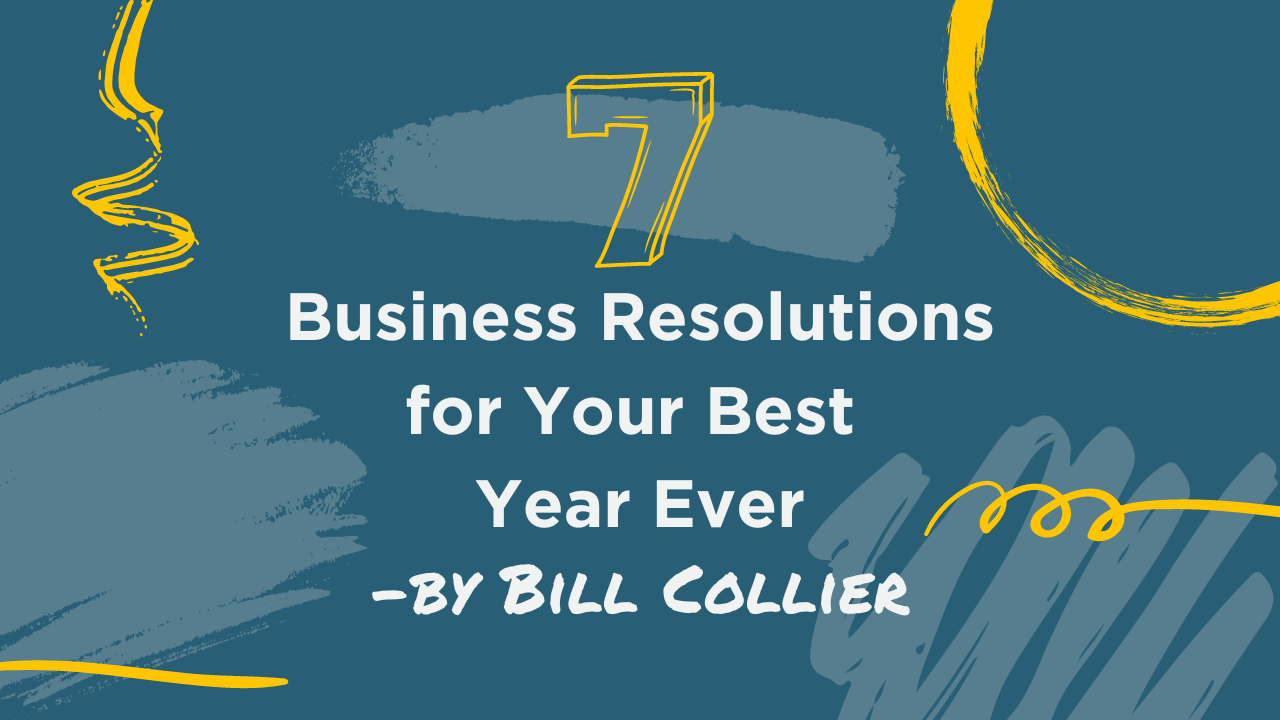 How is 2011 turning out for you? Check one:
[ ] Pretty rough
[ ] Fair
[ ] Great!
Even if you chose "Great", it's hard to be optimistic when unemployment is high and many of the most powerful people in our government seem determined to punish achievement via the tax code.
Until fairly recently, entrepreneurs were celebrated and respected. It was all about the American Dream.
Now … well, just listen to the words being used and the proposals being made. It's clear that some folks don't value what entrepreneurship represents: Pursuing dreams, hard work, jobs and a rising tide that floats all boats.
When the dearly-held principles that made this country what it is today – including Capitalism – come under attack, it is difficult indeed to stay positive.
Don't fall for it.
Here are seven resolutions for the new year to help you stay positive and improve your company's performance.
1. I will not buy into the "the rich don't pay their fair share" nonsense.
The top 1% of earners pay 38% of all taxes. The top 10% pay 70% of all taxes. (This information is readily available on the IRS website.) Actually, those with high incomes already pay far more than their fair share. You may not be rich but this ridiculous mantra is mutating into an indictment on all business owners. Get informed - immunize yourself against the negativity.
2. I will run my business by the numbers.
It's important to regularly review your progress and results, including:
Sales and gross profit, broken down by product/service or customer segments
Major expense line items
Net profit
Cash balance and cash flow
Accounts Receivable, if applicable
Look at month-to-date and year-to-date results, and compare to the same period from the prior year. It's also a good idea to look at your income statement numbers as a percent of total sales to spot trends early.
3. I will "hire hard" so I can "manage easy."
A bad hiring decision can haunt you for a long time. Don't make a snap decision. Build a strong team who will grow with your company.
4. I will delegate.
You can't do it all yourself, so don't even try.
5. I will connect with my customers.
Find out the answers to these two questions:
What's important to you? (Quality, customer service, etc.)
How are we doing in those areas?
Develop relationships with your customers. Find ways to stand out from your competitors and to become the supplier of choice.
6. I will make smart use of technology to improve my business.
Technology has become so affordable and easy to use that no business has an excuse for not going high tech. Even the smallest home-based business can afford to level the playing field with larger competitors.
7. We will think like a growth company and will not participate in the poor economy.
Get everyone in your company – starting with you and including all your employees – on this bandwagon. Think and talk about growth, pushing through challenges and achieving goals. Be winners.
Build on your successes and learn from your mistakes. Implement all these business practices, and go into the new year with the attitude that this will be your best year yet.
Bill Collier is the author of "How to Succeed as a Small Business Owner… and Still Have a Life" and is the St. Louis area coach for The Great Game of Business. He helps businesses teach their employees to think and act like owners. He can be reached at 314-221-8558 or bill@collierbiz.com.