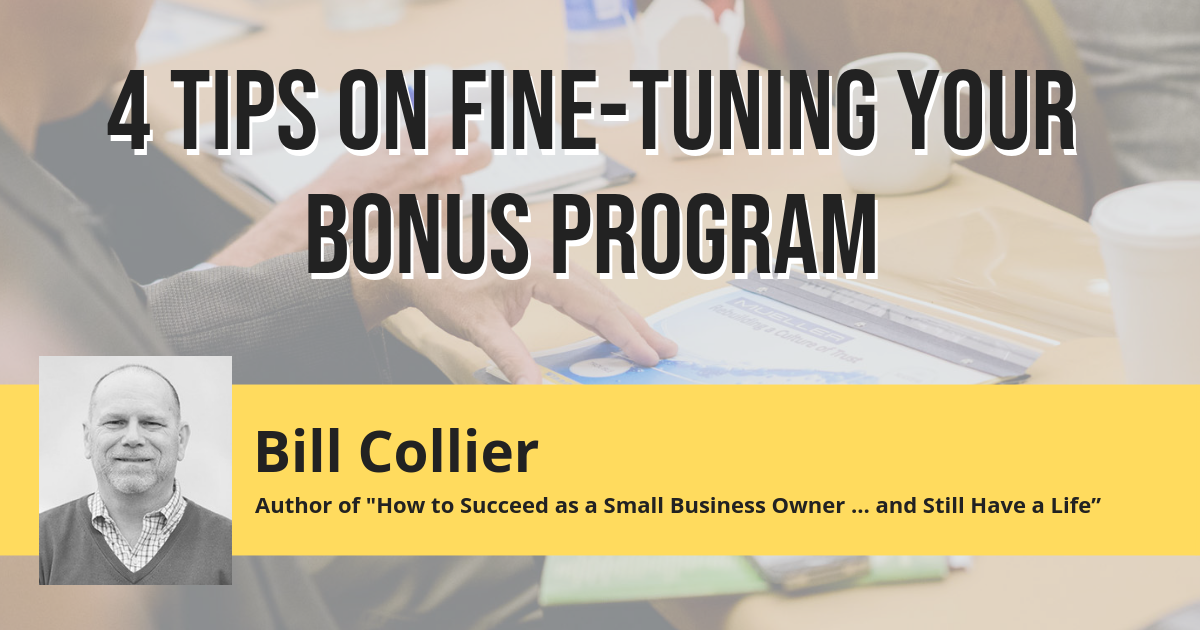 The year-end employee bonus ... it's an American tradition.
But it's easy for a bonus to turn into an entitlement. While your employees no doubt appreciate the extra money, once it becomes automatic and expected it may as well be considered part of their regular pay.
Here are 4 tips to put your incentive program on the right path, and to turn it into an investment in improved performance.
Learn More About Building a Bonus Plan
Make it Team-Based
The year-end bonus may be a tradition, but not necessarily for everyone. This perk is frequently enjoyed only by executives and salespeople.
If you're serious about improving your team's performance – and this means the entire team – make sure to include everyone in your plan. There's no quicker way to destroy team morale than by granting a bonus to some but not others. Everybody wins together.
Start Early & Tie the Bonus to Financial Results
How many times have you waited until the end of the year to figure out how much bonus you could afford to pay? It doesn't have to be this way. In fact, it shouldn't be!
Try this instead: Determine early in the year (better yet, do it before the year starts as part of your annual budgeting process) what your profit target will be. Then, set aside a percentage of anything over that target for the bonus pool.
Let's say your profit target is $200,000 and you designate 25% of anything in excess for the incentive plan. If you achieve $250,000 in profit then the bonus is 25% of the $50,000 excess profit, or $12,500.
You'll have to decide how to divvy up the pool. You might split it evenly or issue "shares" based on salary levels.
Using this approach, your team will know all year what they're shooting for and what sort of payout they can expect if they exceed the target.
It also takes the emotion out of the whether-to-bonus-and-how-much decision.
Fund the Payout
If your team earns a bonus payout, you want to make sure you have the cash available to pay it. If you offer your customers 30 day terms, consider paying the bonus 60 or more days after the bonus period ends. Be sure to let your team know about this up front. This gives you time to collect your cash from your customers, and is a great business lesson for your employees: Profit is not the same as cash.
Educate – Educate – Educate
Your incentive plan is an opportunity to share the company's success and thank your people for their efforts. It's also an opportunity to teach your team how your business works, such as:
We must take in more than we spend.
Only if the company is financially successful does it have a chance of helping the employees to be financially successful.
If we want raises, better benefits – and bonuses – we have to fund those things by growing sales and controlling costs.
Don't wait until later in the year. Start now to make an effective bonus plan part of your company's success formula.