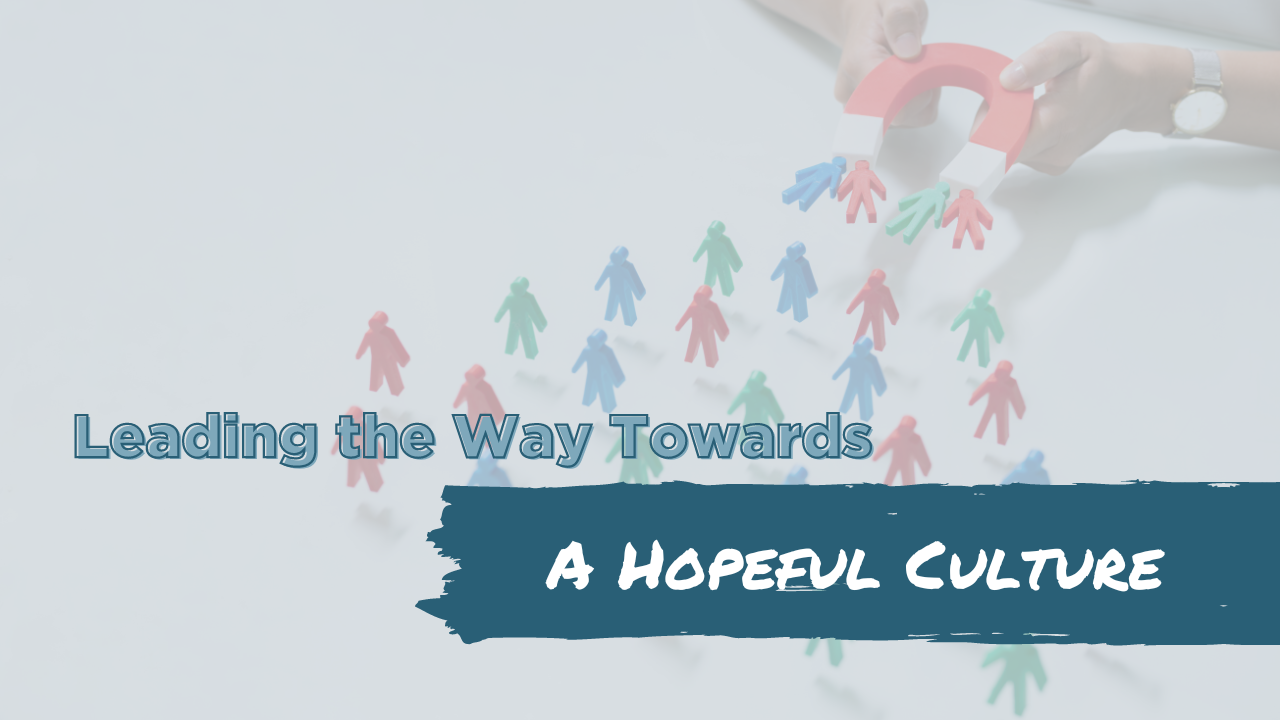 What if each of us in a leadership role simply made a point of working to make hope happen for the people we work with every single day? Within a few weeks, hope levels would have certainly gone up. By the end of a year, we'd have hope deeply embedded in the workplace culture; the climate of the organization couldn't help but be significantly sunnier than it would have been before you started.
Although the benefits of that work would be enormous, it shouldn't really be all that hard to do.
With each person on an eight-hour-or-so shift, we'd need to:
Make

a positive statement about their future.

Share

one thing they might do to help make that future (short or long term) happen.

Appreciate

their positive, creative presence.

Recognize

at least one thing they did to touch someone else's day in a meaningful way.

Compliment

them on some small but significant piece of work they did that day

Connect

them with some other part of our work community. It could be as simple as introducing them to someone from another department, or a vendor, or showing them something on the intranet.
I like it. I think I can do it, and I think I'll start teaching it. It seems very tangible, very tactically sound, and I feel like the results would be terrific. Regimens - for me at least - really help. If you like visuals, it wouldn't be hard to make up a simple scorecard for yourself.
Things Not to Do if We Want a Hopeful Organization
If you want to help people in your organization increase their levels of hopefulness, there are a few things to avoid. Unfortunately, they're all too common in the workplace. Each time we do them—intentionally or not—we reduce hope in everyone around us and, in turn, decreases people's effectiveness, hurts sales, lower the customer service quality, and reduces group morale. All of which, of course, then adds to our burden as leaders. A meaningful investment in more effective self-management to eliminate the actions below can pay big dividends.
Don't ignore

anyone

who works in the organization.

Don't dismiss

people's ideas out of hand.

Don't dump

your anxiety on others.

Don't overemphasize

what's wrong.

Don't swing

to the extremes. Over-the-top elation or descent into passive worry and active panic almost always end up causing problems.
Exercise: The Adult Trait Hope Scale
This exercise was developed by Rick Snyder and his positive psychology colleagues. It's a simple and effective way to starting to get a handle on hope levels. You could certainly use it with existing staff members, with your partners, with job applicants, or d) all of the above. This version is taken from the University of Pennsylvania's Positive Psychology Center.
Directions: Read each statement carefully. Using the scale shown below, please put the number that best describes you in the blank provided by each statement.
Scale:

Statements:
____ A. I can think of many ways to get out of a jam.
____ B. I energetically pursue my goals.
____ C. There are lots of ways around any problem.
____ D. I can think of many ways to get the things in life that are most important to me.
____ E. Even when others get discouraged, I know I can find a way to solve the problem.
____ F. My past experiences have prepared me well for my future.
____ G. I've been pretty successful in life.
____ H. I meet the goals that I set for myself.
To Score:
The "pathways" subscale score is the sum of items A, C, D & E - it measures people's confidence in their ability to move forward towards a better future.
The "agency" subscale score is the sum of items B, F, G & H - it shows people's willpower in relation to the better future they desire and dream of.
"Hope" is the sum of the four pathways and four agency items. Scores can range from a low of 8 to a high of 64.
---
Excerpted from Ari's most recent book, Zingerman's Guide to Good Leading, Part Four: A Lapsed Anarchist's Approach to the Power of Beliefs in Business. Join Ari at the 25th Annual Gathering of Games, where he'll present an educational session on this very topic. The Gathering of Games takes place September 6-8, 2017, in Dallas, Texas. To learn more about the conference or to register, visit the Gathering of Games website.