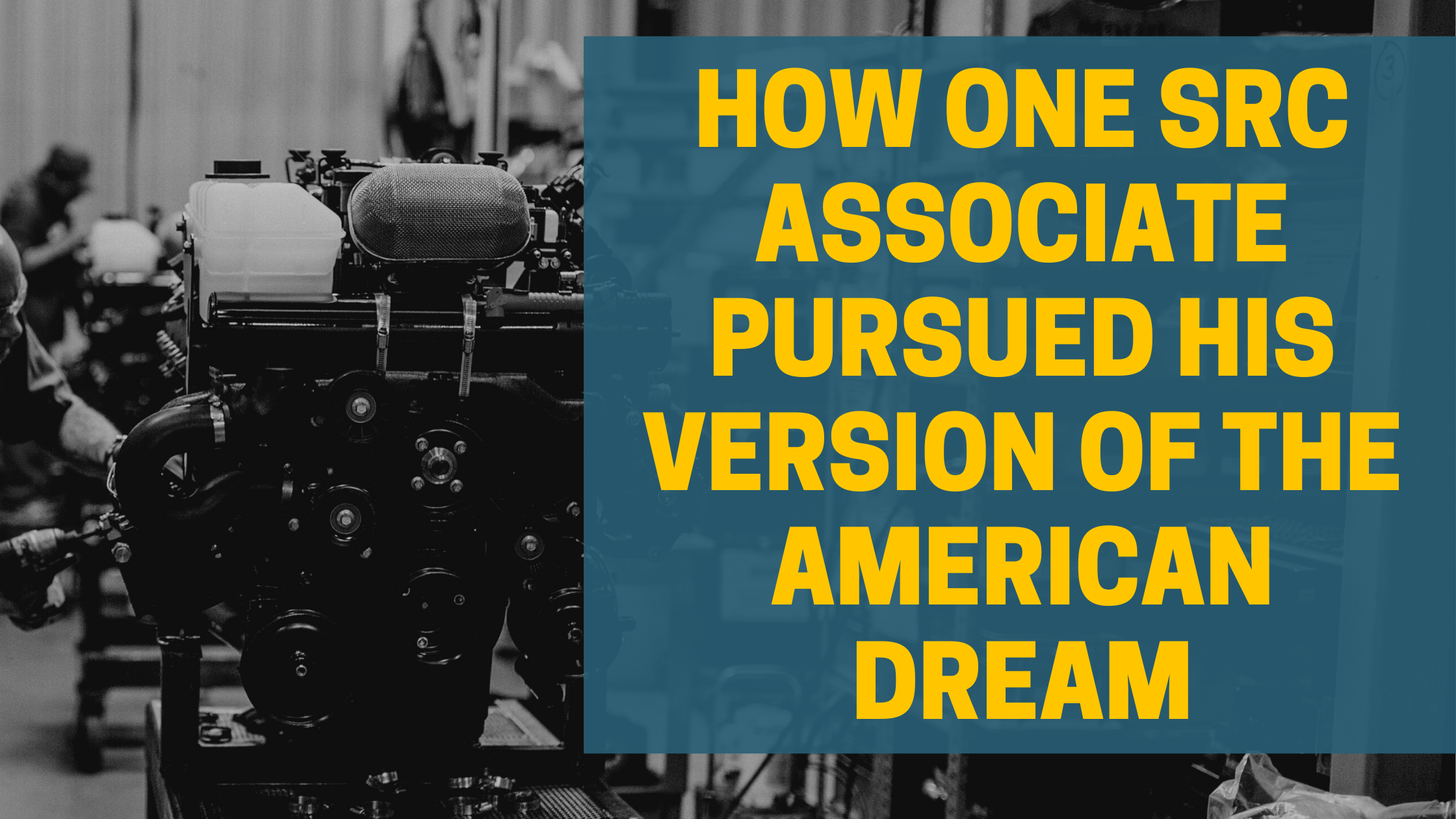 In October 2019, Rick Hedden retired from SRC after 36 years. He was 59 years old. At the time, his shares in the company's ESOP plan were worth seven figures. But the lessons he learned from playing the Great Game of Business over his career at SRC might be even more valuable. It helped him live his version of the American Dream. Here is his story.
The Journey Begins
Rick Hedden's journey with SRC and the Great Game of Business began in 1979—a year after graduating from high school in Springfield, MO. He worked in his father's gas station for a few months after graduation until a buddy named Warren tipped him off to a job opening in town working for International Harvester (IH). After an interview, he landed a job as a maintenance helper. His first day of work was in February of 1979. He was 18 years old. Rick also remembers that the plant's young manager, Jack Stack, was also relatively new, as he had moved to Springfield just a few months earlier.
Rick figured he had landed a great summer job. He would tackle tasks like mowing the facility's lawn and, once a week, wash the company's pick-up truck, used to pick up visiting IH big shots from the airport. A few months later, he took a more permanent position in July when he moved into the warehouse department as a stock keeper.
Back then, however, IH was experiencing multiple struggles. In November 1979, production workers went on strike for six months, making it hard for the Springfield plant and its 150 employees to get the parts they needed to do their jobs. Their production suffered as a result—which made them a target for IH executives looking to sell off underperforming assets. "We were just a small-potatoes reman center," says Rick. "So we got put on the block to be sold."
Rick remembers how people interested in buying the plant started circling in and out on what seemed like a daily basis. "We were perpetually under inspection for more than a year," says Rick. Meanwhile, there were rumors inside the warehouse that Jack and the executive team were trying to buy the plant as well. But, officially, the employees weren't sure what was going to happen. "All any of us really wanted was to keep our jobs," says Rick.
Eventually, as detailed in The Great Game of Business, Jack and the executive team cobbled together $100,000. They were then able to convince a (soon to be fired) banker to lend them some $8.9 million to buy the plant for themselves—albeit with a now-infamous 89-to-1 debt-to-equity ratio.
A New Beginning
On February 1, 1983, all 150 employees were called into a series of meetings to explain the official announcement of the sale. It was explained in that meeting that they would all be let go by IH, but they were all encouraged to fill out applications to work for the new company: Springfield Remanufacturing Corporation or SRC.
"When they started calling people back, they were looking for the people who had the best attendance rates and training," says Rick. "They wanted to bring back the pick of the litter." At the time, Rick had been at IH for four years and 11 months—just shy of his fifth anniversary. In July 1983, thanks to a recommendation by Phil Lane, the warehouse supervisor, Rick became one of the 119 employees that SRC hired on.
Rick, now 23, had been unemployed for six months before SRC hired him back—which gave him some time to reflect on his career. "I realized that I had no special skills; I was just an ordinary worker," he says. "So I decided to try and take advantage of every opportunity I could to become a more valuable employee."
Anyone hired before August was grandfathered in with a February 1 hire date. Rick sat in his first orientation meeting on July 10—but he wasn't officially hired until July 25. That meant that he became one of the first employees to be enrolled in the company's employee stock ownership plan or ESOP. "My boss happened to like me a lot," says Rick. "I was very fortunate to make it into the ESOP when I did." Two friends of his who were in that same orientation program weren't hired until August—which meant they had to wait until the next entry date for the ESOP program.
ESOPs were something new to Rick and his fellow employees—and there was plenty of skepticism about them. "They told us we were going to be employee-owned and that we would share in all the profits," he says. "They were really pushing the ESOP as something special," Rick remembers being told the story of a lumber company in the southeast U.S. that had become an ESOP in 1978 and how a receptionist who worked there retired after 20 years as a millionaire. The company's name: Lowe's. "That got us all pretty excited," says Rick. "We started to have some big expectations."
But when Rick opened his first ESOP certificate, the number shocked him—but for a very different reason. It was worth just $30. "I was like, oh yeah, I'm really going to be able to retire on this!" he says, admitting that some people became even more pessimistic about the ESOP program after that. "I remember one of my buddies saying something like, 'When I retire in a few years, I might be able to buy a cup of coffee with this,'" says Rick. "Boy, was he wrong."
Rick admits that it took him a few years before he finally understood how, by learning to become businesspeople and think and act like owners, they were steadily increasing the company's value. "It was the experience of going to the staff meetings and talking about the numbers that helped me grow," he says. "We would talk about how we made a profit and how we could exceed our numbers. That helped all of us to focus and work hard to achieve our shared goals. Everything began to make sense once we understood what we needed to accomplish."
But it was also a nerve-wracking time to be working at SRC. That 89-to-1 debt ratio loomed large for everyone. "All of us knew that if we made one financial mistake - if we blew our budgets and ran out of cash, we'd all lose our jobs," says Rick. "A lot was riding on those first few years."
Not everyone was willing to ride out the tough times. Some people left, while others were asked to leave because of poor performance. Around this time, Rick also had the opportunity to jump to another job. He had a friend who was a member of the Pipefitter's Union who encouraged him to take the exam needed to join. He did well, placing third on the list. They told him they'd get in touch.
Meanwhile, he had already accepted the job at SRC. But, a few months later, he got a call from the union letting him know there was an opening for him. The job paid well—better than SRC—but it involved a lot of travel outside of Springfield. It was also likely that he would work six months and then get laid off for the next six months. He had learned enough about SRC by this point that he turned down the job. "I told them I was sticking where I was at," he says.
An Education in Business
Rick worked his way up from stock keeper, to materials coordinator, to team leader—and eventually to the warehouse supervisor. Warehouse workers don't always get to enjoy the limelight as the production people do. But as he began to learn more about how their business worked, he began to understand the important role he played in keeping production going. "When we started at SRC, our inventory accuracy wasn't good at all," he says. "We would run the whole year and then shut down for the entire last week in January—the end of the fiscal year—and count parts, trying to match up what we were supposed to have. There were huge discrepancies every year."
Rick realized that if production and scheduling didn't have the parts they needed, the line would shut down. So they began to investigate what was going wrong. There was no real computer system at the time, so everything was primarily done manually. Part of the problem was that people from different departments would come and take parts whenever they wanted—but then neglect to update the inventory records afterward.
Finally, realizing that their inventory problems were costing the company money, a team was sent to Boston to train on how to solve the problem. One of the changes they implemented when they got back, for example, was conducting monthly audits as a way to keep more updated records. They also set up new rules and inventory controls to help ensure people didn't just take parts without updating the records. To help create an incentive, the company also built a bonus program based on inventory accuracy. "Everyone now had a Stake in the Outcome to do better," says Rick.
Rick remembers that when they conducted their first audit, their accuracy was something like 39%. "It was terrible," he says. "We could not build engines with that." But, thanks to their diligence in changing the way they maintained the warehouse and its records, accuracy had jumped all the way to 98%—then 100%—by the end of the year. It was an incredible improvement. Even better, thanks to conducting those monthly audits, the company no longer had to shut down in February to count inventory anymore, which had a significant impact on production numbers and the company's bottom line.
Rick valued the monthly all-staff meetings that Jack ran, where he would share all the company's numbers and talk about where they were compared to their plan. "He would always say there was a story behind every number," says Rick. "He never missed an opportunity to teach us something. If we weren't making our plan, we'd talk about why, which would help everyone get behind changing it for the better."
As the warehouse supervisor, Rick owned that inventory accuracy number. If they needed to make adjustments in their plan versus budget, his role was to report those variances during the meeting. In the beginning, they had budgeted something like $6,000 in variances. But as time went on, that number began to drop—to $4,000 then to $2,000 and, finally, to $0. That number rapidly decreased as inventory accuracy improved.
That was the moment Rick says, "the power of the Great Game of Business really hit home" for him. "I finally got it," he says. "I could see the impact when we focused on the numbers, played MiniGames™, and tied our improvements to the bonus. All of that impacted the value of our stock. It all kind of sneaks up on you. You're learning stuff all the time even if you're not always aware of it."
He also learned the power of planning ahead. He was in awe of how the sales teams in the different divisions put together five-year plans and then engaged the frontline employee-owners in educating them about what the market was telling them and where they thought they could go together. But it was more than just a presentation: it was an opportunity to ask questions, raise issues, and then, ultimately, to vote on your confidence level in the plan.
That meant something when the team's bonus was on the line. It was no longer just the sales team's plan—it was everyone's plan, even when Black Swan events like the GM strike of 2019 hit. While it was hard on the team because they didn't have the parts they needed, Rick says that everyone worked their tail off through the end of the year to try and get back to the original sales plan. "The fact that it was our plan always gave you that extra motivation to work the extra hours to make your number," says Rick. "We didn't have some executive in a suit coming down to us and telling us to work harder. We all had a stake in the outcome, and we knew we could make it up and reach our goal together."
Bringing It Home
Rick began to apply the same lessons he was learning on the job to his home life—
Especially after he and his wife decided to get divorced, he was about to turn 30 when it happened. "I had more debt than I could manage on top of paying child support," he says. "But I was not going to move back with my parents. So I knew I had to do something different."
Rick then pulled up a spreadsheet on his computer and looked at his personal finances like a business. He calculated his income—which was really the same as his wage rate and the number of hours worked—and his expenses, like his utilities, gas, and phone bills. "I then reviewed those figures every month to see how my cash flow was going," says Rick. "Was I making money or blowing through it? It made such an incredible difference when I started doing that. It helped me recognize that cash is king and that without cash, you can destroy yourself from within."
Another aspect of business that Rick says he learned at SRC was the value of buying low and selling high. He remembers, for instance, during the early days of the company, the economy was suffering through a recession. But SRC had gone out and bought a building that Jack and others thought was a good investment. "They knew it would go up in value," says Rick. Sure enough, a new medical center was soon built across the street from the building—greatly enhancing its value for the company and, potentially, a source of cash if they needed to sell it. Rick says he saw the company make similar investments again and again over the years. "When everyone else is selling cheap, we always took advantage by buying at rock-bottom prices and then reaping the rewards when the economy came back," he says.
Looking back and seeing how the company has continued to weather multiple economic downturns over the past 36 years, Rick is particularly proud of the fact that he was never laid off once. Despite going through several recessions, including the big one in 2009, Rick says he was never worried about missing a paycheck. "Not many people, especially many of my friends outside of SRC, can say that," says Rick.
A Legacy of Success
Over the course of his career at SRC, Rick has worked for four different divisions—including stints at SRC Automotive, GRC, and SRC Logistics after getting his start at Heavy-Duty. As part of his inventory duties, Rick witnessed firsthand how encouraging entrepreneurial thinking in people can be a great return on investment. For example, one employee-owner at SRC decided to start keeping old oil coolers they used to scrap. "We had a mountain of them," says Rick, "and I figured we'd be forced to throw them all out at some point." But because SRC encouraged entrepreneurial thinking in people, scrap piles turn into an entirely new business—called Engines Plus. Engines Plus started as a garage that installed engines in cars, but after they began remanufacturing those oil coolers, demand quickly overwhelmed the business, and that became the main work. It took off like wildfire. "I never questioned any other new business idea again," he says.
He also admits that he can't quite believe the ride he and the company have been on over the past 36 years, where sales have increased from $18 million that first year to more than $600 million in 2018. And then there's the increase in jobs—from 119 employees to about 1,800 employees when Rick retired. "Everything has grown so much," says Rick, who tried to mentor newer and younger SRC employee-owners by explaining what the company has meant to him.
Some of those young people Rick has had the opportunity to counsel include his two children—both of whom came to work at SRC early in their careers. His daughter worked at Newstream for five years before following her calling to become a nurse, while Rick's son still works at Newstream—where's he's been for ten years. "Both of my children are so articulate with the numbers and good with their money," says Rick. "It's also kind of nice to have my son continue to be my inside source to what's happening at SRC now that I'm not there anymore. I can't wait to see what happens next."
Living the Dream
Rick loved his job at SRC. But when his father passed away a few years ago, he took some time to reflect and consider how hard his dad worked his entire life. "When he was 60, and I was 40, he could still outwork me," says Rick. "He'd get up in the morning and go work at the gas station until 4:00 and then head to the railroad until midnight. Then he'd come home and start all over again. He did that six days a week and half a day on Sunday. He kept working like that until he died. I decided I didn't want to do that, to keep working like that."
The good news is that thanks to the value of his ESOP shares and other retirement investments he had made over the years, he could afford to retire at 59. He had also remarried the same woman he had split from years earlier. While they had been forced to sell some of the shares of their ESOP back then—those shares would have been worth seven figures if they hadn't sold them—the shares he kept had just about tripled in value over the past few years, which gave him a comfortable nest egg on which to retire. In fact, after consulting a financial advisor, Rick learned that he could actually make more money by retiring than by continuing to earn a paycheck.
"I wanted to be able to retire while I was healthy and I could afford it," says Rick. He now spends his time fixing up a couple of old cars he's kept since high school, as well as restoring a house he's owned for a while that he's planning on renting or selling. Rick also has two young granddaughters he's looking forward to spending plenty of time with. "My wife and I are also enjoying having more time with each other without any pressure or timelines," he says.
When he started with the company back in 1983, Rick had his own vision of living the American Dream: getting married, buying a house, having a couple of kids, and working at the same job until he retired. "That all happened to work out for me," he says. "My life couldn't have worked out any better."