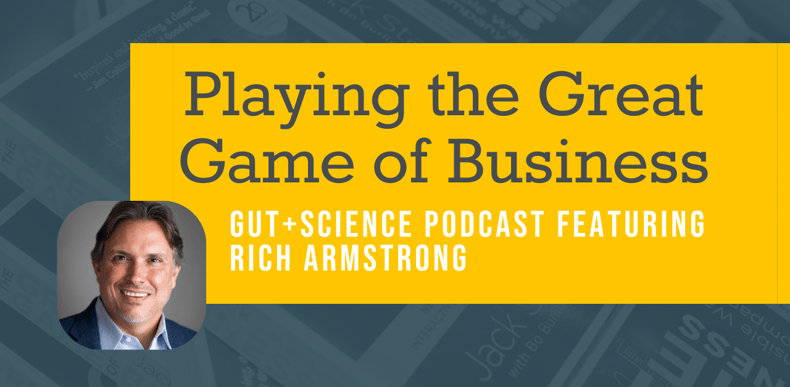 The Gut+Science Podcast, hosted by Nikki Lewallen, features the nation's greatest leaders as they cut to the core of people-first cultures and ask CEOs how they are redefining employee engagement. Gut+Science recently featured The Great Game of Business' President, Rich Armstrong, as he discusses playing the Great Game, employee engagement, "gamifying" business and more. Check out the full podcast below!
Sneak Peek- What's Included in the Podcast:
Definition of open-book management: four components

The concept of "gamifying" business

Business and the elements of a game

Is every financial detail shared in OBM?

Does company culture and employee engagement impact profitability?

Education- who, how often, and how to educate through this process

Common skills and values found in Great Game leaders

Cross-departmental alignment

MiniGames™

Lightning round- learn about Rich Armstrong
Podcast Highlights
Define Open-Book Management
The traditional definition includes financial transparency: providing the financial picture to everyone in the business. At the Great Game of Business, open-book management includes four things:
1. Financial transparency- is the company winning or losing?
2. Taking time to teach all employees about what those financials mean.
3. Empowering employees and enabling them to use this knowledge to impact the business.
4. Providing a Stake in the Outcome to employees- rewarding and recognizing them for their efforts to improve the financial success of the business.
"Gamifying" Business
In teaching the financials to employees, we've found that some employees felt intimidated by this information. Concepts of the Great game of Business are used to simplify the idea of business and show that business has the same elements as a game:
1. Rules
2. Scoreboards
3. Goals and targets
4. Rewards for winning
The Great Game of Business uses these elements to demystify business and make it more attractive and interesting to all employees.

Is Every Financial Detail Shared?
If you want your people to think, act and feel like owners, you must treat them like owners and provide information and education to do so. Your employees will fill in the gaps themselves when lacking information, and often their perception is drastically different than reality.

Do Company Culture and Employee Engagement Impact Profitability?
Studies indicate that an engaged employee will stick around, and better turnover rates immediately go to the bottom line in terms of training and recruiting.
The biggest impact engagement can make in profitability is increased productivity and innovation from employees- thinking differently about the business and taking the extra step and effort toward improving the success of the organization.
Cross-Departmental Alignment
Financial statements show the collective efforts of the company, so why not use these tools to bring people together and align your employees? Weekly Huddles use these tools to reveal the financial condition of the business with a forward focus. If the company is not hitting plan, what does the company need to do differently? Huddles are an alignment tool that show how each department depends on each other. Additionally, each department can then have their own alignment within scoreboards and short-term improvement challenges or MiniGames™.
The Fourth Component of OBM- Providing a Stake in the Outcome
Many people jump to the conclusion that Providing a Stake in the Outcome only includes bonus plans and compensation. This is part of it, but can include many other things. What do your employees value? Career advancement, a development opportunity, or new challenges within their job? A Stake in the Outcome encompasses all of those things.
---
Listen to the full Gut+Science podcast with Rich Armstrong here:
---