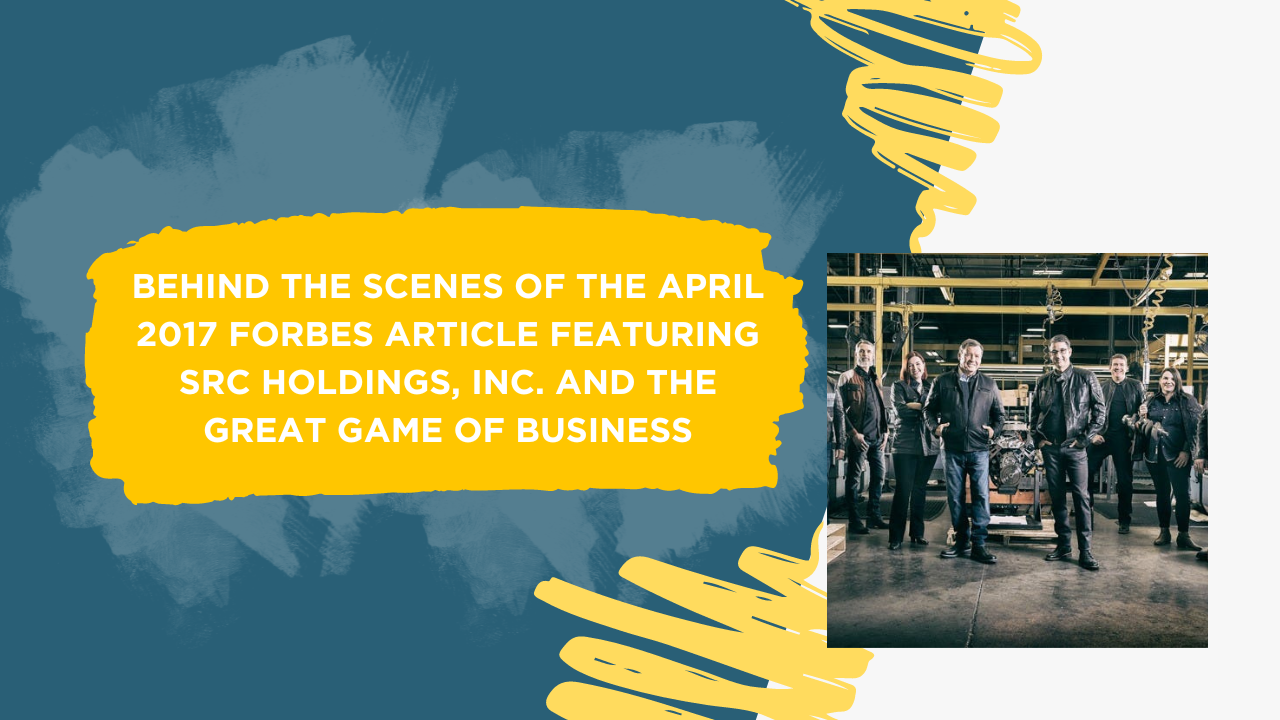 In the April 2017 issue of Forbes magazine, SRC Holdings, Inc. and The Great Game of Business were honored with an impressive six-page spread titled "Gaming the System: How One Manufacturing Company Saved Itself With Radical Transparency And Created A Slew Of Blue-Collar Millionaires."
Written by staff writer Peter Carbonara, it's a fantastic in-depth look at Jack Stack's thought process behind opening the books at SRC and how it evolved into The Great Game of Business as we know it today. It was informative, inspiring and, frankly, a whole lot of fun for everyone involved.
To give you a look behind the scenes, we interviewed our own Ken Cook (Director of Operations) and Cassie Potts (Marketing and Events Coordinator) to get a sense of how the article came to fruition and what the leather-clad photo shoot was like.
Who first approached you about the article?
Ken: The Forbes staff actually approached Jack after the magazine named our annual conference, The Gathering of Games, as one of its "7 'Can't Miss' Conferences for Entrepreneurs in 2017." We've always had a good relationship with Forbes — we blog for them on occasion — I think part of the reason they came to us was they knew about the success of our company and thought we'd be a great piece to provide their subscribers.
How long was the process?
Cassie: Forbes approached Jack and GGOB's President Rich Armstrong about the article around early fall of 2016. The author of the article, Peter Carbonara, visited SRC in Springfield, Missouri for the initial interview with Jack Stack in early November. Peter was in town for about three days interviewing SRC folks and gathering information to compile his article. In February, Forbes sent an awesome team of stylists and photographers to our SRC Automotive facility to capture the "rock and roll" image you see in the article. The whole process — from initially approaching Jack to the actual publishing of the article — took a total of about five months. It was a long process, but it was exciting and totally worth the wait.
What was involved in the interview?
Cassie: Peter interviewed Jack, Rich, Ken and a few of SRC's Leading Edge team members at SRC Holdings, Inc. He also talked with some line-level employees across multiple SRC facilities. Jack's interview was obviously the most critical to the article and was the most involved. But Peter also wanted to capture many different perspectives about the company and how it all works. That's why Peter talked with Ken and Rich, who provided additional insight into open-book management and The Great Game of Business.
Ken: My Leading Edge team happened to be meeting at our Great Game office while Forbes was in town. The SRC Leading Edge teams focus on specific issues that could affect the company in the future, such as recovering planned loss in profits from the sale of a joint venture, healthcare, employee retention, etc. Pete and Jack happened to drop in our meeting. It was a great opportunity for Peter to see another part of the strategic planning process we go through at SRC. Peter was able to interview other team members during that meeting and learn about our project.
What was the photo shoot like?
Ken: Well, first, we had to choose the people getting photographed. We wanted to invite folks with some tenure, as well as people from the Ownership Culture Committee to be part of it. The visionary for the photo shoot, Joseph DeAcetis, wanted a "rock band theme," but none of us knew what that meant. It turned out they wanted to present the group as the "rock stars of manufacturing."
How did they do that?
Cassie: Joseph and his crew shipped in about 40 boxes of clothing and supplies for the photo shoot. They brought several incredibly fashionable leather jackets by Belstaff, plenty of dark colored Levi's and a few pairs of biker-style black boots. They had everything all laid out on the conference room table where they set up. The girls (Sam and I) went first. They basically started trying out different shirts and jackets and putting us in different arrangements until Joseph was happy with the look. Then, the makeup artist spruced us up a bit and we were done. After the ladies were ready, it was the men's turn. I wasn't in the room, but as we were running short on time, I can only assume it was a flash of denim, tees and leather until everyone was dressed and ready to go. The actual photo shoot was awesome. They brought in this cool backlighting equipment and strategically placed us between some remanufactured parts and super-cool truck engines. Then the photographer, Tim Pannell, says, "I need someone to hold this crank shaft." So, of course, they picked me to do the honors. The whole photo shoot lasted about three hours and was a whirlwind of excitement. I will definitely never forget being part of the experience.
What would you recommend to anyone else prepping for a Forbes article?
Ken: For starters, it's going to take a lot more time than you think. For us, there were a lot of follow-up calls and other back-and-forth interactions. Be patient. Although it does take a lot of time, the results are worth it.
Cassie: Forbes was awesome to work with. You have to realize that they're going to write what they want, but you have to trust them. Once it was printed, they sent us copies, but we didn't see the article before that. It definitely got us out of our comfort zones, but it was a lot of fun.
There you have it! If you're looking for more Great Game content, be sure to check out another Forbes article about open-book management that was published recently: "What Small Business Owners Need to Know About Open Book Management."