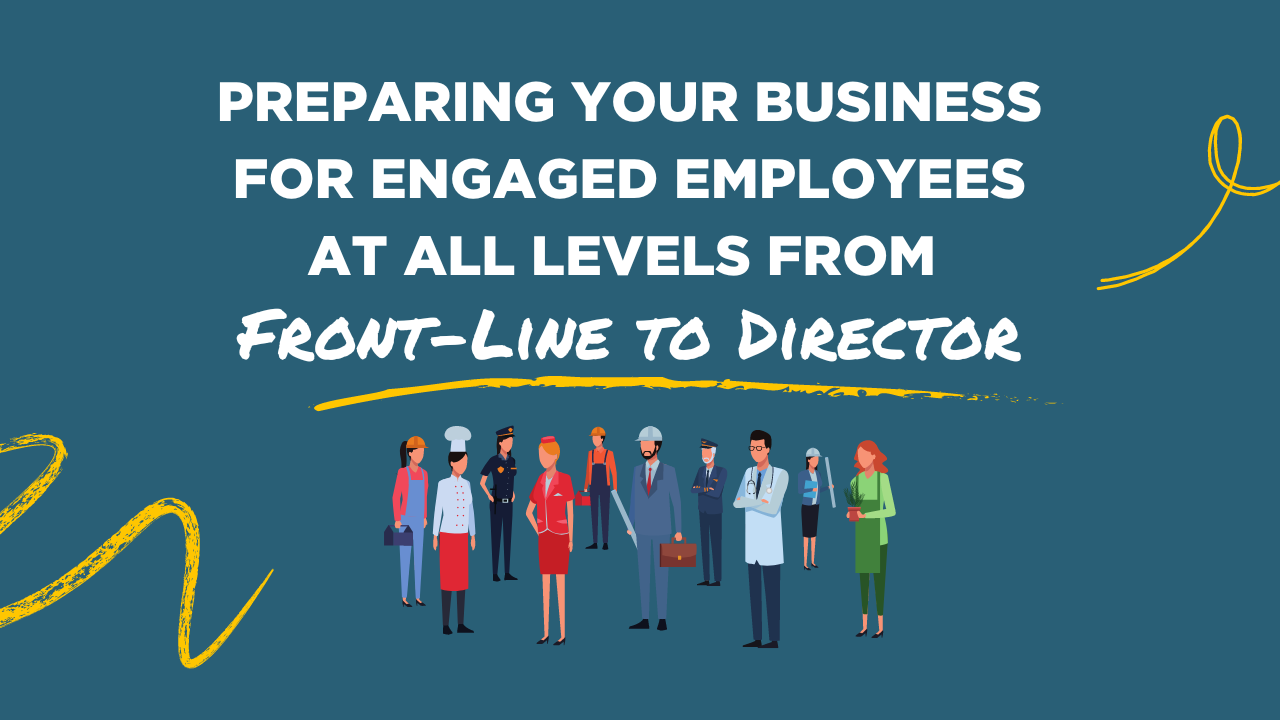 Think back to when you first opened your business or launched your company.
All your hopes and dreams centered on having happy, returning, high-spending customers, right?
Your first few customers offered you a great chance to learn how to interact with them to create a great customer experience. As your business grew, so did the amount of people buying from you, and with each new customer you earned, something else happened…you needed more employees! That's when it all started to change. You learned just how much employee engagement matters, and the more people you hired, the more crucial that realization was to your businesses success.
In this article, you're going to learn three tips to prepare your business (and yourself) to experience a highly engaged workforce.

Engaging employees isn't a new phenomenon; most people understand how important it is and how much it impacts a business. But employee engagement requires taking a step back, reflecting on current relationships and even spending some time looking in the mirror.
The best advice I ever received as a manager growing into my career was from a very smart person who told me, "Don't ever forget where you came from."

If you can remember back to the day when you began your business, you were close to your customers and very close to your first employees. You understood their wants, wishes, satisfactions and frustrations. You need to return to this place in order to learn how to engage employees currently working in that place.
Part of engaging employees is involving them in business conversations and collaborating with them on business decisions. Grab some crucial information from those closest to customers and to other employees. In other words, use "two heads" instead of one.

If your goal is to create an atmosphere to engage all of your employees at all levels, consider using some of these ideas to prepare for and maximize engagement:
Get yourself ready for feedback. You are going to have to ask everyone for opinions on your company, your products, your employees and even yourself. It can be tough to receive this information if you aren't mentally prepared to receive it. Don't start asking until you're ready (and appear ready) to really listen.
Ask for some help. You can't do this alone. This is a great opportunity to ask for an opinion from someone you trust to help, which will also help your reputation amongst the staff. This person might end up being the one to collect ideas from employees. He or she could also be your point person for "collaboration activities."
Commit to collaboration. This is an easy concept to embrace; yet, it's quite difficult to execute. Collaboration takes commitment from all involved, time to get it right and following up to make sure it worked. Everyone in the organization will need to participate. This might be where you will struggle to "slow down to hurry up." This will be a journey—so let it take time!
Brainstorming is an art. Those you ask to contribute will want to believe that the atmosphere is "safe" so that they can offer their ideas. It is even better when you can be prepared to reward great ideas and participation. Learn to come together as a group to collect and explore options with creativity, spontaneity and high levels of contribution and without judgment that will take some time to develop.
Confirm an appropriate atmosphere of teamwork. High performance is a team sport, so establish the rules, abide by them and enforce how the group will pursue (and achieve) excellence.
Step one is committing to what you need to do to create a process for collaboration. Once that's been accomplished, it's time to work with your team on communicating what you want them to do and why as well as creating some goals. To further increase engagement levels, work together to identify:
Where the team wants to go and a reasonable timeline to get there
How the team is going to get there
How often the team should review status/progress
What success looks like
Who is going to do what (establishing roles and making commitments)
What you will reward the team with for arriving at the team's goal (paint a picture of what the celebration will look like)
When you have reached this stage, congratulations! Enjoy the celebration, and then start the whole process over again. Learning the ins and outs of involving and engaging employees is an ongoing process. What ideas have worked for your company when it comes to collaboration within your workplace?
Other Articles You Might Like: