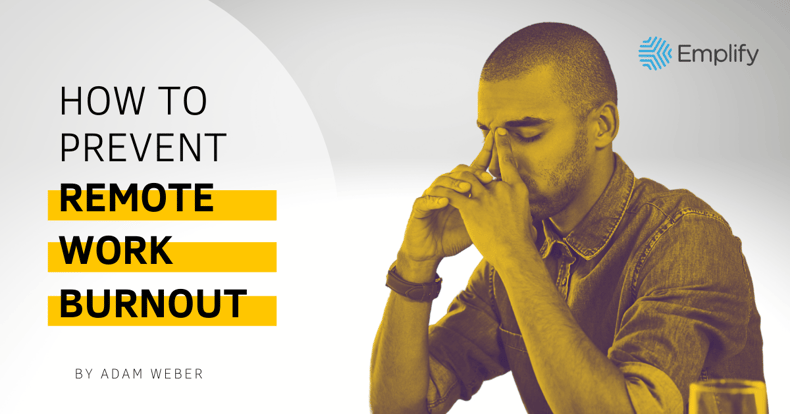 Well, it's the end of October and very little has changed since COVID-19 transformed the way we lead our lives. Many of us are still working from home, and, for those of us who are parents, are still balancing child care with client care, school work with work deliverables and being a good parent with being a good employee. And it isn't much easier for those without kids—juggling family dynamics, and living with isolation. Work continues to pile up on the makeshift desks we've made out of our kitchen tables as we ponder when things will begin to look a little more normal. We're all stressed, tired and a little burnt out. Unfortunately, burnout isn't going anywhere anytime soon, in fact, our data continues to show 60% of employees feel burnout. As hard as it sounds, we must accept that this is the new normal for the time being.
If you're a follower of the [Emplify] blog, you know that we saw this burnout in our own people back in April. In response, we shifted our workforce to a four day work week. While some might say this was a tough decision, for us it was a no-brainer. Our people were exhausted and we knew we needed to do something to remedy what ailed them. That's because caring is one of our core values that shapes who we are as a company and how we make decisions. Since then, we are happy to report that our rest driver has improved significantly as a result of our new policy.
As our quarantine months continue to blur by, leaders who seek to address the burnout in their workforce should consider how they are meeting their employees with compassion and empathy. For all of us, we need to take a step back and see what our needs actually are, and how we are addressing them during this chaotic time. To help in these efforts, we've compiled some tips and tricks for leaders and staff who seek to adjust to this difficult work culture or environment.
Set Realistic Expectations—Of Yourself and Your Staff
Ever feel like you're demanding too much of yourself? Oftentimes, burnout can be just as much psychological as it is physical. So it can be healthy and de-stressing to do a reality check to see if the expectations you are working under are real.

Examine what you are expecting from yourself and how it measures up against what you think others expect from you. Then, ask your co-workers to see how accurate your assumptions areor imagined, realistic or unrealistic, motivating or demotivating. There are a couple of ways you can do this for yourself:
Zoom in on a particular task/meeting/responsibility to clarify the expectations that comes with it

Release yourself of the assumption that things must be balanced. They won't ever be and you shouldn't expect them to be. If balance is impossible, learn to manage the swings so they aren't so devastating
Overall, you must be explicit and clear in the expectations you're working under, making sure they are grounded in reality, and helping you move towards meaningful goals. In doing so, you ensure that you aren't stressing the little things, and you're spending your time on the things that matter.
As leaders, consider completing a similar expectations audit with your team. Open up the conversation with your own authentic experiences of burnout in the past months. When you're vulnerable like this, your people will be more likely to bring their own walls down and ask for the help they need.
Disconnecting—No, but Really Disconnecting
When work is at home day after day, we all know how easy it can be for a workload to overwhelm us. Setting clear expectations is the first step, but we also must be mindful of the boundaries we set between work and life. During this time of extended exhaustion, truly disconnecting from our work can help prevent burnout. As leaders, you can help your people disconnect by doing some of the following:
Work with the team to establish a cut-off time where work for the day ends and folks are unavailable. Encourage folks to strictly adhere to this cut-off time and understand that, if it's after the agreed upon time, they can attend to it the next morning

Establish periods of time where folks won't take meetings. This can be a "no meeting" Wednesdays or "long weekend" Friday afternoons—any span of time that gives people some extra space away and the opportunity for focus

Finally, strongly encourage your people to use their PTO. While they might not want to travel somewhere for their time off, "staycations" can be just as rewarding and refreshing for your people
Disconnecting when you're done with work is not only vital to preventing burnout—it will keep you energized and focused during the hours that you are working. Consider shutting down your laptop at the end of the day, or muting notifications on your phone during non-work hours. I've even heard of folks recreating their "commuting rituals" by taking small walks around the block each day before and after work. Whatever you need to do to disconnect, find it and put it into your daily practice.
Making Progress and Recognizing Wins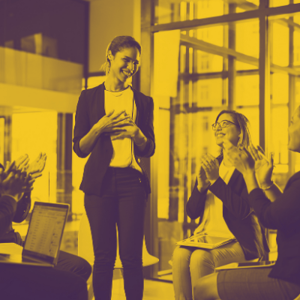 If burnout feels like you're constantly spinning your wheels and getting nowhere, it might be because you're not recognizing how far you're actually going. Both leaders and employees can have a hard time seeing the progress they've made when they don't set out specific goals and achieve them. And in order to maintain momentum, leaders need to find moments to support their people in working towards their goals. These manageable and sustainable goals can make you feel like you're moving forward, and not just revving your engines. Here are some tips to use goal setting to help you and your people overcome burnout:
Work as a group on creating goals that feel achievable within a given time frame. In weekly meetings, publicly recognize folk's wins in their progress towards their goals. This keeps your people motivated and connects your team

Create a daily to-do list that is manageable and focused. Leaders, work with your people to prioritize their tasks to best support the progress of the whole team

Block out time on your calendar to address specific tasks so that you won't be interrupted by meetings and can maintain your focus on the work ahead of you
There is joy that lies in accomplishment. Seeing the work that you have done with your hands and its transformative power on the world around you can keep you going in these especially tough times. Consider other areas of your life that you can bring in that energy. Is there a hobby or skill that you've always wanted to pick up? Flexing these other parts of your brain, body and soul can help you maintain centeredness while you are working from home.
While we continue to work through this period of extended exhaustion, empathy is perhaps the best tool we have in fighting burnout. Not only for each other, but for ourselves. Being kind to yourself opens up the possibility of encouraging and supporting the others in your life. No matter who you are, executive, manager, or employee, let's ensure that we're treating each other—and ourselves—as the humans we are. Stay positive this week.

---