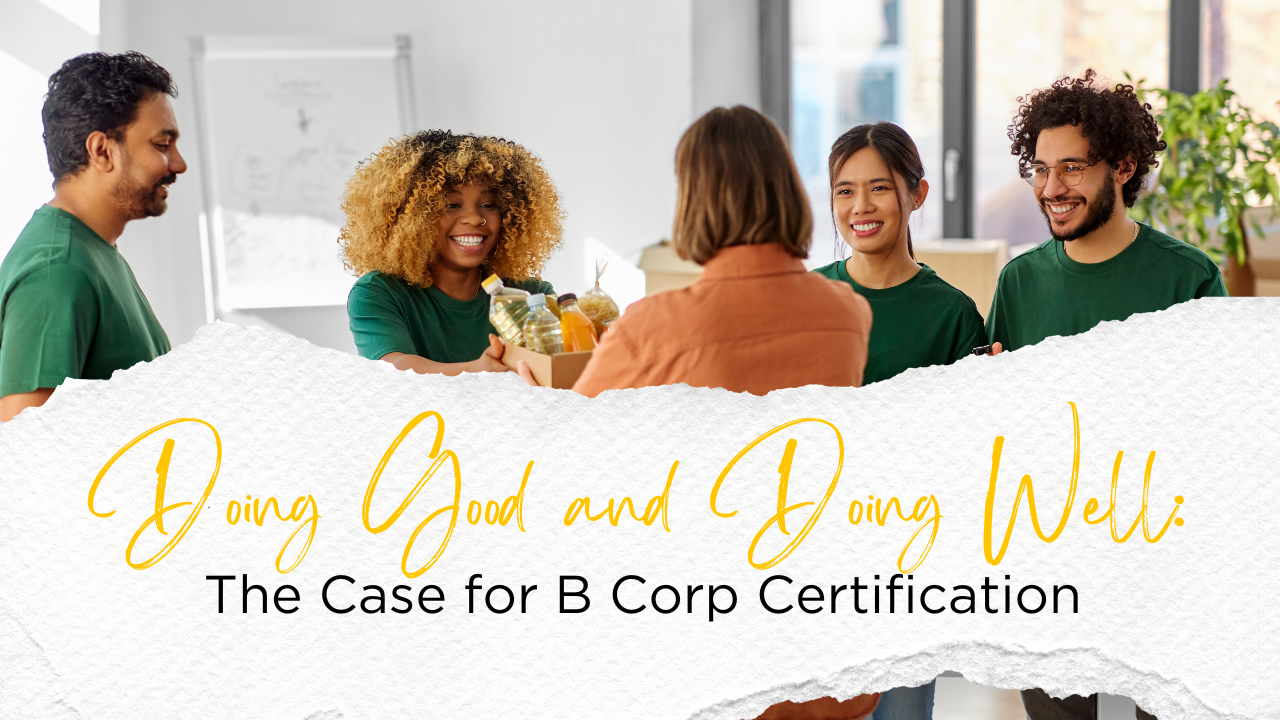 According to the Harvard Business Review, millennials will make up about half of the global workforce by 2020. These millennial employees are demanding work that connects to a larger purpose. At the same time, 66% of global consumers say they will pay more to support companies that are committed to making a social and environmental impact (Nielsen Global Corporate Sustainability Report).
Some companies – such as New Belgium Brewing, West Paw Design, Dansko, King Arthur Flour, Cabot Creamery, and Patagonia – undergo B Corp certification to demonstrate their commitment to being transparent, treating their employees well, making their community a better place, and actively working to preserve the environment. There are currently more than 1,600 Certified B Corps in 120 industries and 42 countries, all committed to being "not only to be the best in the world, but the Best for the World®."
What is B Corp certification and what does it entail?
B Corps are certified by the nonprofit B Lab to meet rigorous standards of social and environmental performance, accountability, and transparency. While B Corps are firmly committed to their financial stakeholders, they are also committed to their employees and the communities in which they are based. The first step in becoming a B Corp (or learning more about what it entails) is completing either the condensed 30-minute or the complete 90-minute B Corp assessment to get a sense of how your company stacks up against other businesses. There is also the opportunity to create a customized improvement plan. Firms must achieve at least 80 points out of 200 to be considered for B Corp status, and then their answers are audited for accuracy. Companies practicing open book management will likely score well in transparency and accountability.
Why consider becoming a B Corp?
B Corporation status isn't for all companies. But for those that want to attract and retain millennial talent, differentiate from competitors, benchmark their performance against other companies, and protect their mission, it can be a great option. In addition, it is a chance to partner with like-minded companies – B Corps often say they prefer to do business with others in the B Corp network.
To learn more about the B Corporation movement and how it might benefit your open-book company, join Anne-Claire Broughton of Broughton Consulting (a newly certified B Corp as of late June), Spencer Williams of West Paw Design (the first pet product manufacturer to become a certified B Corp), and Joe Herrick of New Belgium Brewing (a certified B Corp since 2013, a year after becoming 100% employee owned) at the 25th Annual Gathering of Games, where they will present an educational session on the topic. The Gathering of Games takes place September 7-9, 2016 in Dallas, TX.