Is leadership different in an open-book company? Through all of our work with companies implementing the principles of The Game, we have learned quickly that it begins with the right workplace leadership. In other words, critical leadership beliefs and characteristics are present in all great OBM leaders—leadership characteristics that support the leadership system and give it authenticity and momentum. If these characteristics are not present in your leaders of The Game, the system may not reach its full potential and may be at risk of failing.
If you are not prepared to learn, teach, share, and be involved, The Game will not work for you. However, if you're interested in improving results and the lives of the people who help you drive those results, then The Game might be a great fit for you and your organization.
It's a powerful leadership system, but it isn't for everyone. The Game is not a quick-fix remedy.
Your leadership team must understand and embrace the reality that this is a continuous learning process that requires:
a sincere commitment from leadership, and
the right leadership approach.
It all begins with a genuine belief in people and in fostering mutual respect and trust. Regardless of how you currently lead, going "open-book" requires you to reflect on not only your style of leadership but also on how you will develop others as your organization grows. Through the years, we've identified core beliefs and characteristics shared by the most successful Great Game leaders.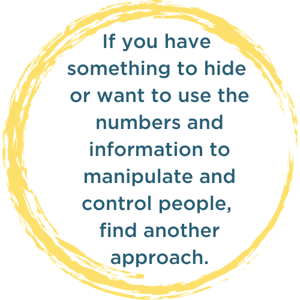 Great Game leaders believe the following:
If I don't inform my people, someone else will.
Given the opportunity, people want to learn the business.
Provided the education, people can learn the business.
Given the trust, people will make the right decisions for the business.
Given respect, people will contribute to the success of the business.
People should share in the rewards they help create.
When we work with organizations, we always ask the question, "What characteristics do open-book leaders need to possess?" In all the years of workshops, conferences, and coaching sessions we've facilitated and out of all the traits we've captured, we have found four to be common in leaders that were truly successful in an open-book environment.
Great Game leaders share these characteristics:
Humility—"I don't have all the answers."
Vulnerability—"I'm willing to ask for help."
Servant leadership—"I'm focused on the needs of the team and the company, not my own."
Courage—"I'm ready to open up and release control."