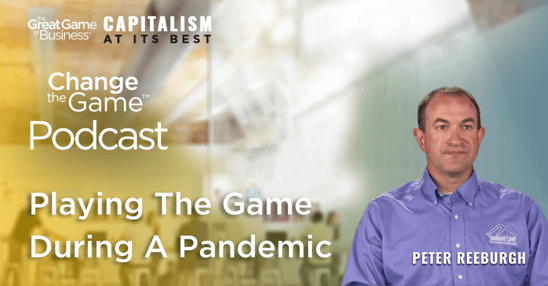 Episode with guests: Peter Reeburgh
Owner/CEO of Summit Cove Lodging
(This episode was recorded in July of 2021.)
Key Episode Take-Aways:
1. We had a good culture within our company but with Great Game and being more transparent, it went to an even higher level. (click to jump to this topic below) you know, just the culture that we've had, we already had a good culture with our company. But being more transparent, with great game has just made the culture just put us on a rocket ship, it really has as far as how people work together, and, and just how just the innovation all the way around, has gone a long way.
2. You do not have to come up with all the ideas on your own when everyone in your company feels empowered. (click to jump to this topic below) these ideas keep coming. So, I had a maintenance, one of our maintenance techs has been painting the properties and spending a lot of time in these properties. [He] came to me two months ago and said, you know, advertise that the property is newly painted, or has new appliances or as newly remodeled. That's, that's fantastic. Holy cow. That's a great idea. You know, if you're doing the work, let's advertise and make sure that people know that they're staying in a property that's newly painted. Just this morning, I got a really cool idea. from one of our again, one of our maintenance guys is a different maintenance tech
3. The more you take care of your people, the more they take care of you. (click to jump to this topic below) And I just come back to the more you take care of your people, the more they take care of you. And so, you know, yes, we're, everyone's kind of short staffed, we could probably use a few extra people. But I feel like the team that we have, we continued to hire throughout the pandemic. We've got some great people, just amazing people.
Continue scrolling to read the full episode transcription.

---
Transcript Coming Soon...
Conference Ad
Each year for the last 29 years, a community of game changers have gathered together from around the world to learn, share, and celebrate the principles and practices of the Great Game of Business at the world's largest conference on open-book management. This year. We are back in Dallas baby stronger than ever because let's face it, we are better together. Join us virtually or in person in Dallas September 8 through 10th for the Great Game of Business conference. Visit openbookconference.com for more information.