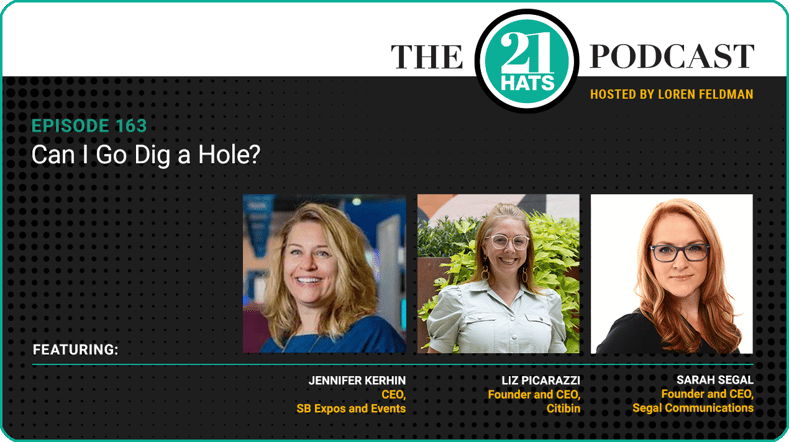 Introduction:
This week, Liz Picarazzi, Jennifer Kerhin, and Sarah Segal talk about whether they ever wish they could go back to their corporate lives. For Liz, there was a period during the early days of COVID. For Jennifer, it was when she made the transition from a consulting business to an employee business. These days, none of them can imagine going back—although Sarah did have a rough week recently when she lost two clients. "It's just the way of the world," she tells us. "When businesses are looking to cut costs, it's outside agencies that go first. But when it's two of your largest clients in the span of a week, it's like, 'Really? Can I go dig a hole, put myself in it, and just stay there forever?'" What she's actually doing, as we discuss, is figuring out some new ways to attract more clients. We also discuss whether everyone needs a business plan and whether the three owners ever wonder if someone else would do a better job running their businesses.
— Loren Feldman

This content was produced by 21 Hats.


See Full Show Notes By 21 Hats


Podcast Transcript
Loren Feldman:
Welcome, Jennifer, Liz, Sarah. It's great to have you all here. The three of you have much in common, including the fact that you've all been very generous about sharing the ups and downs of your journeys here on this podcast—which leads me to the question I'd like to start with today. None of you had to start a business. And I'm just curious, especially when you're struggling with something, do you ever regret it? Do you ever think about going back to your corporate careers or doing something else? How about you, Liz?
Liz Picarazzi:
So it's interesting that you asked, because I used to work at American Express. And yesterday, I was at an event at a restaurant in the same complex as American Express. And I was really reminiscing about my time there, and the people who I met, and how, when I went to happy hours with all my Amex colleagues, it was mostly all corporate types. But then I was there with a group of entrepreneur women. There were around 12 of us. And I talked last night about how I got a lot out of corporate. But one of the most important things I got was, I understood how much friction there is in getting anything done.
And for an entrepreneur, you're looking for traction. And when you encounter friction, you're going to try to find 10 ways to get through it or to get around it or get above it. The impression, for me, with a corporate company—it's not just an Amex thing—is that there's a lot of friction in getting anything done. So if you're doing an eight-hour day, and you're in meetings for six of those, which often happened with me, it's really hard to get things done. And it's very agitating for an entrepreneur.
So for me, I always kind of felt like a black sheep there. I felt like everybody else knew how the hierarchy worked and kind of how politics worked. And I don't mean that in a negative way. I understand, in corporations, why there is hierarchy. I really do. But I just couldn't play that game. I wasn't very good at it. I like to do things that I'm good at. And I ultimately felt like I needed to do something that was more creative. As it turns out, with me, I had a business plan written for my first business before I left Amex. And I was affected by the layoffs due to the recession. And so I ended up leaving, but having that business plan in my back pocket and being able to start the business right away. And that's a story for another day, what that transition was like.
And in terms of where I have regretted it, in the beginning of the pandemic, when I had laid off all my employees and didn't know if PPP was really happening and had a warehouse full of inventory that I had just brought over and was paying tons to house that, you know what? If I was in corporate, I definitely would not have had this problem. And I just had to have hope that we got through it. And we did. And I feel like the government was incredibly generous with small businesses. I definitely would not have survived had I not gotten that PPP. So I guess if things had gone really south, then I probably would want to have a corporate job right now.
Loren Feldman:
Jennifer, how about you?
Jennifer Kerhin:
I think I definitely did, between years five through eight. When I started the company in 2009, it was really supposed to be started as a consulting firm, not as a business. Because I love what I do. I have a definite vision of how associations can optimize their events, and I love it. I love every aspect of it. And in the beginning, it was just me working by myself. So more of a consultancy than a business. I was totally fine.
But when I got to the point of creating the business, hiring staff, doing more complicated accounting, getting more things to build the structure, I didn't like it, and I really regretted it. And I thought, "Why did I do this? I could have worked for a consulting firm. I could have worked for an association. This is stupid. This is taking up all my time." My kids were little. "I hate it, hate it, hate it." I pushed through it.
Loren Feldman:
How long did that last?
Jennifer Kerhin:
Three years. But what I should have done is, earlier on, embraced that if I was going to run a business, I should have sought outside help at that moment. Instead, I languished in misery for a couple years. And if I'd said, "Okay, this is now not a consulting firm. I've decided to be a business. Here are the different options for resources. There's books, there's podcasts, there's CEO advisory groups out there. There's free things from the state."
Years later, I got some amazing courses through Maryland's Small Business Development Corporation that were free. Go to that. I should have done that instantly to help me design my way. I had a vision, but I was very lost on the business side. Once I got through it, I was fine. And I love it. I'd never go back. I absolutely adore it now. But if you fall into starting a business without thinking that it's a business, and you get lost, find the outside resources. That's what helped me get out of that stage.
Loren Feldman:
What was it that you most needed to do differently during that difficult period?
Jennifer Kerhin:
Stop thinking I had to know everything. I didn't understand accounting. And I should have hired a part-time accountant to set up QuickBooks Online for me much sooner than I did. I knew how to do the work, but I didn't know how to hire an employee. I could have gotten some help to say, "This is how you hire your first employee. This is what you do with them"—and then how to delegate work for any sort of management, because now you're not in the phase of just doing the work. You need to manage someone else's work.
If I had gotten help on those two things, that would have helped me get to the next level, because I love sales. That was easy to me. You know what I should have done? I should have read E-Myth a lot sooner. I love that book, my favorite book of business of all time. And I should have read that day one.
Loren Feldman:
Sarah, you've shared with us that you've had multiple previous careers or incarnations. [Laughter] Do you ever miss them?
Sarah Segal:
Well, no. They're all in communication. So the consistency of my career is, I've been in the communication industry for a really long time. And so whether or not it's as a reporter, on one side of the fence, or the person talking to a reporter, it's still communication.
I was just thinking back: I had drinks with an old colleague of mine from Cafe Press, which was a print-on-demand company that was pretty big at the time, that got absorbed by another larger entity. And the people who I worked with there, we're still all in contact. We follow each other and communicate with each other on a regular basis. Because the one thing that we liked about that time period was the creativity that we were afforded.
And we were always kind of kept on our toes. It was really fast paced. And it was really nice having that comfort that someone else was paying the bills, and I didn't have to worry about that. Because that can be suffocating sometimes for me, as a business owner, where I'm so focused on generating new business, or expanding the business, or this and that, that I forget about the creative side of what we do and why we do it.
So I'm actually working with my team to do this pretty large creative project, that I will divulge at some point soon. It's not for a client. It's for us to kind of get our juices flowing, and really kind of share the creativity that we have. Because, when you work in PR, a lot of the time, you give a client 15 amazing ideas, and then they generally go for what's safe. And so we have this laundry list of really awesome ideas that never get picked up. But sometimes you've just got to do them yourself.
I just want to point out one thing: I love that Liz had a business plan before she started her business. I still don't have a business plan. I'm working on it slowly. But I still haven't been able to figure out what my end goal is, because I don't really have an end goal. I like what I do, but is it a monetary goal? Probably not. Is it an accolades goal? Probably not. Or is it like how big are we? Probably not. So I haven't been able to really figure out what that is. But in terms of going back to a corporate environment, I don't think I could, because I don't think I'm employable. I think that Jay said that on a podcast episode once or in conversation, but I don't think I'm employable.
Loren Feldman:
He said you were unemployable?
Sarah Segal:
Well, somebody said it about themselves. And I was like, "You know what? I'm not employable." I don't like marching to the beat of somebody else's drum. I am always looking for: How can we do things better? How can we change things? How can we move ahead? And a lot of bigger entities aren't built that way. They don't want to test-drive new ideas.
Loren Feldman:
So I would phrase it a little bit differently. I think you're probably quite employable, but you might not be a great employee, which is probably true of everybody on this podcast.
Sarah Segal:
Yeah, I'm never satisfied with what's being done. And I always want to make something different and do something inspired. And there are a lot of companies out there that don't need to do that, because they have a great product that is a commodity but that people know their brand name. And I just don't think I would fit well into that environment anymore.
Liz Picarazzi:
I'm actually hearing, Sarah, that you kind of want to maximize creativity.
Sarah Segal:
Oh, I do. I've kind of put myself in a little bit of a funk, because I've been so focused on business. We had two of our largest clients—we're wrapping up with them at the end of this month because of financial bandwidth on their side. Literally both of them are like, "We love you guys. We're gonna come back. But we need to take a break and get our ducks in a row and get more funding," or do what they need to do to make really good use of us. But we love them. We think they're great. We think that what they do is really interesting and awesome. And we're so excited when we get media hits and opportunities for them.
So when they leave, I try not to, but I take it personally. Because I feel like I've failed the team. And then I'm like, to spend so much time, "Okay, so how am I going to make the numbers work? Do we have new business in the pipeline?" And then I focus all my energy on that. And I forget about the creative side that got me into this business.
And so I'm really trying to step back and go, "You know what? If we do what we're good at, and we show the world how creative we are, specifically in the video realm, people will come to us." And so I'm investing a little bit of money into starting to create that video content. We already edit video for clients and do all of that. But original content is kind of what we want to focus on for the next while.
Jennifer Kerhin:
Sarah, one of the things that helped me get out of my couple years of doubting and regretting that I had started a business was creating a business plan. I wonder if that would help. It gave me a sense of control. It gave me a way to direct my energies that didn't make me seem like I was drowning. I'm wondering, I mean, Liz, you started off the right way. Because I think if I ever started another business, the first thing I would do is create a business plan. I'm wondering, Sarah—because it's sad when you lose clients like that, really sad—I'm wondering if that might help you move forward?
Sarah Segal:
Yeah, I mean, I have a document that's my quote-unquote business plan. And I go into it, and I work on it as I can. It's kind of a work in progress. Probably it would be good to have somebody else put eyes on it at some point when it's a little bit more finished. But again, for some reason, I'm stuck on this idea that a business plan has to have an end goal.
Loren Feldman:
I'm not sure you're right about that.
Liz Picarazzi:
Mmm, I don't think so. I think it's really more about the process. And if you get your plan on paper, you can really ask the question: Will people pay for what I'm offering? Yes? No? How much? A lot of work to get there, but I think a lot of people, when they do business plans, work out a lot of things that they would encounter once they launch. And those are good things to know. And they can be short.
Loren Feldman:
When you put together your plan, Liz, how far into the future were you thinking? Was it the first year or to establish some stability?
Liz Picarazzi:
I think I probably did it for, like, three to five years. At least half of what I predicted was wrong. Which is fine.
Loren Feldman:
Which is probably a pretty good batting average, by most standards, I suspect.
Liz Picarazzi:
Yeah, I mean, everything from classifying employees as 1099 or W2, to how I was going to price things. Who my design target was for customers changed multiple times. But it still will narrow down your choices. And you're gonna find 100 books about how to write a business plan. Just kind of look at which are the couple that are the best on Amazon and look for something that's short.
I've even seen a book, I think it's called, The One Page Business Plan, and I think for a lot of people, that's kind of the way to go. And it forces you to ask questions and answers that you might not otherwise do.
Sarah Segal:
Have you ever thought about going back and updating your plan?
Liz Picarazzi:
No, I haven't, because it's just so many years back. For my first business, that plan was written in like 2008, or something. And then for my current business, Citibin, that was actually written in conjunction with starting it, because I was spinning it off of the handyman business. And then the other thing I would actually recommend, which you may even already know about, is the Goldman Sachs 10,000 Small Businesses program.
I did that six or seven years ago, but they have satellites at universities in many cities. And that's something that Goldman Sachs actually pays for the whole curriculum. It's like a six-month commitment. I think it's like one day a month in person. But every component of a business plan, there's like an entire unit devoted to it. So you'll get everything with the financials, the marketing, operations, hiring, firing, HR, you name it. That was really good for me. And actually, I created Citibin within that Goldman Sachs class, because I realized I wanted to spin it off from the handyman business and get out. So I actually planned my exit for my first business in that program.
Sarah Segal:
Interesting.
Jennifer Kerhin:
I also did—it's very similar to Goldman Sachs—the Small Business Administration's Emerging Leaders Program. That's a nine-month program where they meet every two weeks. It's at night, so it's like two and a half hours. And it's the same thing, curriculum. Every month is a different sort of chapter. They have a leader who teaches, as well as bringing in some guest speakers. And then you do a presentation at the end. Very similar concept to Liz's, and they help you at the end of it. You had to write a business plan and a sales and marketing plan to support it.
I, unlike Liz, change my plan. I add to it. Let's see, mine's two years. There's the initial what the company is going to be, but as things have developed over the last 14 years—especially with the arrival of us getting so involved with event technology support—I have changed it. I think the first thing that it helped me to do, though, is not chase any business that came my way. When I actually put down a business plan in writing, I was able to say no to potential or current clients when they asked me for services that I didn't think were in my wheelhouse. Because before, when I was just sort of trying to make it through, sometimes I accepted work that I shouldn't have, that wasn't in my core strength. And that business plan really helped me to focus on my core strength. Kind of like Pilates for business. [Laughter]
Sarah Segal:
It's like Pilates—just core strength?
Jennifer Kerhin:
Yeah.
Sarah Segal:
I get it.
Liz Picarazzi:
I do Pilates once a week. Maybe I need to do this more.
Sarah Segal:
Can I ask Loren: You know, you ask us questions all the time about our businesses, but you run a small business. Do you have a business plan?
Loren Feldman:
No, I don't, and I probably should. [Laughter] I don't want to get too deep into this right now, but I've been kind of throwing stuff against the wall to see what sticks and what might be a potential revenue source for me—the newsletter, sponsorship of the podcast, in-person meetings, a couple other ideas that I have. And I feel like I've needed to try these things out and get a sense of whether they work at all. And I'm thinking that, maybe next year, I need to really put it down on paper and have a real plan.
Sarah Segal:
Seriously, I have an idea for you: You need to host a series of webinars that people can sign up and pay for where you break down whatever the questions are for the business plan, and literally talk through those. And people have to go away and do homework and come back. And it's almost like a peer group of people that are in your situation, in my situation, to kind of light a fire under them.
I guarantee 50 percent of business owners out there, if not more, don't have business plans. And it's one of those things that they wish they had, and they know they should have, but putting pen to paper is easier said than done.
Liz Picarazzi:
I actually have a little bit of a coffin for my first business. It's just a box in my office where I put all of the things that died when that business died. [Laughter] And one of the things in there is the business plan. You know, postcards I created and sent, and various things. It's almost like a scrapbook. But I was like, "I can't get rid of this business plan," even though half of it or more was totally wrong. But every once in a while, I'll pull it out. And it's like a little memento.
Read Full Podcast Transcript Here